About Our Hybrid Event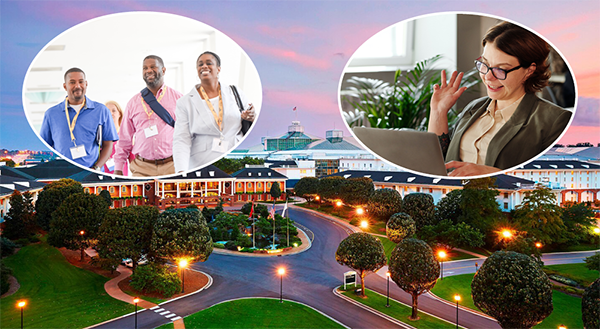 Student achievement begins with you. Join us at the 2021 Making Schools Work Conference, which will be held as a hybrid event with two registration options:
in-person attendance at the Gaylord Opryland Resort & Convention Center in Nashville or
online attendance through our virtual event platform
All attendees will enjoy four days of learning, collaborating and networking and access to our keynotes and regular conference sessions livestreamed from the Gaylord Opryland.
Here's what you can expect from each option.
In-Person Attendance in Nashville
In-person attendees can choose from more than 400 promising practice, deep dive and table talk sessions in every content area offered by our keynote and featured speakers and fellow educators.
After hours, join us at our Pacesetter Award Winners' reception, poster session and prize giveaway on Tuesday, July 6. Throughout the conference, attendees can compete in conference games or sign up as teams for our escape room challenge!
Our Education Marketplace will host book-signings, a hands-on project-based learning classroom, two escape rooms, nearly 100 of our popular table talks and other special surprises.
In-person registration also includes daily coffee and refreshment breaks and our delicious hot lunches on Wednesday and Thursday.
In-Person Health and Safety
During the pandemic, health and safety are paramount to us. We are committed to ensuring that all sessions, meals and special events meet the Gaylord Opryland's health and safety guidelines for meetings. We encourage you to learn more about Marriott's Commitment to Clean and Gaylord Hotels' health, safety and cleanliness standards at https://gaylordhotelsclean.marriott.com/.
For example, to encourage social distancing, we will spread out available seating in meeting rooms, our Education Marketplace, ballrooms and dining areas. Food and beverage services will be adapted to meet health and safety requirements. Dedicated entry and exit doors or marked pathways will encourage the safe movement of attendees in our Education Marketplace, escape rooms, dining areas and registration kiosks.
Learn more about in-person attendance in our FAQ.
Online Attendance
Virtual attendees will have complete access to 100+ live and on-demand sessions during the conference, including our opening and closing keynotes and many of our most popular regular sessions, livestreamed from the Gaylord Opryland.
Virtual attendees will continue to have on-demand access to all 100+ sessions and our virtual eBag for session handouts, presentation materials and special offers from conference partners for 30 days after the conference, increasing the value of this option.
During the live event, kick back, have fun and win conference swag and other cool prizes at our virtual reception and prize giveaway on Wednesday, July 7. Drop into our virtual lounge to chat with friends, join a professional learning community or network with conference partners. Our virtual experience includes games and a virtual escape room, too!