Fifth Annual Educator Effectiveness Convening
Being Informed, Inspired, Energized and Equipped
The educator effectiveness team held our fifth annual convening March 21-23, 2017, in Baltimore, Maryland. We brought together staff members from 10 state education agencies and experts from a variety of organizations, including American Institutes for Research, Aspen Institute, Education Counsel, Education First, Kitamba, the Council of Chief State School Officers and South Central Comprehensive Center.
The convening was unique because it was a community of practice, driven by participants to be aligned with their needs. It was facilitated by social learning experts Bev and Etienne Wenger-Trayner. Here are some of the highlights.
STATE SHOWCASE
Staff from each state agency created an exhibit about evaluation in their state. After a lot of preparation and creativity, they walked a gallery of exhibits to learn from other states. SREB staff observed state teams who were eager to learn from each other and collaborate. Participants told us the state showcase "raised issues and concerns that would otherwise not have surfaced" and gave them ideas for "specific states to follow up with." State agency staff shared their insights on pressing topics, such as evaluator training, data reporting and leadership development. Each state team had an opportunity to reflect on strategies from other states they might want to replicate or avoid — and which states they might collaborate with.
WORKING GROUPS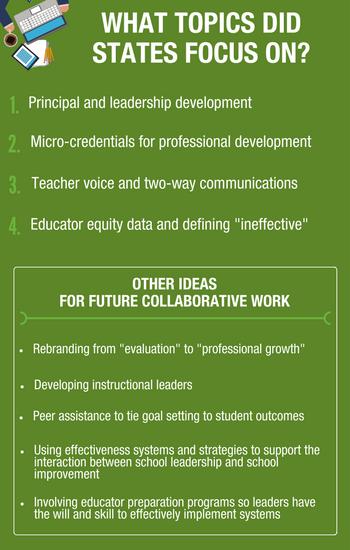 Convening attendees identified topics they wanted to explore further and take action on. These topics became participant-driven, cross-state working groups. Group members expressed that this method was an "exemplary structure for working with adult learners" and was "connected with their states' needs."
Working groups developed next steps for moving forward once they returned home and made plans for coordinating continued collaboration among group members. Then, each of the four working groups made more progress by facilitating brainstorming activities about their topic with the whole group.
The convening concluded with a formal debate on this question: Over the past several years, has a solid foundation developed to meet the overarching goals of educator effectiveness systems? Or is radical innovation still needed to make progress toward these goals? The debate created an opportunity for both sides to contemplate the impact of our collective work.