AC FALL PLANNING RETREAT
October 15-17 in Jacksonville, Florida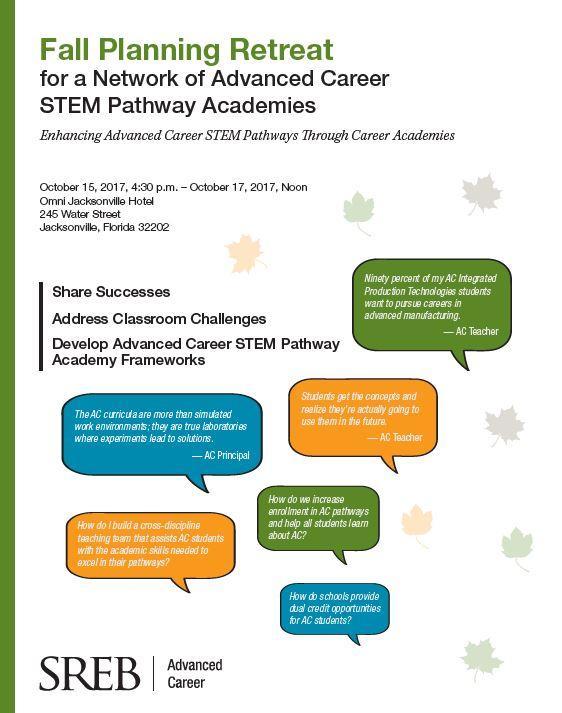 Network of Advanced Career STEM Pathway Academies
Enhancing Advanced Career STEM Pathways Through Career Academies
Omni Jacksonville Hotel
245 Water Street
Jacksonville, Florida 32202
Schools that adopt an AC STEM Pathway program of study became part of a national network dedicated to increasing students' education.
Members develop Advanced Career STEM Pathway Academy frameworks that enhance pathway implementation and address challenges. AC curricula implemented within an academy framework transform students' secondary experiences and promote successful completion of the pathway programs — better preparing them for college and careers.
Dates/Times: October 15, 2017, 4:30 p.m. – October 17, 2017, noon
Location: Omni Jacksonville Hotel, 245 Water Street, Jacksonville, Florida 32202 
The retreat is the most important workshop of the year for AC schools. Schools participating in the retreat will benefit from SREB's decades of research as they develop a powerful alliance and focused AC STEM Pathway framework that better prepares students for college and high-demand, high-skill 21st-century careers.
WHY ATTEND?
Participants will produce a customized AC STEM Pathway Academy framework for their school that includes:
AC STEM Pathway Academy leadership, teacher and support roles
Strategies for using professional learning community tools to enhance collaboration among their academy teams
Communication practices to engage fellow educators, students, industry and the community
A senior-year design plan that assists AC students who need extra help meeting literacy and mathematics readiness benchmarks and provides accelerated options for AC completers who are college and career ready
A preliminary schedule for a cohort of students that facilitates completion of the AC curriculum
WHO SHOULD ATTEND
Schools currently implementing AC and schools that will implement AC in the future are encouraged to send teams of three or more, including an AC teacher and others, such as:
Person responsible for the school's master schedule
School principal or headmaster
School counselor
Academic support teachers, including English, mathematics, and/or science teachers assigned to the academy
Career and technical education director/coordinator
Postsecondary partners
Decision-making personnel
REGISTRATION INFORMATION
Register for the AC Fall Planning Retreat October 15-17, 2017.
Registration fee is $250 per person. Travel expenses are the responsibility of the participants.
Make reservations at the Omni Jacksonville Hotel, Jacksonville, Florida.