Engaging Students Virtually: New Workshops
Go deeper with virtual instruction this fall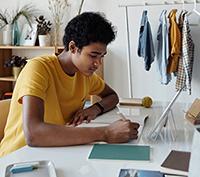 You loved our blended instruction workshops and free introductory virtual learning workshops. Join us for a new series of in-depth national workshops on innovative practices for teaching students in a virtual setting. Choose from six topics: CTE, strategic scaffolding, math, literacy, project-based learning and social-emotional learning.
During each three-session workshop series, get hands-on with tech tools that help you adapt and modify your curriculum, lessons or assessments to embed proven instructional practices that promote engagement and achievement.
Need to Know
Cost: $250
Dates and Times: Each workshop meets three times – see the table above. Each workshop session is 2.5 hours plus an additional 30 minutes for peer collaboration or one-on-one support from SREB staff.
Location: All sessions meet on a secure Zoom platform. Participants will receive a login and password prior to the event from workshop organizers.
Targeted Support: We work with schools and districts to provide additional coaching upon request.
Large group? We offer custom district trainings. Contact Scott.Warren@sreb.org.
Download our information flyer (PDF).
Gain concrete tips and tools for supporting virtual instruction of career and technical education content. Explore best practices for building students' technical, academic and employability skills — online or off. We'll challenge you to deliver your content in engaging ways!
Session 1: CTE in a Blended Instructional World. Explore online learning tools for facilitating hands-on labs in socially distanced or off-campus settings. Partner with peers to brainstorm instructional strategies that engage CTE students.
Session 2: Aligning Instruction for Virtual Learning. Harness experiential learning tools for CTE students. We'll share more strategies for delivering CTE instruction in online, blended and hybrid settings and model how to collaborate virtually with peers in this interactive session!
Session 3: Classroom Management in the Virtual World. Explore key factors for developing an online classroom management plan. Learn strategies for promoting student engagement and teaching transferrable workplace skills.
Help students recover lost learning by meaningfully embedding concepts into your current units or modules. Join us to explore tools, tips and processes for scaffolding lost learning with new instruction for all students, including those with exceptional needs.
Session 1: Understanding Scaffolding Tools and Resources. Unpack a process for analyzing standards and creating scaffolding outlines to support instructional planning. Learn how to use standards-based resources to identify the essential skills, concepts and prior learning targets associated with each standard.
Session 2: Planning with Scaffolding in Mind. Plan engaging lessons that align new learning with just-in-time supports that help students recover lost learning! Use scaffolding outlines to plan real-time and asynchronous instructional activities and design structured interventions. Explore scaffolding activities and related tools.
Session 3: Safeguarding and Maintaining Rigor while Scaffolding Instruction. Evaluate tools that help you analyze the rigor of selected standards and sample lesson plans that outline learning targets and assignments. Practice using feedback protocols to identify misalignments and revise assignments to enhance their rigor.
Create a powerful mathematics classroom — online or in person — in which students view math as a tool to solve problems. Gain strategies for delivering meaningful, robust instruction using apps and tools that scaffold and accelerate unfinished learning.
Session 1: Planning Assignments. Gain confidence choosing the right assignments in the math classroom. Learn how standards-aligned assignments that work in online, blended or hybrid settings encourage students to think like mathematicians, make their thinking visible and connect new learning to previous learning.
Session 2: Enacting Assignments. Harness digital tools that engage and encourage students to collaborate with you and their peers. We'll share strategies that motivate students to share their thinking and reasoning and can be tailored to work in any setting — online, blended or hybrid.
Session 3: Assessing Student Work. Help your students become self-regulated online learners. Learn how to examine student work against established learning goals. Explore virtual tools that help you deliver effective feedback to individuals or groups. We'll discuss how to analyze and use data to design your next steps.
Leverage online tools to create literacy-focused assignments that build critical literacy skills in any content area — and any setting. Join us to model, demo and explore apps and tools and take home a discipline-specific instructional planning framework you can use right away.
Session 1: Creating Literacy-Based Assignments in a Blended Instructional World. Explore digital tools that help build a culture of literacy across all subjects and grade levels. Partner with peers to use an instructional framework that cultivates students' reading, writing and speaking skills in online, blended and hybrid settings.
Session 2: Moving Students from Literacy-Based Assignments to Authentic Written Products. Harness digital tools that motivate students to read, write, listen and speak. We'll share literacy strategies that empower students to complete literacy-based assignments in online, blended and hybrid settings.
Session 3: Assessing the Products of Literacy-Based Assignments. Explore the essential elements of assessments that promote student reflection and growth. Gain strategies for assessing completed products online and providing meaningful feedback that encourages students to reflect on the process.
Build positive relationships with students and deliver advisory sessions and activities that support students' well-being — online or off. Explore resources that help students identify their interests, set goals and use tools to accelerate their learning.
Session 1: Building Sense of Self and Healthy Relationships. Explore relationship-building activities you can use in the classroom or in advisory settings to cultivate healthy relationships with students and families — online or off. Review and brainstorm activities and learning inventories that encourage students to build their sense of self.
Session 2: Supporting Students and Parents to Set Goals. Get hands on with tools and resources that foster goal-setting conversations with students and parents. Try out activities and procedures that connect students' goals to assessment results, grades and attendance. Explore how to use virtual portfolios to engage students and families in progress-monitoring.
Session 3: Exploring Careers Using Virtual Tools. Review career exploration activities and related tools you can use to expose students and parents to high-wage careers. Explore virtual tools for engaging business and industry partners.
Learn how to use project-based learning as a meaningful framework for students to learn content, develop skills and connect the classroom with life beyond school. We'll share tools and instructional delivery methods for offering PBL in virtual or hybrid settings.
Session 1: Transition PBL to the Virtual World. Explore a sample PBL unit plan that's been converted for a virtual setting. We'll discuss different models for instructional delivery, brainstorm common issues and obstacles, and share tools for delivering PBL.
Session 2: Virtual Tools for Final Products and Presentations. Learn how to engage students in solving real problems and presenting solutions to an authentic audience. Explore ways mentors can support students online. We'll try out tools for creating and presenting students' projects and products.
Session 3: Virtual Tools for Teaching and Assessments.Take a deep dive into online tools that allow you to deliver student-centered instruction, assess student learning, manage time and collaborate with peers in a PBL unit. Let's brainstorm and lesson plan with each other.
---
What Educators Say About Our Blended Instruction Workshops