Search: 2016
Results 71 - 80 of 889
Results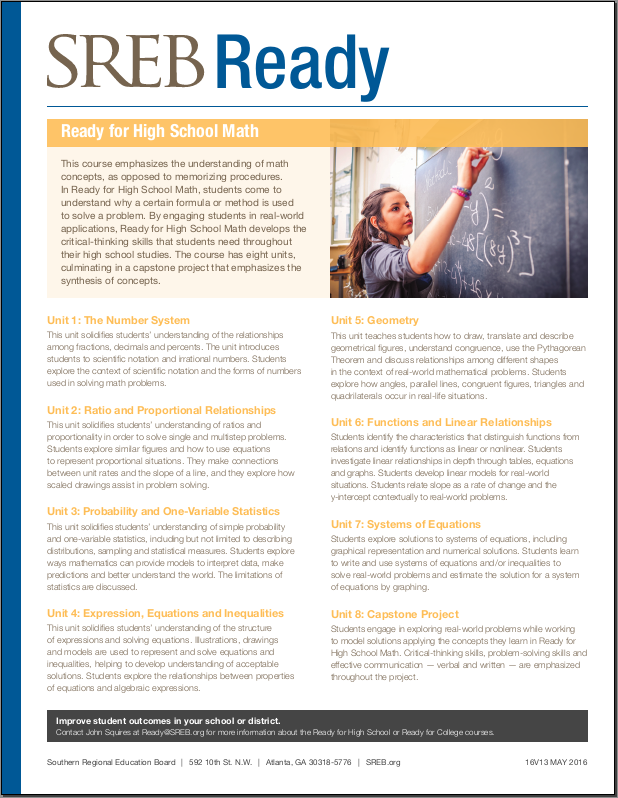 This course emphasizes understanding of mathematics concepts rather than just memorizing procedures. Students learn why to use a certain formula or method to solve a problem. By engaging students in real-world applications, Ready for High School Math develops critical thinking skills that students will use throughout their high school studies.
The course consists of eight units, culminating in a capstone project that emphasizes synthesis of concepts.
High school seniors who take SREB's Literacy Ready and Math Ready courses can substantially increase their readiness for college. We analyzed ACT scores of students in two states – before and after they took the transitional courses. More than half increased their scores
Five educators were honored for their work to help underprepared students succeed. These Southern Regional Education Board awards recognize outstanding teaching and leadership with SREB Readiness Courses, which help underprepared students succeed in high school and postsecondary studies.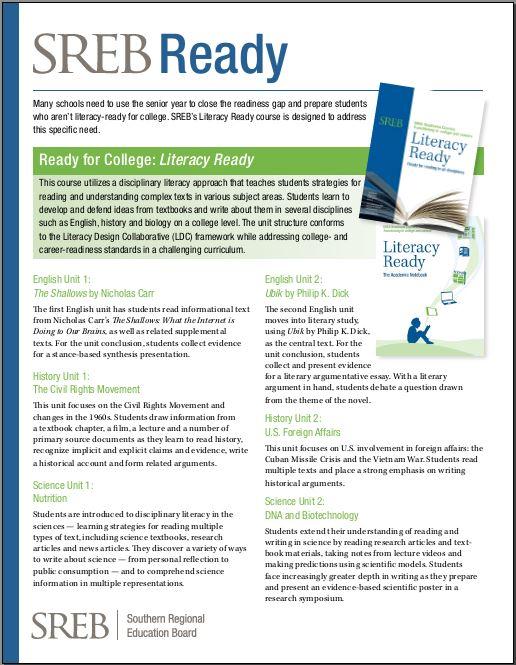 Many schools need to use the senior year to close the readiness gap and prepare students who aren't quite ready for college reading or math. SREB's Readiness Courses are designed to address these specific needs.
This brochure gives a quick overview of the eight units in Math Ready and the six Literacy Ready units in English, history and science.
For states and schools that wish to close the readiness gap, SREB has
developed two sets of readiness courses in literacy and mathematics. This brochure presents an overview of the courses to prepare students for college and for high school.
Kudos to the Alabama Department of Education and the Alabama Community College System for working together to increase student readiness among the state's high school graduates.
Alabama is piloting the two SREB Readiness Courses to increase high school seniors' preparedness for postsecondary studies, and the Alabama Community College System has endorsed the K-12 efforts.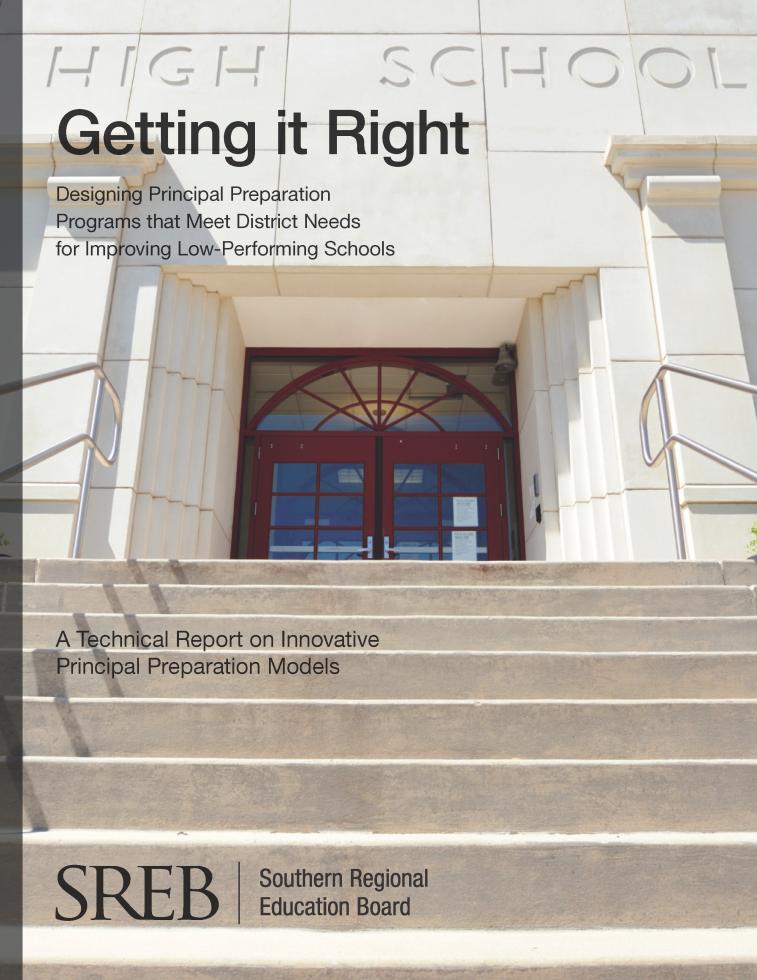 A Technical Report on Innovative Principal Preparation Models
Southern Regional Education Board
This module helps school teams understand the different human and organizational factors that impact a school's ability to implement and sustain meaningful change. Teams identify a vision of adaptive change — change that is deeply rooted in the culture — then work on applying a framework for sustainable implementation.
The Principal: A Key Player in Advancing the College and Career Readiness of Students
SREB held its 13th Annual Leadership Forum at the Atlanta Airport Marriott Hotel on May 12-13, 2016. Featured presenters included Mary-Dean Barringer, strategic initiative director of the Council for Chief State School Officers; Barnett Berry, founder and CEO of the Center for Teaching Quality in North Carolina; Mary Beth Blankenship, principal of Shades Valley High School in Alabama; Gail Dugger, assistant principal of St. Marys Middle School in Georgia; Daniel Girard, assistant superintendent of the San Antonio Independent School District in Texas; Beverly J. Hutton, deputy executive director for programs and services of the National Association of Secondary School Principals; Gina Ikemoto, executive director for research and policy development for New Leaders; Amin Salaam, principal of Kettering Middle School in Maryland; Stefanie C. Shames, principal of Maitland Middle School in Florida; Jennifer Sharpe, assistant principal of Rocky Mount High School in North Carolina; and Eric Thigpen, principal of South Gwinnett High School in Georgia.