Search: 03/2017
Results 1 - 10 of 14
Results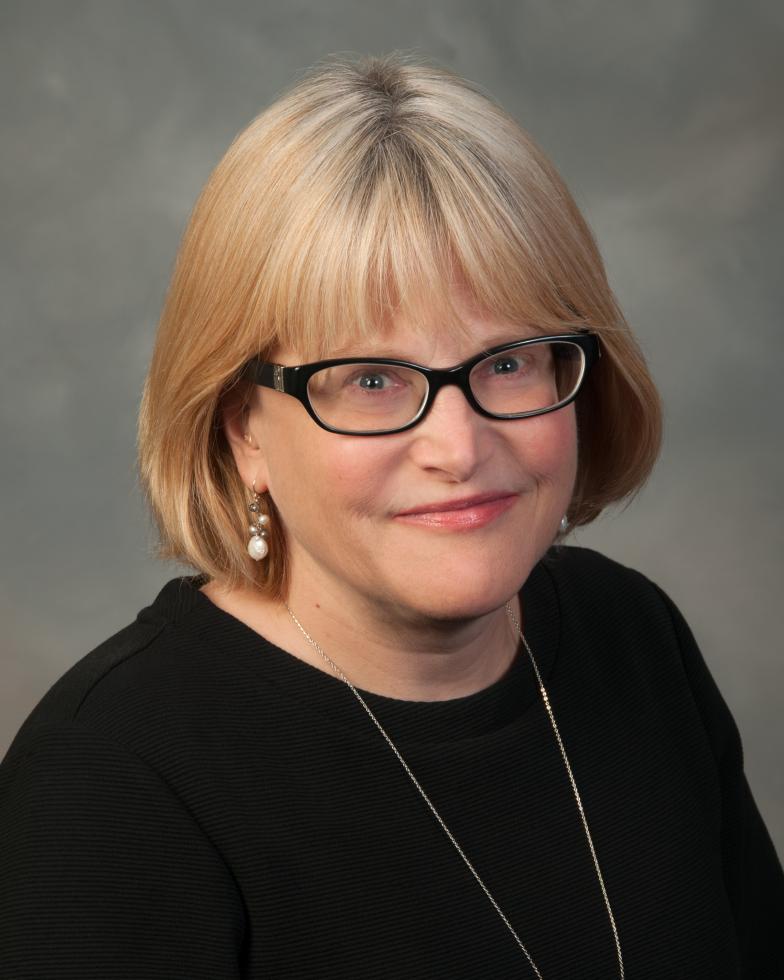 Lee Posey is vice president of State Strategies. She joined the Southern Regional Education Board in 2017 as Director of Legislative Services. Prior to joining SREB, she worked for the National Conference of State Legislatures for 17 years. Her experience at NCSL included serving as federal affairs counsel with the NCSL standing committee on education. In that role, Lee represented state legislatures before the U.S. Congress and the president's administration and conducted NCSL lobbying on federal education legislation.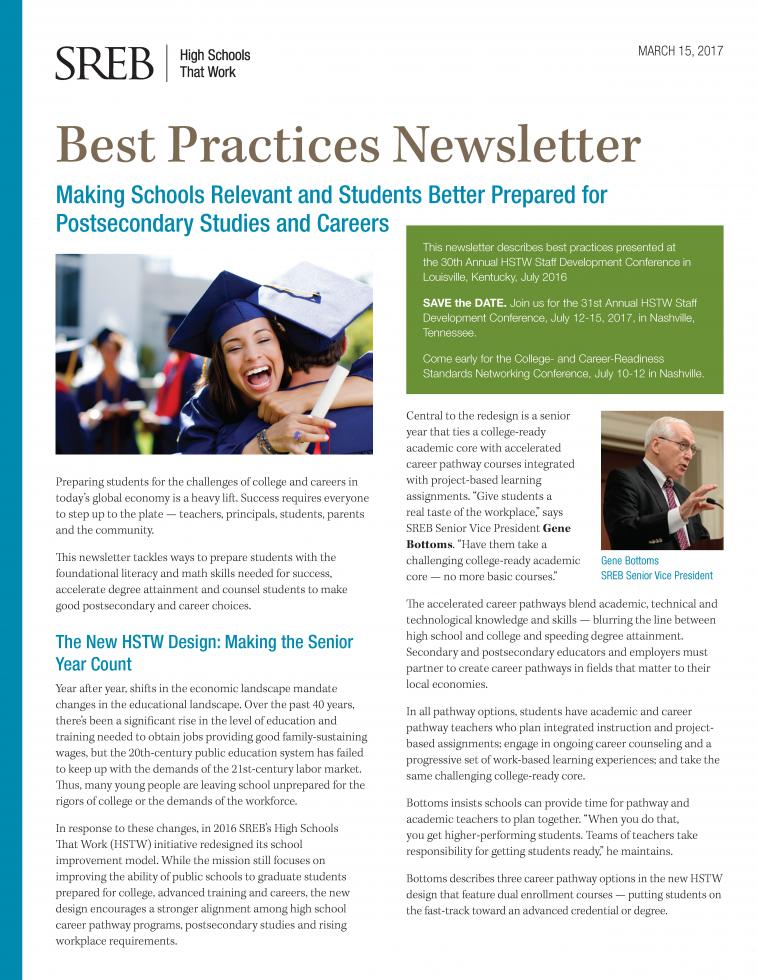 This newsletter explores ways to prepare students with the foundational literacy and math skills needed in postsecondary studies and the workplace. It also highlights the significance of schools having an effective guidance system that prepares students for college and helps them discover their interests, aptitudes and compatible career choices.
SREB has identified key tenets of accountability that can guide states toward creating meaningful and valid accountability systems. These key accountability tenets support efforts to increase college and career readiness among the SREB region's future high school graduates.
To view individual reports, click this 'section' tab on the report header below.
March 22, 2017, 2:00 p.m. – 2:45 p.m.
Nursing students and instructors can benefit from incorporating free textbooks, complete online courses, and learning materials in the health sciences field into their nursing programs. Dr. Robin Donaldson and Lisa Close, Florida Virtual Campus, led our webinar about how Florida and others are using open educational resources to benefit students and faculty.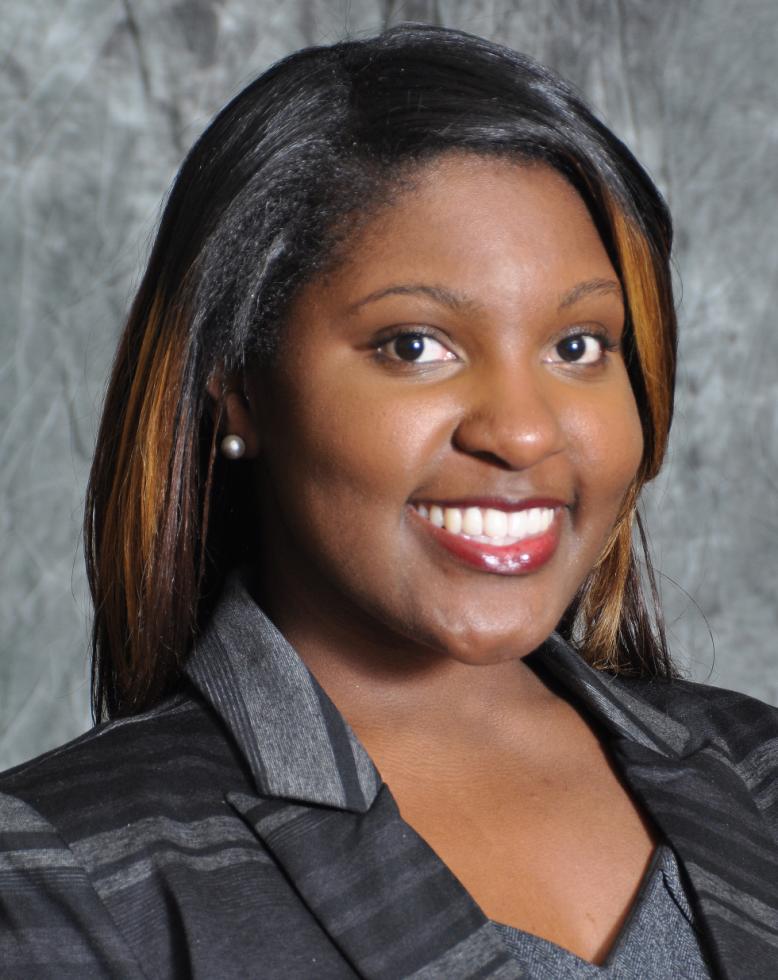 Here's a tricky scenario many rising college students face: The degree program they want to pursue is not available in their state, and out-of-state tuition is not affordable. Many are seeking postsecondary options with lower tuition.
SREB's Academic Common Market helps students pursue out-of-state college degrees at in-state tuition rates from more than 1,900 undergrad and grad degree programs in 15 states. And SREB has been doing this for over 35 years.
What is SARA?
SARA is an acronym for State Authorization Reciprocity Agreement. It's an agreement between member states that: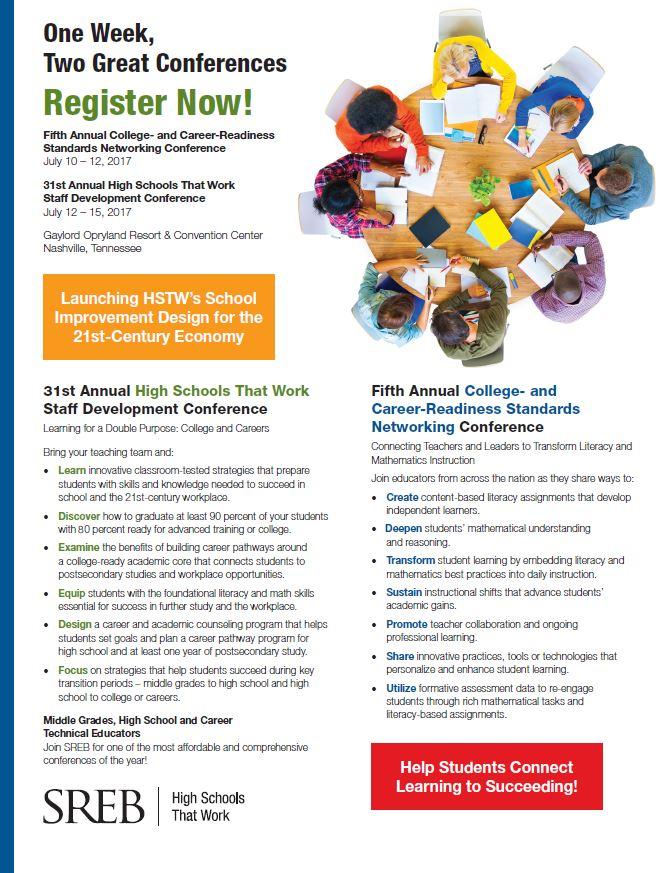 This brochure provides an overview of the 31st Annual High Schools That Work Staff Development Conference and the Fifth Annual College- and Career-Readiness Standards Networking Conference, including information about sessions, registration and hotel reservations.