Search: 2018
Results 81 - 90 of 475
Results
After seven years of offering the College- and Career-Readiness Standards Networking Conference as a separate meeting, we're uniting our summer conferences in one powerful event – the Making Schools Work Conference.
Join us in New Orleans in 2020 to explore powerful literacy and mathematics tools and strategies that enhance students' content knowledge and reasoning skills.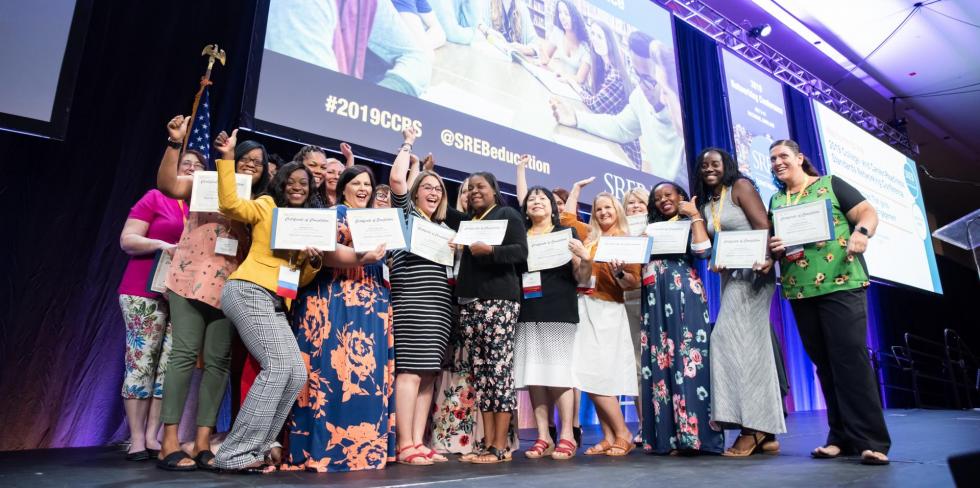 Conference registration fees include morning coffee or refreshment breaks and delicious hot lunches on Wednesday and Thursday. A special State Networking lunch is available on Tuesday for an additional fee. See our Registration page for details.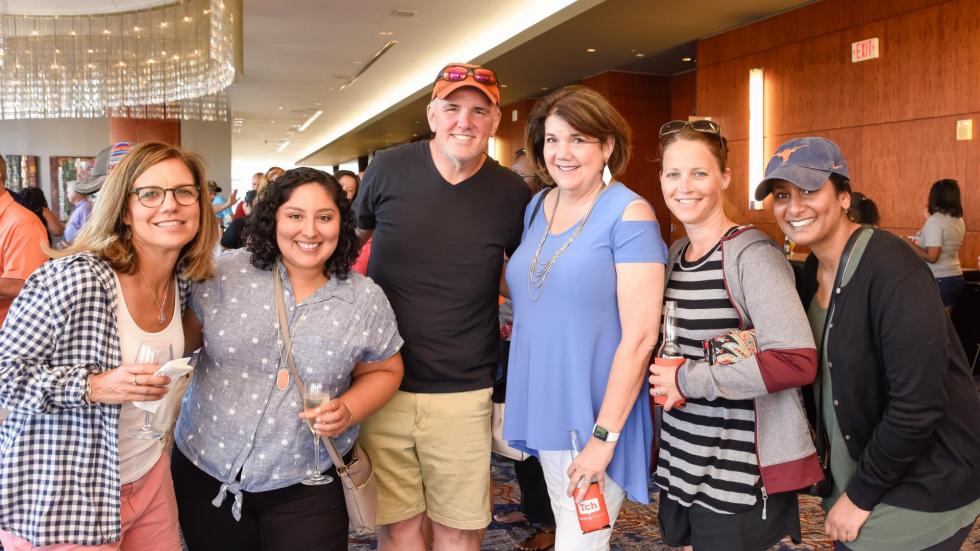 Join us at SREB's Making Schools Work Conference, a powerful professional learning event for K-12 teachers, counselors, principals, technology center directors and state and district education agency personnel.
Conference events will be held July 7-10, 2020, in the New Orleans Ernest N. Morial Convention Center. The conference kicks off with an opening general session at 2:30 p.m. on Tuesday, July 7 and ends at noon on Friday, July 10.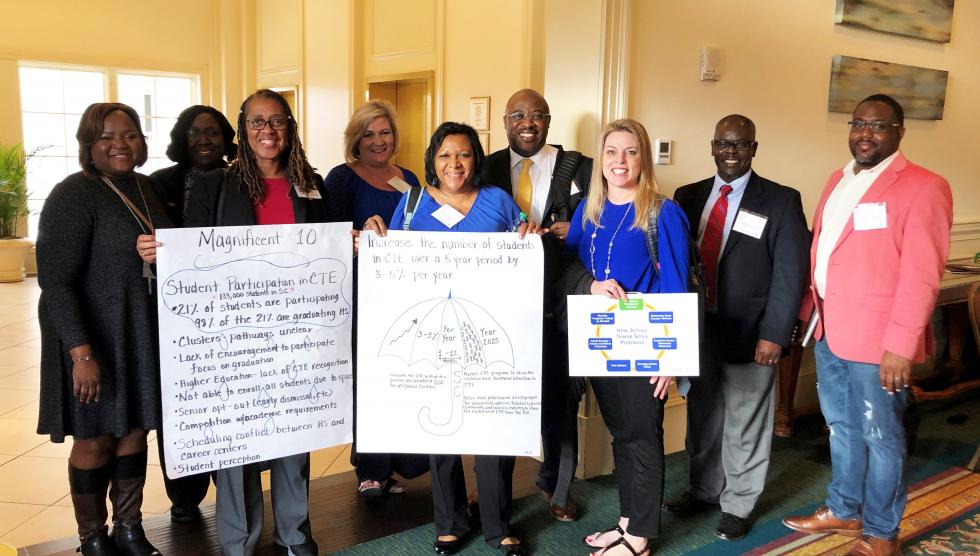 SREB's annual Technology Centers That Work Leaders Forum convenes state and local CTE leaders from across the nation to focus on programs of study, career pathways and issues related to ESSA, Perkins V and WIOA.
Whether they belong to the TCTW network or not, all full- or shared-time centers and comprehensive high schools are invited to send representatives to problem-solve, action plan and share promising practices for addressing the learning needs of their diverse students.
SREB is pleased to open registration for the 2019 Go Alliance annual meeting! Please complete the online registration form below in order to attend the event. Registration is required for all attendees. Need to register more than one person? Complete a separate registration form and payment for each attendee.
Send check payable to Southern Regional Education Board to:
SREB Go Alliance
ATTN: Brenda Marshall
592 Tenth Street NW
Atlanta, GA 30318-5776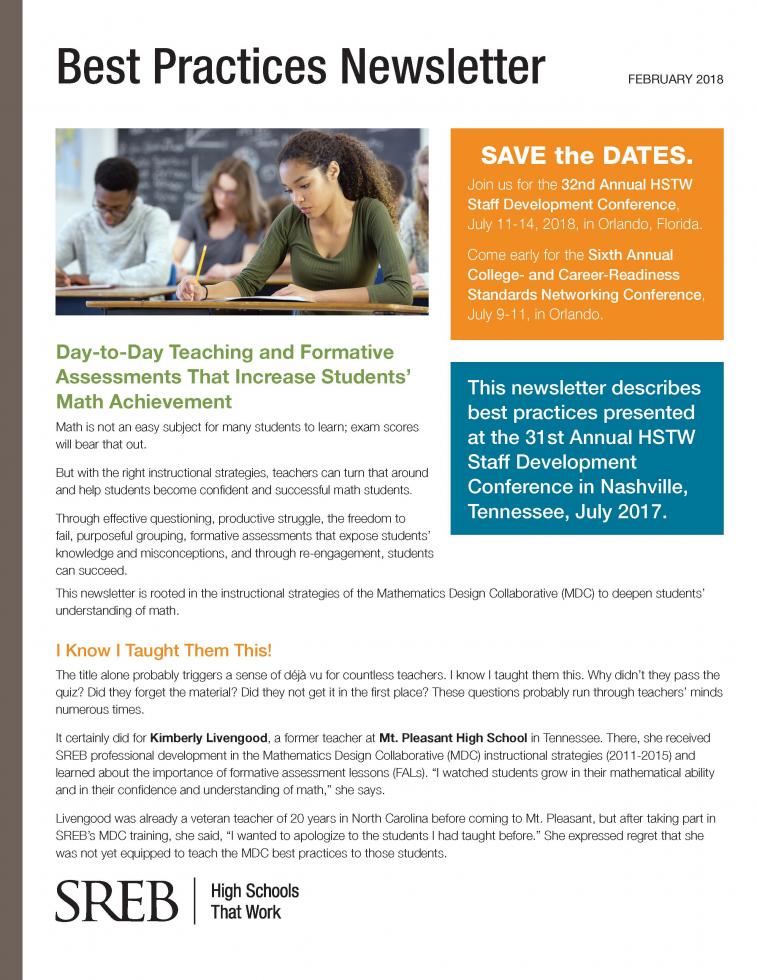 In this newsletter, teachers share how using the tools and strategies of the Mathematics Design Collaborative and formative assessment lessons can increase student engagement and achievement.
Presenter
Dr. Kim Anderson, SREB Senior Policy Researcher
During this session, members received valuable information on Legislative context for the work moving forward, including information on how Ed Tech fits on the Federal and State level. Members also learned about trends in state use of ed tech, and about resources for assessing the effectiveness of ed tech and digital learning resources.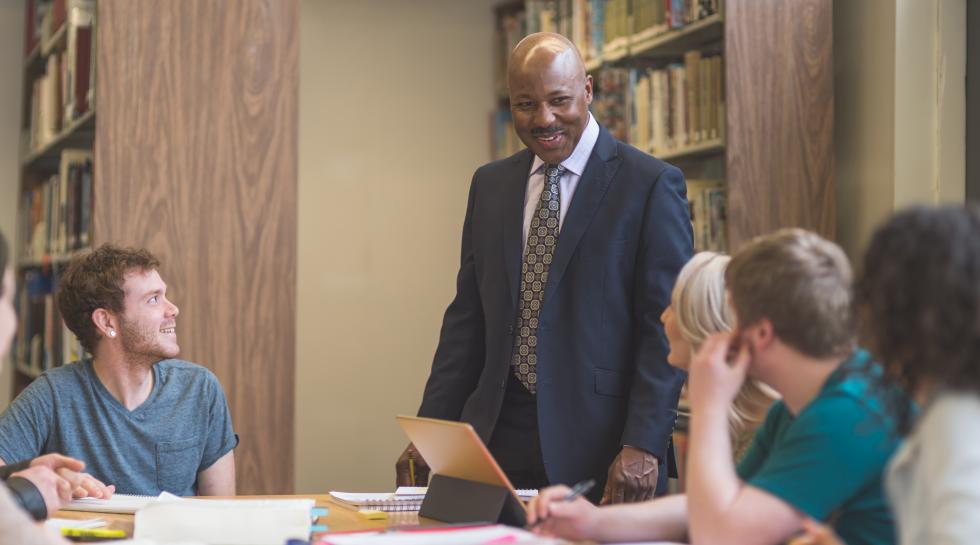 Effective school leaders are the key to school improvement. Strong principals are instructional leaders who use continuous improvement strategies to engage teachers in owning problems and solutions.
Our Learning-Centered Leadership Program builds the capacity of aspiring school leaders and empowers current school leaders to lead changes in school and classroom instructional practices that increase student achievement and transform school cultures.
The Education Technology Cooperative provides opportunities for its pre-K through 20 state education agency members to connect at annual face-to-face meetings providing ready access to thought leaders from SREB states and around the country. The Cooperative conducts sessions on educational technology issues such as digital content, open educational resources, big data, predictive analytics, technology infrastructure, and improving online and blended teaching and learning.