Search: Topics
Results 31 - 40 of 599
Results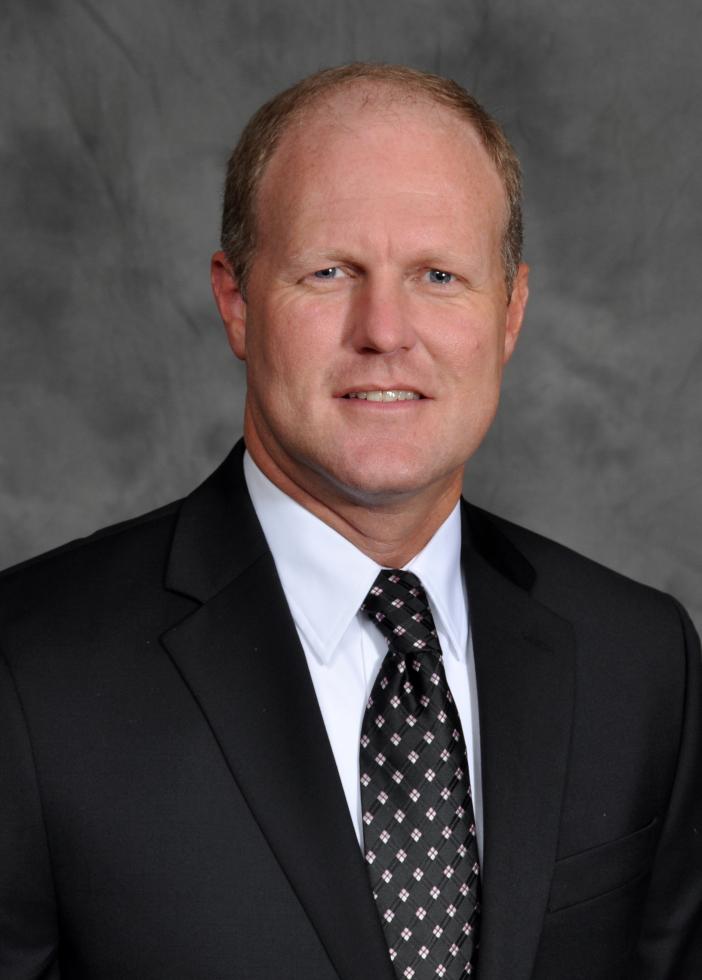 Dale Winkler was named vice president of school improvement in April 2018. He joined the Southern Regional Education Board in 2015 as special assistant to the senior vice president of the organization's school improvement team, where he brings more than 19 years of experience working on issues related to leadership and policy in the area of college and career readiness.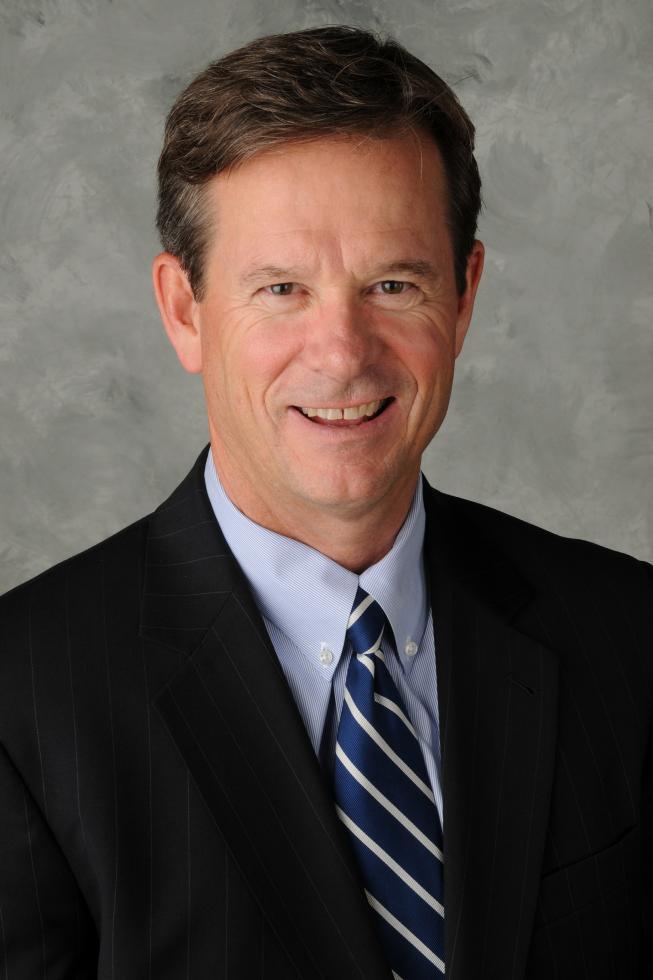 Tim Shaughnessy joined the Southern Regional Education Board in 2015. He brings years of experience as a past community college leader, state legislator and healthcare executive. In his role at SREB, Tim works with the school improvement team to develop and strengthen career and technical education pathway programs of study. He also helps identify the critical success factors necessary for states' successful implementation of effective, efficient and sustainable pathway models.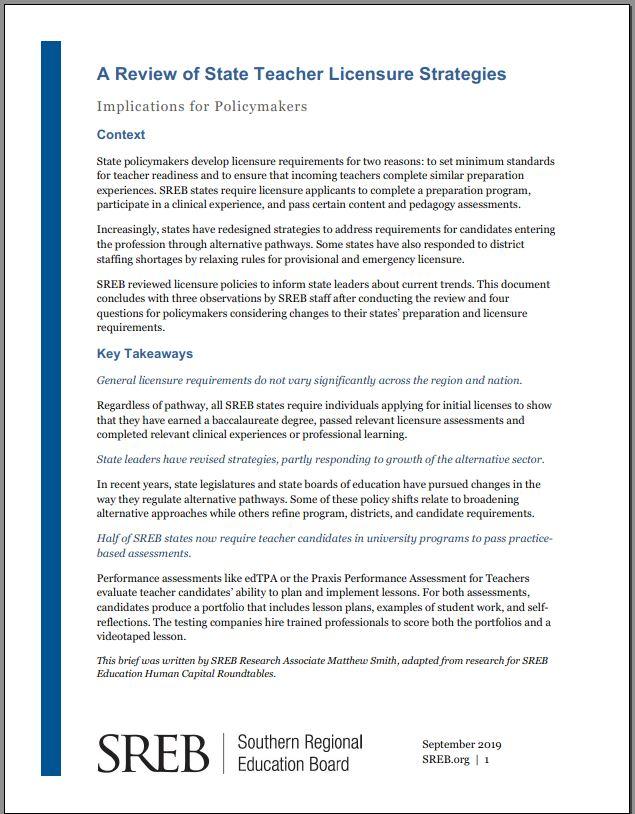 SREB reviewed state teacher licensure policies to inform leaders about trends including how states regulate alternative pathways and the move toward practice-based assessments. The brief also includes questions for policymakers who are considering changes to their states' teacher preparation and licensure requirements.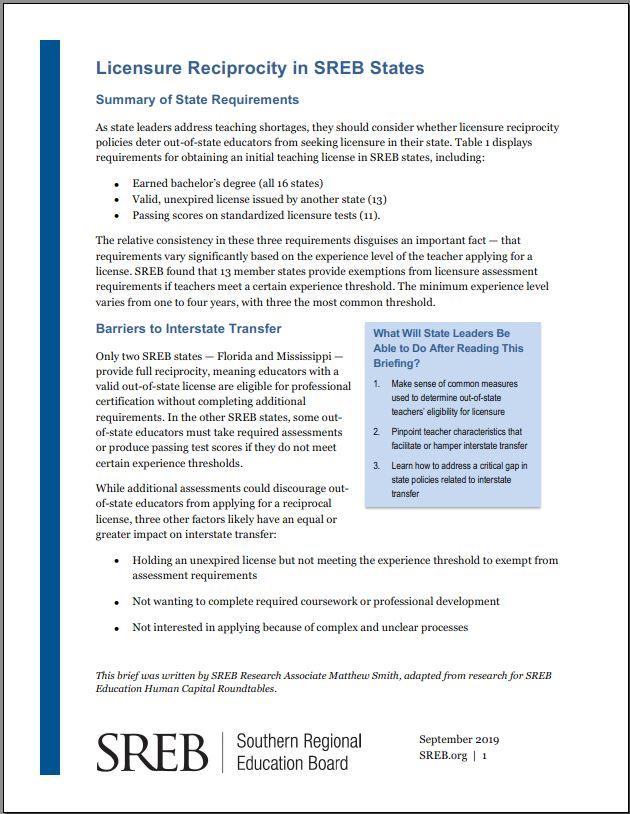 This brief describes state policies for granting teaching licenses to educators from other states. Some policies are common across many states, but requirements vary significantly from state to state based on the experience level of the teacher. Clarifying requirements for recent graduates of out-of-state teacher preparation programs could improve interstate transfer.
1. Twelve SREB states have adopted state-level definitions for college and career readiness. Louisiana's board of regents has defined college and career readiness; in South Carolina this definition is set by the department of education. Kentucky, Texas and West Virginia have developed separate definitions for college readiness and career readiness.
2. Many SREB states offer students multiple diploma paths to high school graduation — with varying course requirements. While most states have a standard diploma path, Louisiana, North Carolina, Oklahoma, and Virginia offer two diploma paths, each focused on either college or career technical areas. In many of the states with single diploma tracks, students are provided with concentration or endorsement options that allow to them to choose required or elective courses with a college academic or career technical focus.
3. Depending on the state, students must complete from 21 to 24 units to earn a standard high school diploma. All SREB states require students to complete four English courses.
4. The majority of SREB states require four math courses to earn a standard high school diploma. Maryland, Oklahoma, Texas and Virginia require a minimum of three.
5. Math course requirements vary by state. However, every state requires students to complete an Algebra I course or equivalent. Recently, several states have eliminated their requirement for students to earn a credit in geometry. It is becoming increasingly common for states to also allow students to substitute a computer science course as one of their math requirements.
6. Most SREB states require students to take three science courses (Alabama, Georgia and Louisiana require four) to earn a standard diploma, and that at least one of the science courses be lab-based or that lab-based experiences are incorporated into the courses.
7. Most SREB states use end-of-course tests to measure student academic progress across a variety of courses and subjects. Many of these states require that the exams count as some percentage of the final grade for the course.
8. Most SREB states link eligibility for graduation to passing certain courses and exams. Virginia, for example, requires that students pursuing a Standard Diploma must pass six end-of-course exams; students pursuing the Advanced Diploma must pass nine.
9. Every state now incorporates college and career measures into its accountability system. State measures include, for example, the use of assessment results in various subjects, participation in accelerated learning opportunities, and industry certification.
10. Five SREB states (Alabama, Kentucky, Louisiana, Mississippi, North Carolina) require that all high school juniors take the ACT as a measure of college and career readiness, while Delaware and West Virginia require all juniors to take the SAT. Several states accept either.
11. While every state requires middle school and high school students to participate in academic and career planning activities, not every state designates specific activities or timelines. Many states, however, have additional requirements for at-risk students.
12. Every SREB state offers accelerated learning opportunities that allow high school students to earn college or career technical credits through a variety of programs such as dual enrollment, Advanced Placement, Early College and competency-based credit.
13. All SREB states have developed postsecondary to high school feedback reports, through which the state notifies districts and schools about their graduates' postsecondary enrollment performance.
14. While some SREB states have linked high school graduation requirements to college admission requirements, other states allow institutions to set admission requirements independently.
15. Most SREB states require that 11th grade assessments be used for postsecondary placement. Nine of these states exempt students who pass the assessments from postsecondary institutional placement testing.
16. Most SREB states provide some combination of need-based and merit aid. All SREB states besides Georgia offer need-based scholarship programs to increase educational access for students from low- and middle-income families.
17. Eight SREB states use state lottery funding to support merit-based aid programs. Two use lottery funds to support need-based aid programs.
18. Nearly all SREB states have established minimum high school grade point averages between 2.5 and 3.0 to be eligible for state need- and merit-based financial aid. Thirteen SREB states also tie continuing eligibility for state financial aid to specific credit hour requirements, either by semester, academic year or a specified evaluation period.
19. Eleven SREB states require students to complete a specific number of credit hours per semester or year to retain financial aid. One SREB state stipulates that students must complete 75 percent of credits attempted.
SREB states continue to update and refine their policies related to high school completion and postsecondary admission. States have developed and reformed their assessment and accountability systems, made strides in aligning high school graduation and college admission requirements, and offered more college and career planning. Highlights of recent changes include the following examples. (Updated October 2019)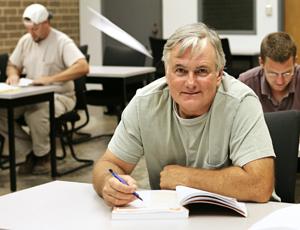 States face an uphill battle in meeting the needs of adult learners, especially at a time when technology is advancing rapidly. Adults can turn to adult education programs to improve their skills, but enrollments have fallen in recent years.
Following up on the Teacher Preparation Commission, SREB is convening education human capital roundtables in several states. Roundtable members represent the boards, commissions and agencies charged with improving teacher preparation, educator development and the teaching pipeline. SREB helps roundtables hold challenging conversations on how to improve the quality of their teaching workforce through targeted recruitment, preparation, retention and professional growth strategies.
The most important thing a school can do for a student's education is to ensure she has a good teacher. And states need a strong teacher workforce to increase student achievement. To help state leaders address teacher shortages and improve policies to prepare, certify and pay teachers. SREB: