Search: Education Level: Early Childhood
Results 1 - 10 of 23
Results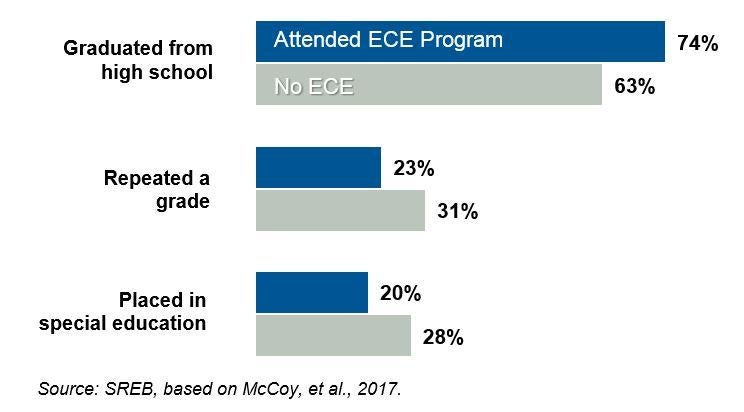 Researchers continue to examine the long-term impacts of pre-K participation, and more sophisticated methods and better data may help solidify the consensus that has already emerged: investing in early childhood education plays an important role in preparing young children for success in the early grades and pays off in the long run.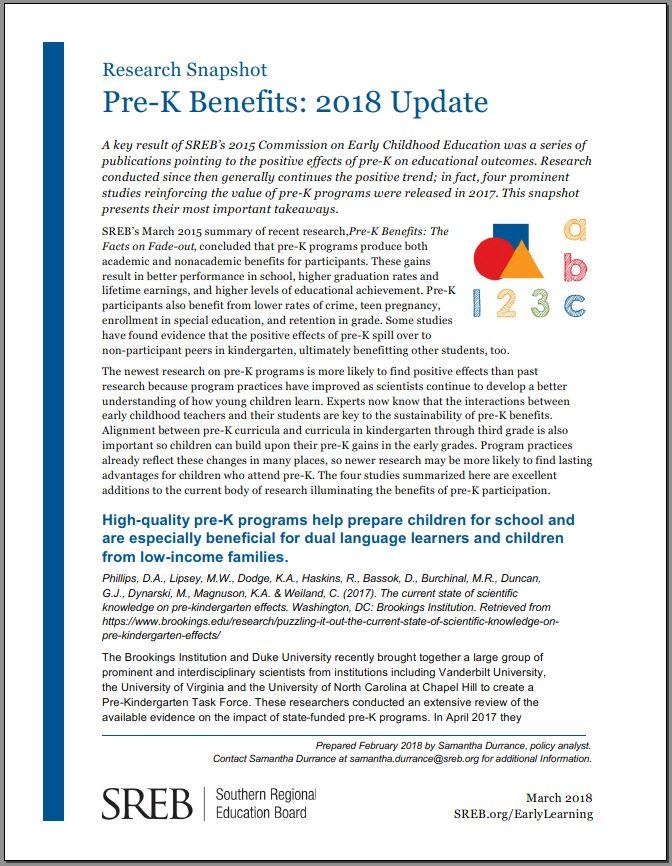 This snapshot summarizes important takeaways from four research studies published in 2017 that reinforce the value of pre-K. High-quality pre-K programs help prepare children for school, especially dual language learners and children from low-income families. Head Start programs can disrupt the cycle of poverty. And pre-K shows effects on outcomes such as math achievement and the likelihood of graduating from high school.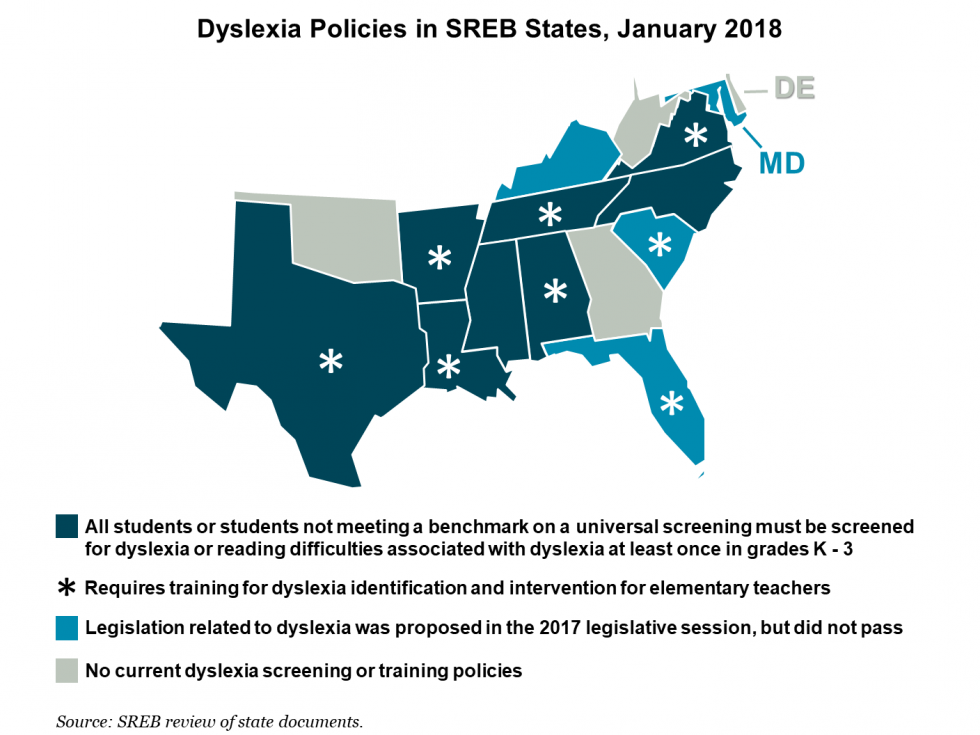 Researchers estimate that dyslexia affects at least one in 10 people. As defined by the International Dyslexia Association, dyslexia is a neurobiological learning disability, unrelated to intelligence, characterized by differences in the way the brain processes language. These differences result in difficulties developing skills that are important for reading and writing. While it cannot be outgrown, individuals with dyslexia can learn strategies to help them overcome the unique challenges it presents.
The body of research on benefits of pre-K shows that quality is key to long-term gains and that early investments yield larger returns, especially for high-risk children.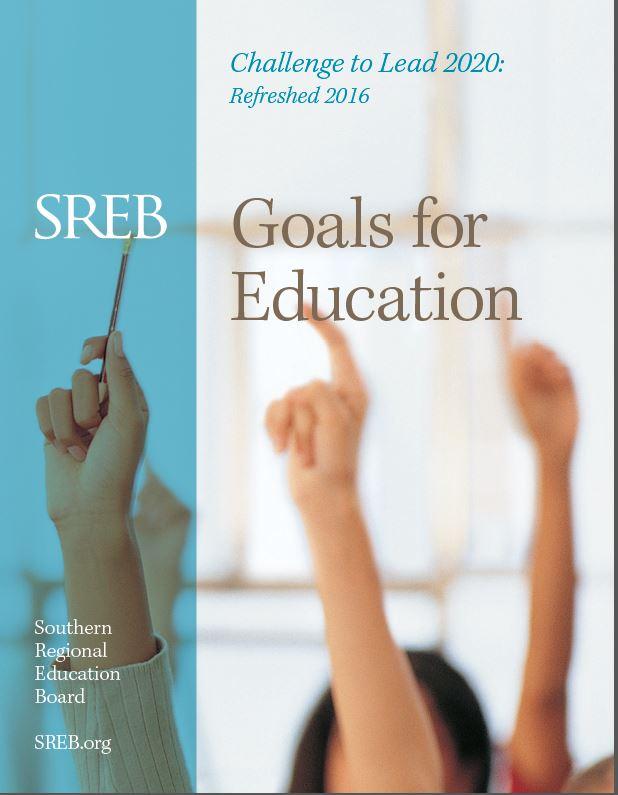 Challenge to Lead 2020 Goals for Education: Refreshed 2020 offers six critical goals. They were designed to help SREB state leaders connect measures of student achievement to essential state policies. Each goal includes background information and the steps states need to take to meet each goal in the years ahead.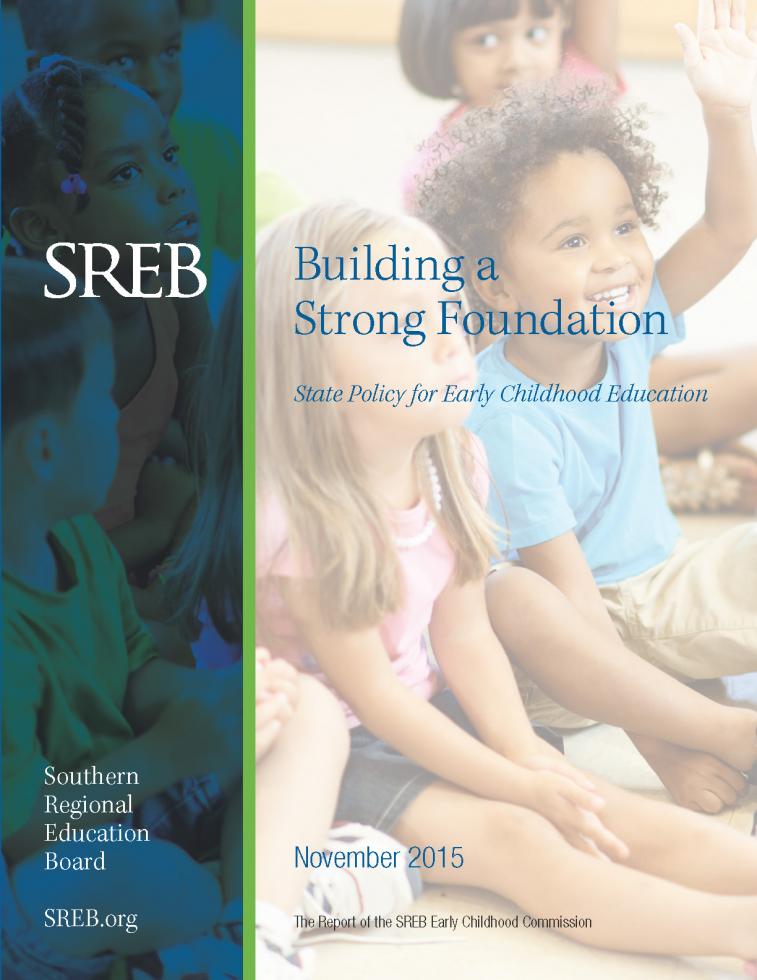 The report of the SREB Early Childhood Commission
Building a Strong Foundation: State Policy for Early Childhood Education
The Commission calls for states to raise the quality of early education programs and ensure they are well-coordinated across different agencies and budgets.

The recommendations cover wider access and accountability for results. The report also sheds light on the need for a statewide policy framework to bring together public and private funding currently spread across agencies and budgets.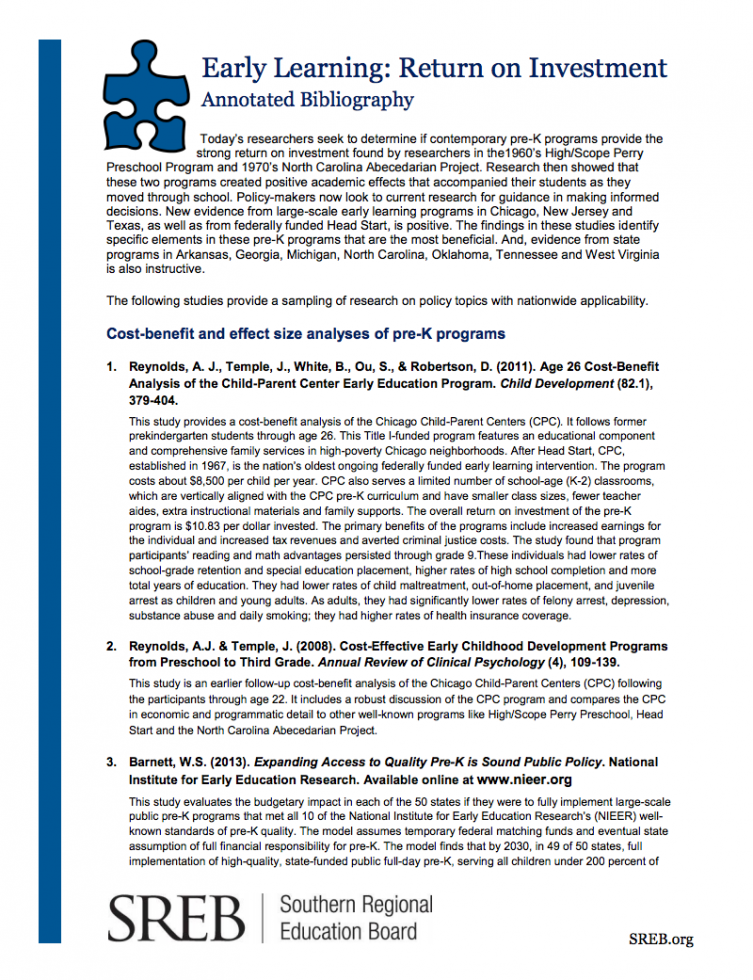 Findings in these studies identify specific elements in pre-K programs that are most beneficial. Evidence from state programs in Arkansas, Georgia, Michigan, North Carolina, Oklahoma, Tennessee and West Virginia is also instructive. Studies provide a sampling of research on policy topics with nationwide applicability.
Cost-benefit and effect size analyses of pre-K programs
Catch up vs. fade out: Do pre-K's positive effects persist through K-12?
Evaluations of pre-K programs in SREB states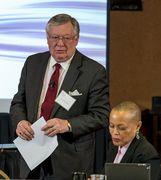 What happens in a child's first three years of life has deep and long-lasting implications for success in school and life. Studies show that how many words children are exposed to by age 3, their mothers' education level, and the stress of poverty are huge factors in whether or not they are ready for kindergarten at age 5.