Search: Education Level
Results 61 - 70 of 101
Results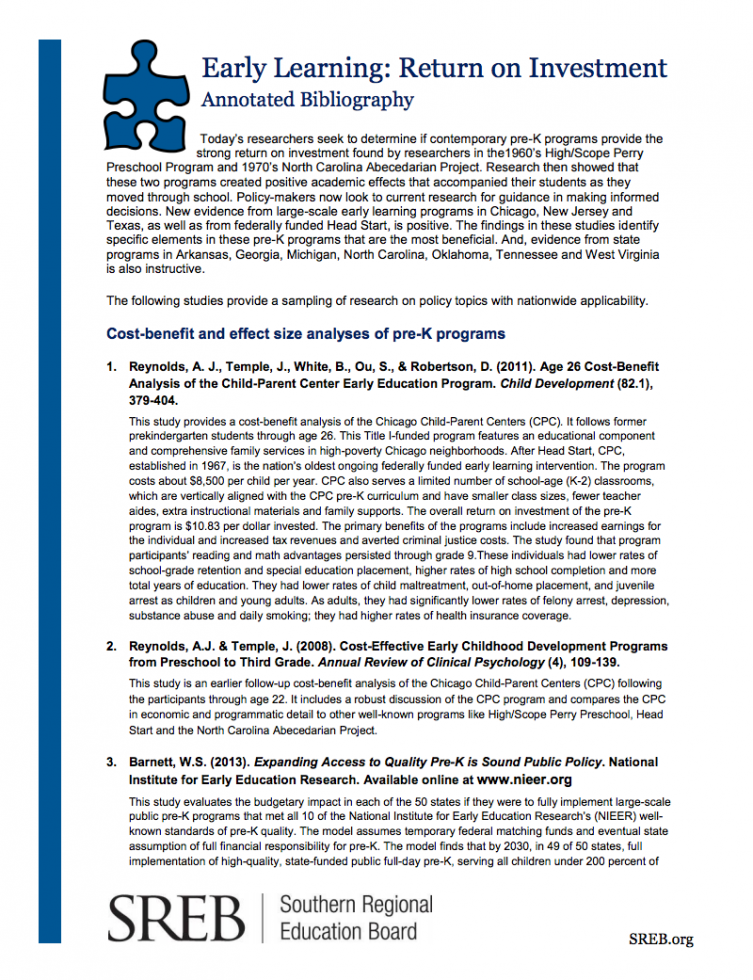 Findings in these studies identify specific elements in pre-K programs that are most beneficial. Evidence from state programs in Arkansas, Georgia, Michigan, North Carolina, Oklahoma, Tennessee and West Virginia is also instructive. Studies provide a sampling of research on policy topics with nationwide applicability.
Cost-benefit and effect size analyses of pre-K programs
Catch up vs. fade out: Do pre-K's positive effects persist through K-12?
Evaluations of pre-K programs in SREB states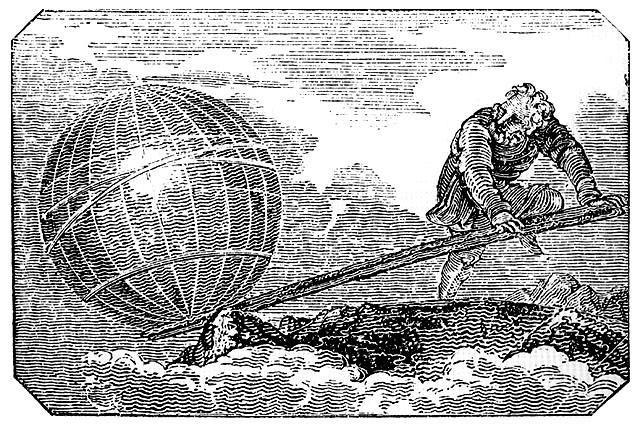 Pinellas Park Middle School is about as challenging a school as you can find in Florida. The state has assigned it a grade of D for the past several years. All of its students receive free lunch. Twenty-three percent of its students have already been in some form of drop-out prevention program prior to enrolling at Pinellas Park.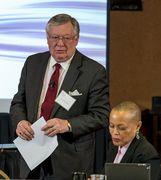 What happens in a child's first three years of life has deep and long-lasting implications for success in school and life. Studies show that how many words children are exposed to by age 3, their mothers' education level, and the stress of poverty are huge factors in whether or not they are ready for kindergarten at age 5.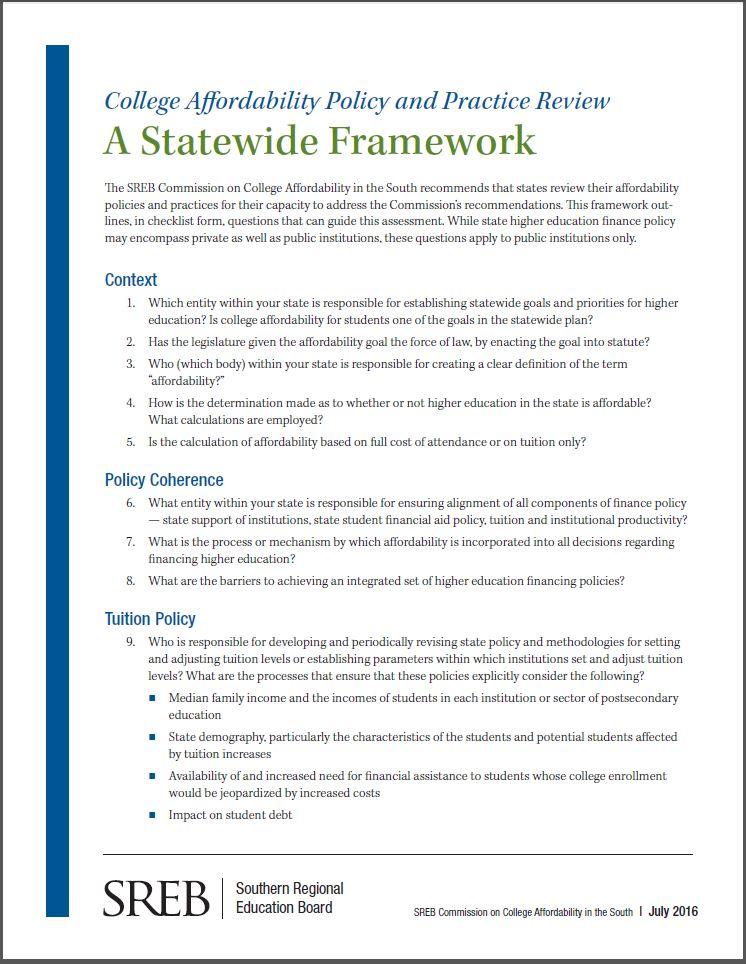 The SREB Commission on College Affordability in the South recommended that states review affordability policies for capacity to make postsecondary education more affordable for students and families. This framework outlines, in checklist form, questions to guide the review. Questions cover governance, aligning policies toward affordability, tuition policy, need-based student financial aid, student debt, investing in innovation, and shared responsibility among states, agencies, institutions and families.
Atlanta, GA —Leaders from across the 16 Southern Regional Education Board states are calling, in a major new report, for states to raise the quality of early education programs and ensure they are well-coordinated across different agencies and budgets.

Brittany Dameron, a fifth-year math teacher at Riverside High School in Belle, West Virginia (Kanawha County School District), taught her first formative assessment lesson (FAL) spring semester of 2016. She finds the strategies of the Mathematics Design Collaborative (MDC) make math come alive for her students.
Claudia Rodriguez sums up her excitement about the Mathematics Design Collaborative training with one word — obsessed. "I'm obsessed with the formative assessment lessons (FALs)," the North Asheboro Middle School mathematics teacher explains, referencing the formative assessment lessons she used during MDC training. "The FALs are really so rich in content — in math content and precision — that I love it!"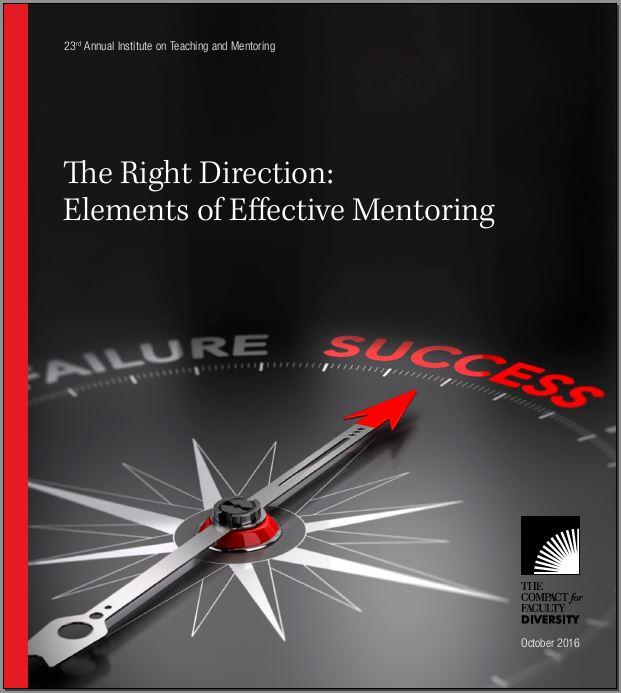 Effective mentorship requires many talents. In profiles of Mentor of the Year winners at the Institute on Teaching and Mentoring, this publication highlights eight qualities mentors and and their mentees identified as important components of their relationships.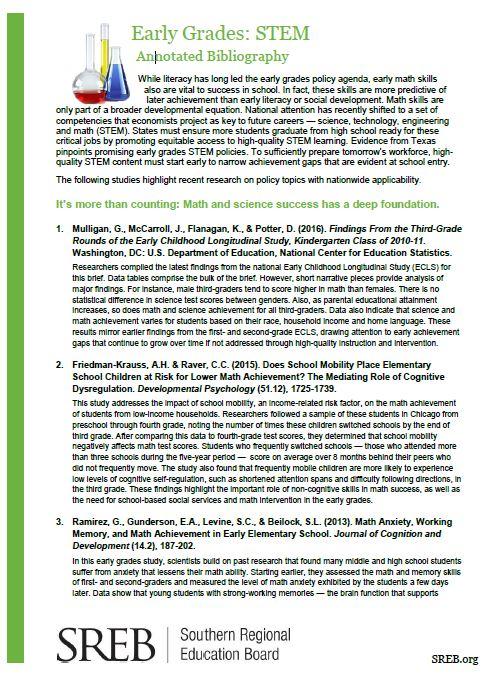 While literacy has long led the early grades policy agenda, early math skills also are vital to success in school. In fact, these skills are more predictive of later achievement than early literacy or social development. Math skills are only part of a broader developmental equation. National attention has recently shifted to a set of competencies that economists project as key to future careers — science, technology, engineering and math. States must ensure more students graduate from high school ready for these critical jobs by promoting equitable access to high-quality STEM learning.