Search: Education Level
Results 71 - 80 of 101
Results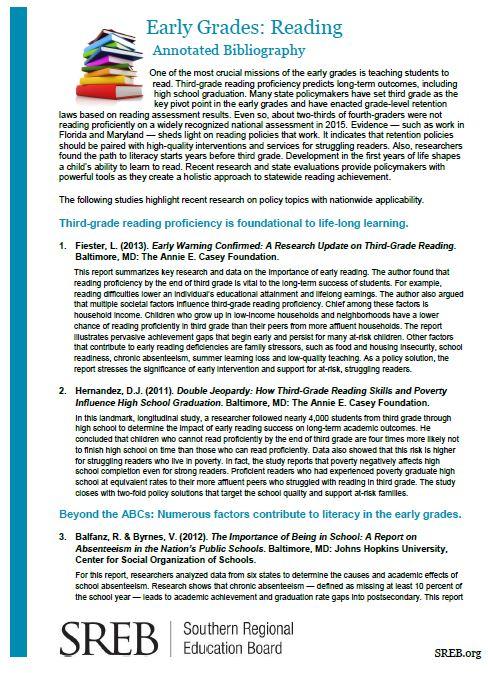 One of the most crucial missions of the early grades is teaching students to read. Third-grade reading proficiency predicts long-term outcomes, including high school graduation. Many state policymakers have set third grade as the key pivot point in the early grades and have enacted grade-level retention laws based on reading assessment results. Even so, about two-thirds of fourth-graders were not reading proficiently on a widely recognized national assessment in 2015. Development in the first years of life shapes a child's ability to learn to read.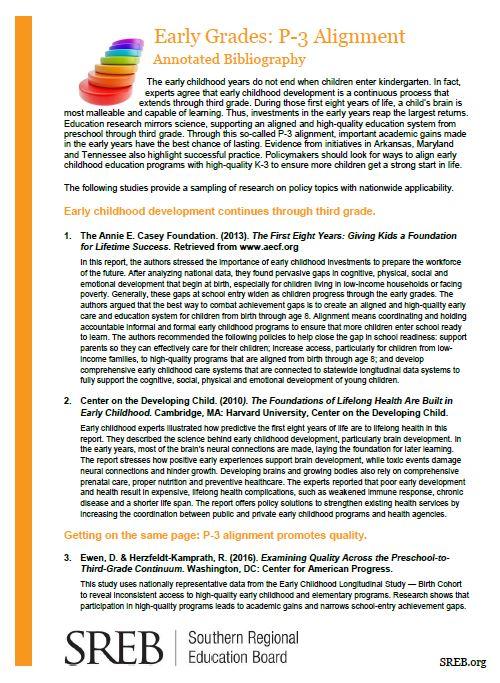 The early childhood years do not end when children enter kindergarten. In fact, experts agree that early childhood development is a continuous process that extends through third grade. During those first eight years of life, a child's brain is most malleable and capable of learning. Thus, investments in the early years reap the largest returns. Education research mirrors science, supporting an aligned and high-quality education system from preschool through third grade.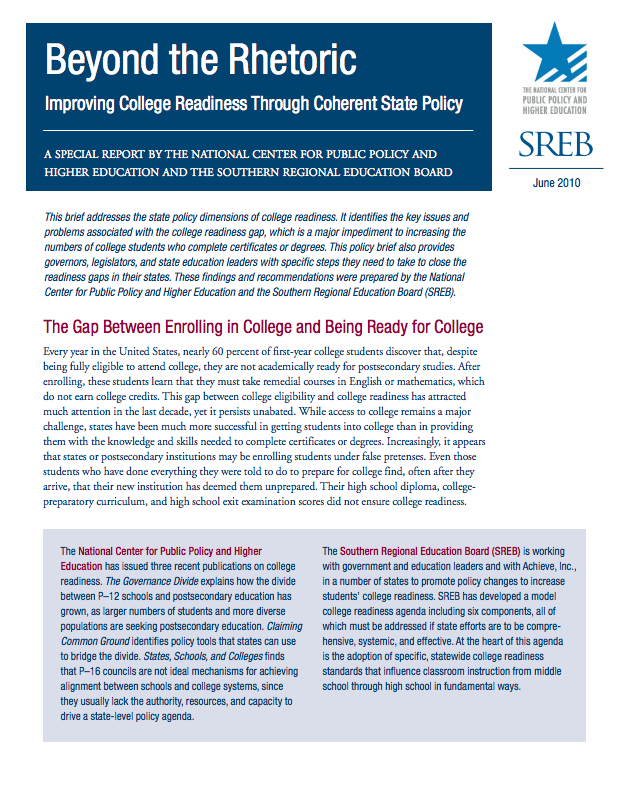 This brief addresses the state policy dimensions of college readiness. It identifies the key issues and problems associated with the college readiness gap, which is a major impediment to increasing the numbers of college students who complete certificates or degrees. This policy brief also provides governors, legislators, and state education leaders with specific steps they need to take to close the readiness gaps in their states. These findings and recommendations were prepared by the National Center for Public Policy and Higher Education and the Southern Regional Education Board (SREB).
SREB states adopted key education policies that increased the proportion of seniors taking the ACT and SAT while they were in high school from 2008 to 2013. This brief covers state-by-state college testing policies, plus data on test-taking by racial and ethnic group.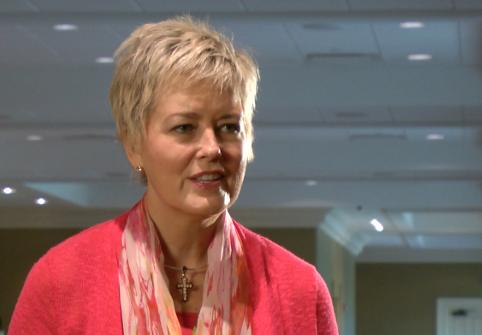 We had just finished a module on Romeo and Juliet, adolescent brain research and decision-making when I was notified of a surprise visit from the state Department of Education.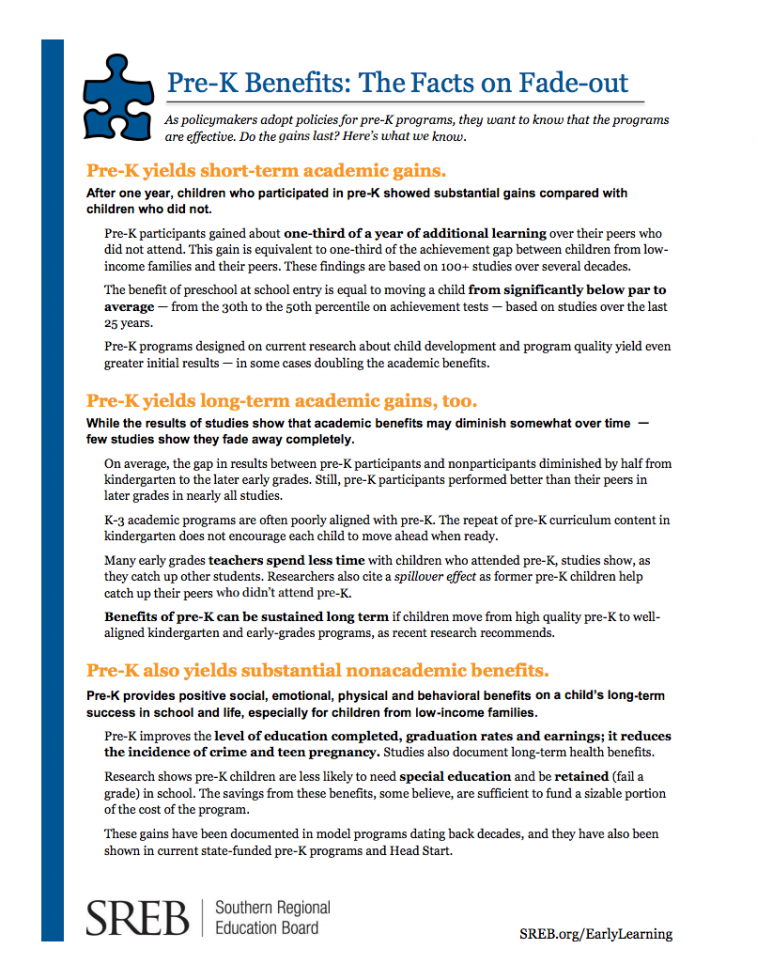 As policymakers adopt policies for pre-K programs, they want to know that the programs are effective. Do the gains last? Here's what we know.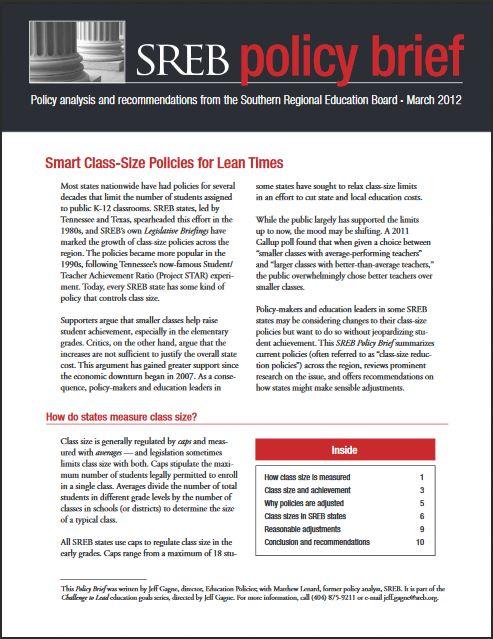 This policy brief summarizes class-size reduction policies across the region, reviews research on the issue, and offers recommendations on how states might make sensible adjustments without jeopardizing student achievement.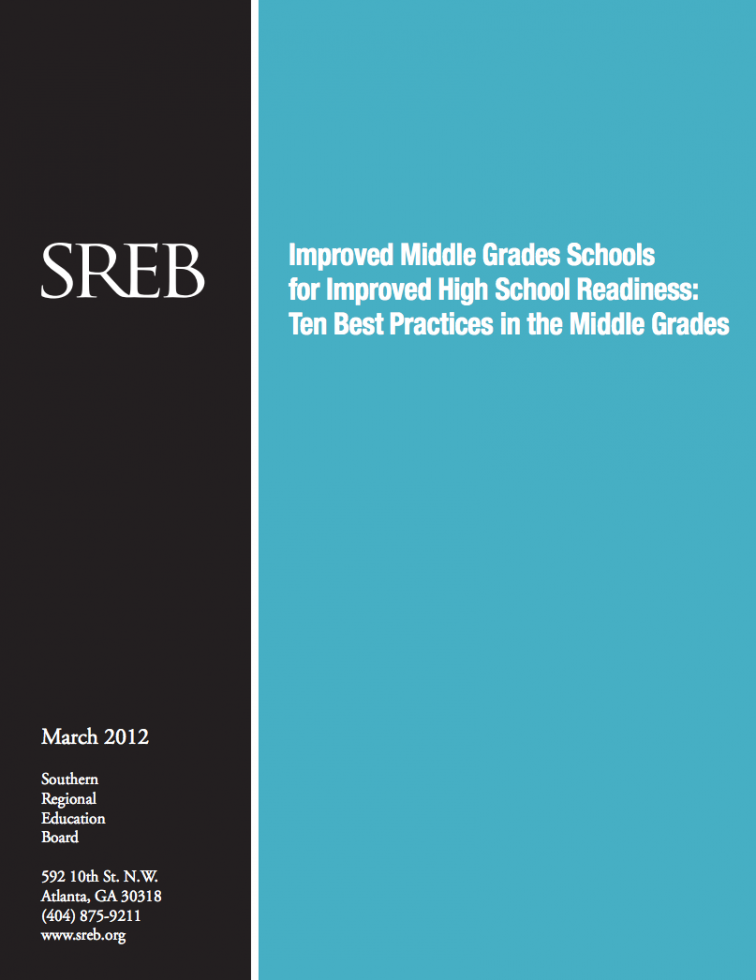 SREB compares 10 middle grades schools that made significant progress in improving reading, mathematics and science achievement with 10 middle grades schools that failed to make progress over a two-year period, in order to discern what actions resulted in the greater improvement. The report identifies the 10 best practices from the most-improved middle grades schools.