Search: State: Arkansas
Results 1 - 10 of 31
Results

Academic Common Market
A tuition-savings program for college students in SREB member states who want to pursue degrees not offered by in-state institutions. Students can enroll in out-of-state institutions that offer their degree program and pay the in-state tuition rates.
During calendar year 2017, 2,130 degree programs were available, 152 institutions participated and 3,355 new students were certified for study.
In 2017, 74 Arkansas students participated in Academic Common Market, saving, on average, $14,520 each and a collective total of $1,059,953.20 in tuition.
ACM State Representative: Alana Boles, Program Director of Private Career and Out-of-State Education, Arkansas Department of Higher Education
Regional Contract Program
Gives students the opportunity to earn a professional health degree from participating institutions in other states through in-state tuition rates at public institutions or reduced tuition at private institutions. Approximately 600 students participate each year.
Participating students from Arkansas in 2018-19: 180
Arkansas RCP Coordinator: Lisa Smith, Director of Financial Aid, Arkansas Division of Higher Education
State Authorization Reciprocity Agreement
A nationwide system to offer more high-quality distance education programs for students and ease the regulatory burden on institutions. SREB member states may opt in to offer distance education activities in other SARA states. By participating, colleges and universities in the SREB region save almost $30 million annually.
Arkansas is an approved member of SARA.
Colleges and universities in Arkansas saved $2.6 million for initial authorization and save $767,000 annually on renewals, according to estimates in a return-on-investment study by the National Center for Higher Education Management Systems.
Arkansas SARA representative: Alana Boles, Program Director of Private, Career and Out-of-State Education, Arkansas Department of Higher Education
Fact Book and Data Exchange
Fact Book
The SREB Fact Book on Higher Education is a compilation of comparative data on topics including demographics; college enrollment, retention, progression and graduation; tuition and fees; student financial aid; state support for postsecondary education; and faculty salaries. The Fact Book is published bi-annually, but the data are updated annually and made available on the SREB website.​
Arkansas leaders receive the SREB Fact Book on Higher Education and Arkansas: Featured Facts from the SREB Fact Book on Higher Education.
SREB-State Data Exchange
An annual collection of postsecondary education data that are submitted by representatives (i.e., Data Exchange coordinators) of postsecondary education system offices. The data collected include degrees conferred, student retention and progression, time to degree, student credit hours taken by high school students and by college students in courses using distance education technology, state funding for postsecondary education, and tuition and fees.
SREB State Data Exchange tables are posted on the SREB website.
Arkansas's Participating Agency and SREB-State Data Exchange Coordinator: Beth Stewart, Arkansas Department of Higher Education
Council on Collegiate Education for Nursing
Helps expand and strengthen schools of nursing to reduce the critical shortage of nurse educators needed to educate the nation's registered nurses. The Council surveys institutions for nursing education trends and shares online graduate nursing courses.
As of November 2018, six Arkansas institutions are members, listed here with their representatives to the Council:
Arkansas State University: Susan Hanrahan, Dean
Arkansas Tech University: Rebecca Burris, Chair
Harding University: Susan Kehl, Dean
University of Arkansas, Fayetteville: Susan Kane Patton, Director
University of Arkansas for Medical Sciences: Patricia Cowan, Dean
University of Central Arkansas: Susan Gatto, Director
Doctoral Scholars Program
Supports minority students to help them earn Ph.D.s, begin careers at colleges and universities, and diversify campus faculties. The SREB-State Doctoral Scholars Program (DSP) hosts the annual Institute on Teaching and Mentoring, the nation's largest gathering of minority doctoral scholars, with more than 1,100 attendees. The data below reflect Ph.D. Scholars who are funded by the state or by individual institutions.​
Arkansas scholars since 1993:106
Arkansas scholars funded in 2018-19: 7
2018 Institute attendees from Arkansas: 29
Graduates since 1993: 70
Graduates currently employed: 61
Percent employed in education: 72
Arkansas Ph.D. students in the DSP have attended these institutions since 1993:
University of Arkansas
University of Arkansas for Medical Sciences
Arkansas State University
University of Mississippi
Jackson State University
University of Arkansas at Little Rock
University of Central Arkansas
Mississippi State University
Oklahoma State University
Southern Illinois University Carbondale
Texas Christian University
University of Alabama at Birmingham
University of Arizona
University of Georgia
University of Iowa
University of Kentucky
University of Maryland-Baltimore County
University of Missouri-Kansas City
University of New Mexico
University of New Orleans
University of Northern Colorado
University of South Carolina
University of Tennessee Health Science Center
Vanderbilt University
Wichita State University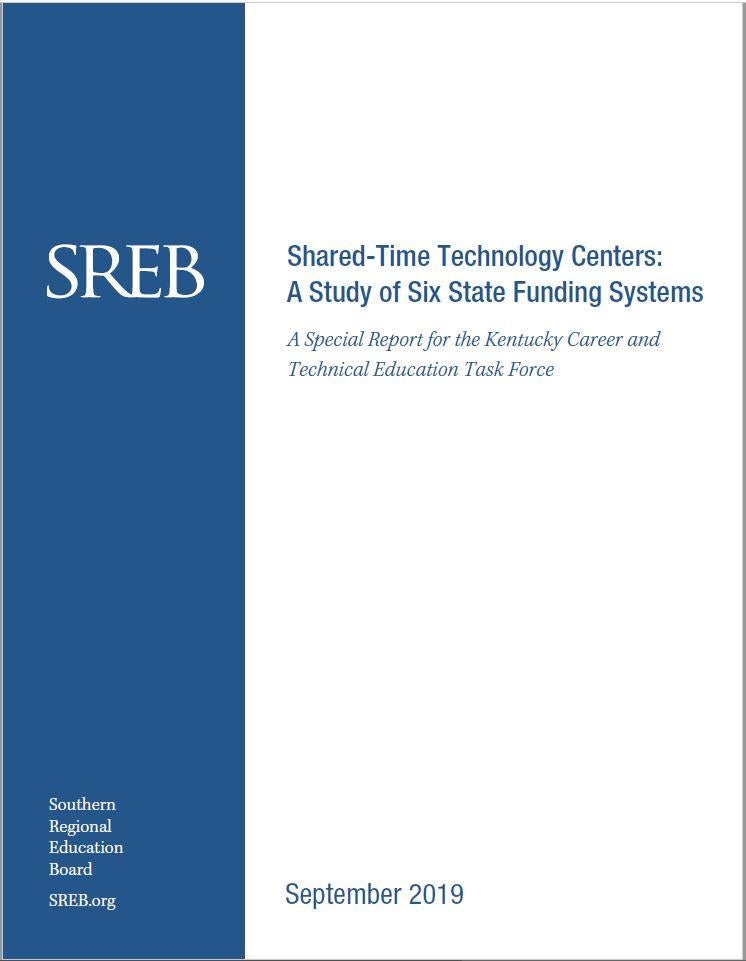 Students need learning experiences connected with the world of work to equip them to enter the workforce and secure good jobs. This report provides an overview of funding for career and technical education and a detailed look at CTE funding models in Arkansas, Indiana, Ohio, Oklahoma, South Carolina and West Virginia. Produced by SREB for the Kentucky Career and Technical Education Task Force, it also offers considerations for actions to improve CTE.
SREB works with Arkansas policymakers, colleges and schools to help them improve education. From this page, find independent, accurate data, reliable best practices and ways to share scarce resources — plus details on how Arkansas uses SREB's targeted programs and services.
Jeanne Glover, math specialist at the Jonesboro Public Schools district in Jonesboro, Arkansas, was trained in the Mathematics Design Collaborative during the 2013-14 school year with SREB math consultant Amanda Merritt. Glover believes the MDC tools fit well with her K-12 mathematics vision for the district.
So Debbie Blankenship, math teacher at Douglas MacArthur Junior High School, joined two other district teachers for initial MDC training in May 2014.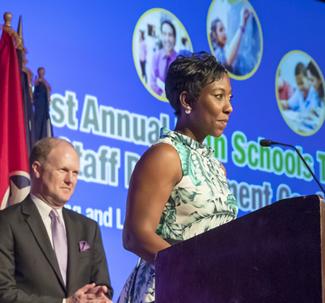 Four educators were honored this week for their work to help underprepared students succeed in high school and postsecondary studies. Mary Zluticky of Horn Lake High School in Mississippi, Phil Wesson of Sheridan High in Arkansas, and Marla Davis and Jean Massey of the Mississippi Department of Education won SREB awards.
Three educators and a South Carolina high school were honored this week with Southern Regional Education Board awards. These recognize outstanding teaching and leadership with SREB Readiness Courses, which help underprepared students succeed in high school and postsecondary studies. The winners were honored at SREB's Readiness Courses Institute in Orlando, Florida.
Educators from Georgia, Mississippi and Tennessee, and schools in Arkansas and Mississippi, in were honored this week with the Southern Regional Education Board's Readiness awards. These national awards recognize outstanding teachers and leaders offering SREB's Readiness Courses, which help underprepared students succeed in high school and postsecondary programs without the need for remediation.
2013 legislation in Arkansas calls for the high schools to assess students before they graduate from high school and offer transitional courses for those who do not meet college- and career-readiness standards. In response, the Arkansas Department of Education trained more than 300 educators to teach the SREB Readiness Courses — more than half of them for the Literacy Ready course, demonstrating a major commitment to literacy in Arkansas.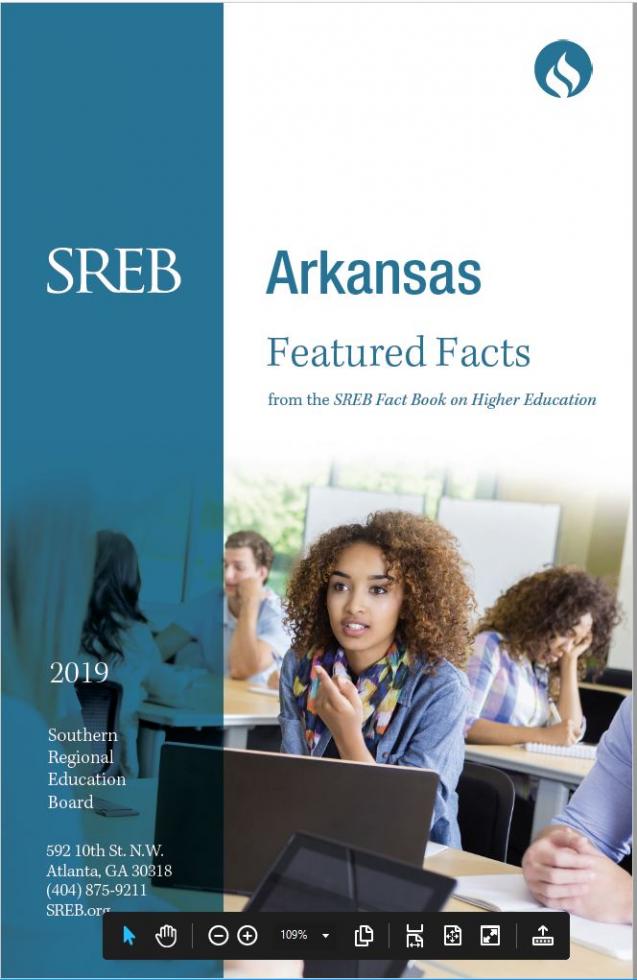 Arkansas-specific data on population, demographic, education attainment, enrollment, graduation rates, workforce, tuition, debt, funding, faculty salaries and more.