Search: State: Louisiana
Results 1 - 10 of 25
Results
SREB works with Louisiana policymakers, colleges and schools to help them improve education. From this page, find independent, accurate data, reliable best practices and ways to share scarce resources — plus details on how Louisiana uses SREB's targeted programs and services.

Academic Common Market
A tuition-savings program for college students in SREB member states who want to pursue degrees not offered by in-state institutions. Students can enroll in out-of-state institutions that offer their degree program and pay the in-state tuition rates.
During calendar year 2017, 2,130 degree programs were available, 152 institutions participated and 3,355 new students were certified for study.
In 2017, 81 Louisiana students participated in Academic Common Market, saving, on average, $12,623 each and a collective total of $1,035,069 in tuition.
ACM State Representative: LeAnn Detillier, Assistant Commissioner for Program Administration, Louisiana Board of Regents
Regional Contract Program
Gives students the opportunity to earn a professional health degree from participating institutions in other states through in-state tuition rates at public institutions or reduced tuition at private institutions. More than 600 students participate each year.
Participating students from Louisiana in 2018-19: 35
Number of out-of-state students who enrolled in Louisiana programs in 2018-19: 51
Residents of other states may contract for entry into Louisiana State University College of Veterinary Medicine and the Louisiana State University Health Science Center College of Dentistry. These Louisiana institutions received more than $1.53 million from other SREB states.
RCP State Coordinator: Shannon Harris, Scholarship and Grant Division, Louisiana Office of Student Financial Services.
State Authorization Reciprocity Agreement
A nationwide system to offer more high-quality distance education programs for students and ease the regulatory burden on institutions. SREB member states may opt in to offer distance education activities in other SARA states. By participating, colleges and universities in the SREB region save almost $30 million annually.
Louisiana is an approved member of SARA.
Colleges and universities in Louisiana saved $3.1 million for initial authorization and save $893,000 annually on renewals, according to estimates in a return-on-investment study by the National Center for Higher Education Management Systems.
Louisiana SARA representative: LeAnn Detillier, Assistant Commissioner for Program Administration, Louisiana Board of Regents.
Fact Book and Data Exchange
Fact Book
The SREB Fact Book on Higher Education is a compilation of comparative data on topics including demographics; college enrollment, retention, progression and graduation; tuition and fees; student financial aid; state support for postsecondary education; and faculty salaries. The Fact Book is published bi-annually, but the data are updated annually and made available on the SREB website.​
Louisiana leaders receive the SREB Fact Book on Higher Education and Louisiana: Featured Facts from the SREB Fact Book on Higher Education.
SREB-State Data Exchange
An annual collection of postsecondary education data that are submitted by representatives (i.e., Data Exchange coordinators) of postsecondary education system offices. The data collected include degrees conferred, student retention and progression, time to degree, student credit hours taken by high school students and by college students in courses using distance education technology, state funding for postsecondary education, and tuition and fees.
SREB-State Data Exchange tables are posted on the SREB website.
Louisiana participating agency and SREB-State Data Exchange Coordinator: Kimberly Kirkpatrick, Louisiana Board of Regents
Council on Collegiate Education for Nursing
Helps expand and strengthen schools of nursing to reduce the critical shortage of nurse educators needed to educate the nation's registered nurses. The Council surveys institutions for nursing education trends and shares online graduate nursing courses.
As of November 2018, five Louisiana institutions are members, listed here with their representatives to the Council:
Grambling State University: Meg Brown, Interim Dean
Louisiana State University Health Sciences Center: Demetrius Porche, Dean
Northwestern State University: Dana Clawson, Dean
University of Holy Cross: Patricia Prechter, Dean
University of Louisiana at Lafayette: Melinda Oberleitner, Dean
Doctoral Scholars Program
Supports minority students to help them earn Ph.D.s, begin careers at colleges and universities, and diversify campus faculties. The SREB-State Doctoral Scholars Program (DSP) hosts the annual Institute on Teaching and Mentoring, the nation's largest gathering of minority doctoral scholars, with more than 1,100 attendees. The data below reflect Ph.D. Scholars who are funded by the state or by individual institutions.​
Louisiana scholars since 1993: 181
Louisiana scholars funded in 2018-19: 27
2018 Institute attendees from Louisiana: 33
Graduates since 1993: 69
Graduates currently employed: 63
Percent employed in education: 86
Louisiana Ph.D. students in the DSP have attended these institutions since 1993:
Georgia State University
Louisiana State University
Louisiana Tech University
Rice University
Tulane University of Louisiana
University of Louisiana at Lafayette
University of Louisiana at Monroe
University of New Orleans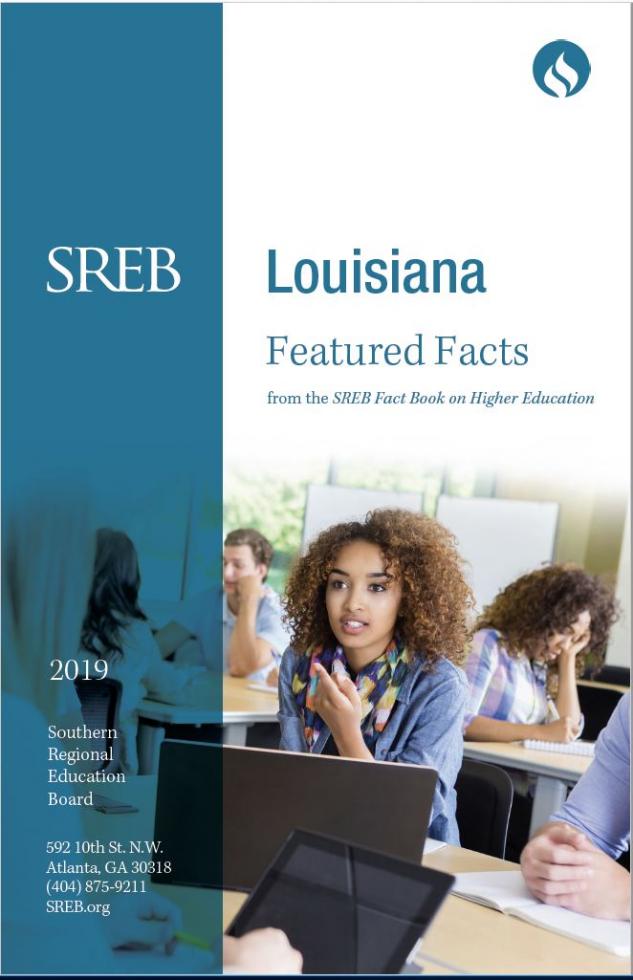 Louisiana-specific data on population, demographic, education attainment, enrollment, graduation rates, workforce, tuition, debt, funding, faculty salaries and more.
State Representative John "Bam" Carney of Kentucky was elected chair of SREB's Legislative Advisory Council at the group's annual meeting in Louisville this month. State Representative Patricia Smith of Louisiana was chosen as vice chair.

LAC officers are Senator Millar of Georgia and Representative Carney of Kentucky
Atlanta, Georgia — June 26, 2018 — Governor John Bel Edwards of Louisiana was re-elected to serve another one-year term as chair of the Southern Regional Education Board. He was re-elected at the organization's annual meeting in Boca Raton, Florida, on Sunday.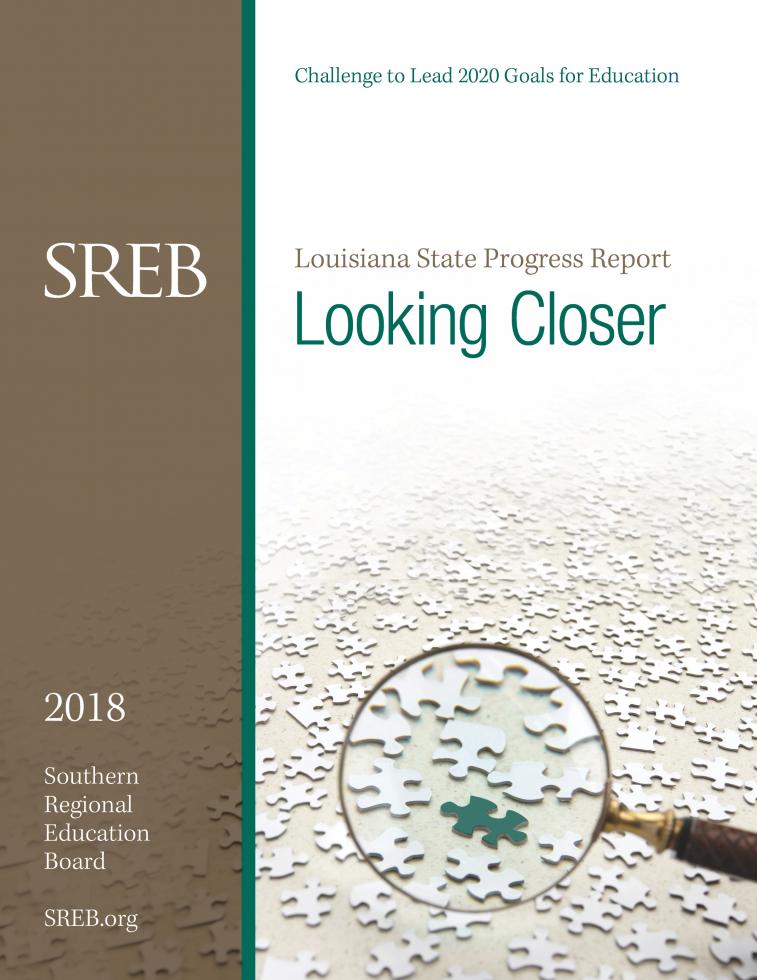 Looking Closer is the eighth biennial report to SREB states on their progress in meeting SREB's Challenge to Lead goals for education. Each customized state report documents progress on both measurable outcomes and state policies. Through effective policy implementation, the goals can help states drive improvements in student achievement, high school graduation, college completion and workforce readiness.

Making Schools Work Conference
Annual conference, formerly known as the High Schools That Work Staff Development Conference, for K-12 teachers, counselors, principals, technology center directors and state and district education agency personnel.
Louisiana attendees at the July 2018 conference: 10
College- and Career-Readiness Standards Networking Conference
Conference that focuses on literacy and mathematics tools and strategies. Teams of educators and school leaders explore disciplinary literacy strategies and formative assessment lessons that engage students in math.
Louisiana attendees at the July 2018 conference: 63
Literacy and Math Awards
Local Trainer Award
Tammy Whitlock and Donna Patten
Ouachita Parish Schools, Louisiana
Tammy Whitlock and Donna Patten of Ouachita Parish Schools, Louisiana, won the Outstanding Local Trainer Award in July 2018.
Go Alliance Academy
Strives to increase the postsecondary education and career success of all students by providing timely and relevant professional development in college and career readiness to school counselors, teachers, principals, career coaches and college access advisors.
Go Alliance Academy Representative: Sujuan Butte, Director, Executive Director, Louisiana Office of Student Financial Assistance
Learning-Centered Leadership Program
Leadership preparation program that develops current or aspiring principals' capacity to serve as effective instructional leaders who understand how to use data to locate and close gaps.
Louisiana attendees at the 2018 Annual Leadership Forum: 1
National Technology Centers That Work Leaders Forum
Forum for state and local career and technical education leaders to discuss the role of full- and shared-time technology centers. Teams of center and school leaders, teachers and education and industry partners build action plans.
Louisiana attendees at the 2019 National TCTW Leaders Forum: 1

Go Alliance
An interstate cooperative to increase high school graduation rates, access to education beyond high school, and postsecondary degree completion — particularly for those who would be the first in their families to enroll. Go Alliance research, services and professional development focus on college access policy and communications strategies to motivate students to plan for and apply to college.
Louisiana is a Go Alliance member state.
Go Alliance Representative: Tireka Cobb, Director, Field Outreach Services, Louisiana Office of Student Financial Assistance
Educational Technology Cooperative
Membership group of state K-12 and higher education coordinating and governing boards that represent more than 800 colleges and universities and 3,100 school districts in SREB states. The ETC focuses member agencies and state policymakers on using technology wisely, helps states understand technology issues and forms an action agenda for effectively using technology in education.
Louisiana representatives attended the spring and summer webinars. Louisiana sent two attendees to the 2018 ETC annual meeting on teaching and technology.
Louisiana ETC representatives helped determine SREB's 10 Critical Issues in Educational Technology and served on working groups for revisions.
Louisiana ETC Representatives and Member Agencies
Carol Mosley, State Education Technology and e-Rate Director, Louisiana Department of Education

Karthik Poobalasubramanian, Senior Programmer/Analyst, Louisiana Board of Regents
Technology Purchasing Savings
Schools, universities and agencies in SREB states saved $8.3 million on over $83 million in technology purchases during fiscal year 2018 — more than double the FY2017 savings — through SREB's participation in MHECtech discount agreements. Organizations in each of the 16 SREB states participated.
Louisiana saved $359,334 on $3,633,264 in technology purchases in fiscal year 2018.