Search: State: Maryland
Results 1 - 10 of 20
Results

Academic Common Market
A tuition-savings program for college students in SREB member states who want to pursue degrees not offered by in-state institutions. Students can enroll in out-of-state institutions that offer their degree program and pay the in-state tuition rates.
During calendar year 2017, 2,130 degree programs were available, 152 institutions participated and 3,355 new students were certified for study.
In 2017, 558 Maryland students participated in Academic Common Market, saving, on average, $16,224 each and a collective total of $9,020,644 in tuition.
ACM State Representative: Jacqueline M. Cade, Education Policy Analyst, Maryland Higher Education Commission
State Authorization Reciprocity Agreement
A nationwide system to offer more high-quality distance education programs for students and ease the regulatory burden on institutions. SREB member states may opt in to offer distance education activities in other SARA states. By participating, colleges and universities in the SREB region save almost $30 million annually.​
Maryland is an approved member of SARA.
Colleges and universities in Maryland saved $4.5 million for initial authorization and save $1.3 million annually on renewals, according to estimates in a return-on-investment study by the National Center for Higher Education Management Systems.
Maryland SARA representative: Bryson Barksdale, Education Analyst, Maryland Higher Education Commission. At-Large (11/2018 – 10/2020): Sharon Spencer, Assistant Vice Provost for Compliance and Reporting at the University of Maryland University College.
Fact Book and Data Exchange
Fact Book
The SREB Fact Book on Higher Education is a compilation of comparative data on topics including demographics; college enrollment, retention, progression and graduation; tuition and fees; student financial aid; state support for postsecondary education; and faculty salaries. The Fact Book is published bi-annually, but the data are updated annually and made available on the SREB website.​
Maryland leaders receive the SREB Fact Book on Higher Education and Maryland: Featured Facts From the SREB Fact Book on Higher Education.
SREB-State Data Exchange
An annual collection of postsecondary education data that are submitted by representatives (i.e., Data Exchange coordinators) of postsecondary education system offices. The data collected include degrees conferred, student retention and progression, time to degree, student credit hours taken by high school students and by college students in courses using distance education technology, state funding for postsecondary education, and tuition and fees.
SREB-State Data Exchange tables are posted on the SREB website.
Maryland participating agency and SREB-State Data Exchange Coordinator: Barbara Schmertz, Maryland Higher Education Commission
Council on Collegiate Education for Nursing
Helps expand and strengthen schools of nursing to reduce the critical shortage of nurse educators needed to educate the nation's registered nurses. The Council surveys institutions for nursing education trends and shares online graduate nursing courses.
As of November 2018, two Maryland institutions are members, listed here with their representatives to the Council:
The Johns Hopkins University: Patricia M. Davidson, Dean
University of Maryland at Baltimore: Jane Kirschling, Dean
Doctoral Scholars Program
Supports minority students to help them earn Ph.D.s, begin careers at colleges and universities, and diversify campus faculties. The SREB-State Doctoral Scholars Program (DSP) hosts the annual Institute on Teaching and Mentoring, the nation's largest gathering of minority doctoral scholars, with more than 1,100 attendees. The data below reflect Ph.D. Scholars who are funded by the state or by individual institutions.​​
Maryland scholars since 1993: 50
Maryland scholars funded in 2018-19: 5
2018 Institute attendees from Maryland: 54
Graduates since 1993: 32
Graduates currently employed: 27
Percent employed in education: 78
Maryland Ph.D. students in the DSP have attended these institutions since 1993:
John Hopkins University
Morgan State University
University of Maryland – Baltimore
University of Maryland – Baltimore County
University of Maryland – College Park
Maryland-specific data on population, demographic, education attainment, enrollment, graduation rates, workforce, tuition, debt, funding, faculty salaries and more.
SREB works with Maryland policymakers, colleges and schools to help them improve education. From this page, find independent, accurate data, reliable best practices and ways to share scarce resources — plus details on how Maryland uses SREB's targeted programs and services.
Looking Closer is the eighth biennial report to SREB states on their progress in meeting SREB's Challenge to Lead goals for education. Each customized state report documents progress on both measurable outcomes and state policies. Through effective policy implementation, the goals can help states drive improvements in student achievement, high school graduation, college completion and workforce readiness.

Go Alliance
An interstate cooperative to increase high school graduation rates, access to education beyond high school, and postsecondary degree completion — particularly for those who would be the first in their families to enroll. Go Alliance research, services and professional development focus on college access policy and communications strategies to motivate students to plan for and apply to college.
Maryland is a Go Alliance member state.
Go Alliance Representative: Benee' Edwards, Grants Management Manager, Maryland Higher Education Commission
Educational Technology Cooperative
Membership group of state K-12 and higher education coordinating and governing boards that represent more than 800 colleges and universities and 3,100 school districts in SREB states. The ETC focuses member agencies and state policymakers on using technology wisely, helps states understand technology issues, and forms an action agenda for effectively using technology in education.
Maryland representatives attended the spring and summer ETC webinars. Maryland sent one attendee to the 2018 annual meeting on teaching and technology.
Maryland ETC representatives helped determine SREB's 10 Critical Issues in Educational Technology and served on the working groups for revisions.
Maryland ETC representative and member agency:
Jacqueline Cade, Education Policy Analyst, Maryland Higher Education Commission
Technology Purchasing Savings
Schools, universities and agencies in SREB states saved $8.3 million on over $83 million in technology purchases during fiscal year 2018 — more than double the FY2017 savings — through SREB's participation in MHECtech discount agreements. Organizations in each of the 16 SREB states participated.
Maryland saved $252,369 on $2,551,731 in technology purchases in fiscal year 2018.

Goals for Education | Monitoring State Policies
Monitoring and reporting to assist education leaders and policymakers as they shape public policy. SREB tracks trends and analyzes the progress of all 16 SREB states in each area in the Challenge to Lead 2020 Goals for Education and provides Legislative Reports that detail legislative and budget actions in each state.
SREB's Insights data tool allows leaders to explore actions across states, delve into a topic for a deeper understanding, or select a detailed state report.
College and Career Readiness
Readiness in State Accountability Systems
SREB's benchmarking team distilled key elements of SREB states' acountability systems under the Every Student Succeeds Act into interactive profiles at Insights.SREB.org.
In October 2018,SREB updated the state profiles and published a regional report on five ways SREB states prioritized readiness in their ESSA plans.
Maryland's profile notes the state's efforts to raise expectations for college and career readiness through its school performance indicators.
Between April 2017 and January 2018, SREB hosted monthly conference call meetings of a state accountability network, for SREB member states to share ideas and discuss questions about redesigning and implementing state accountability systems under the Every Student Succeeds Act. Two state education agency leaders from Maryland participated.
Career and Technical Education
State Leaders Forum
Annual meeting for teams of legislators, policymakers, state board members, secondary and postsecondary education leaders, and workforce development agency representatives. Attendees explore policies and practices that help more young adults graduate prepare for postsecondary credentials and degrees and good jobs.
Maryland attendees at SREB's State Leaders Forum in December 2018: 2
Educator Effectiveness
Advises state and district leaders as they develop strategies to support the professional growth of teachers and principals.
Technical Assistance
From 2015-2018, SREB supported the development and implementation of Maryland's educator effectiveness strategy by funding statewide educator data analysis, professional learning activities and leadership development.
SREB staff met with state department staff in Baltimore in December 2018 to advise them on the development of their teacher evaluation system. SREB conducted focus groups with district administrators, principals and teachers. SREB produced a report in January 2019 that shared site visit and focus group findings, as well as recommendations for improving the implementation of the state's educator effectiveness strategy.
Staff responded to a state department request related to principal supervisors in April 2019.
convenings
The state department sent representatives to SREB's Sixth Annual Educator Effectiveness Convening in May 2018. They participated in collaborative working sessions with peers from 12 SREB states. State department staff met to discuss shared problems of practice in four areas: equitable access to effective teaching, leadership development, professional learning, and teacher voice.
Reports and Data
SREB produced the following resources for Maryland leaders over the past year:
Improving Educator Feedback and Support: Lessons from Eight States, February 2019, which shares a summary of technical assistance provided to half of the SREB states from 2015-2018.
School Is My Happy Place, May 2018, which showcases the innovative strategies used to develop a positive school culture at an elementary school in central Florida.
Mentoring New Teachers: A Fresh Look, January 2018, which proposes three action areas for states, districts and schools to support the development of novice educators and their mentors.
Teacher Preparation
SREB's Teacher Preparation Commission met during 2016, 2017 and 2018 and published its final report and recommendations in late 2018.​
Postsecondary Education
Affordability
SREB's Commission on College Affordability in the South recommended policies and practices to keep college costs within reach of all students. In addition to the Commission's report, policymakers can draw on updated regional and individual state affordability profiles to understand how costs impact families at different income levels.
Maryland's College Affordability Profile 2018 reports that, on average, families needed 33 percent of family income in 2015-16 to cover educational costs at the state's public four-year comprehensive or regional universities and 19 percent at public two-year colleges.
SREB featured Maryland's initiatives to address college affordability in a presentation by the executive director of the Maryland Commission on Higher Education at SREB's annual board meeting in June 2018.
State Services
Connects policymakers with custom information, presentations and assistance on education issues as they arise. Leaders in member states are encouraged to contact SREB for data, analysis and advice.
SREB staff, including the President, visited Maryland to meet with legislators and staff in 2019.
Throughout 2018-19, legislators and legislative and governor's staff from Maryland requested assistance on topics including online financial aid resources, students with dyslexia, and the services and benefits that SREB provides to Maryland.
Meetings
Staff from 8 SREB states attended the 2018 meeting of legislative and governors' staff to discuss topics that will likely be on agendas during upcoming legislative sessions.
Maryland legislators were among those in attendance at the 2018 meetings of SREB's Legislative Advisory Council and Legislative Work Conference.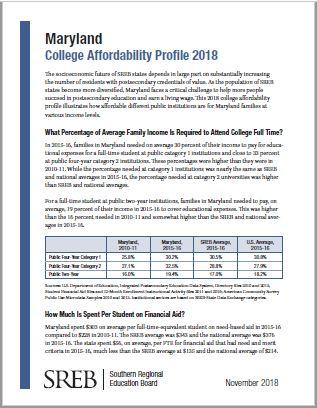 To help policymakers assess and improve college affordability in their states, SREB provides tailored reports on the policies, programs and prices that drive affordability. Each member-state profile details net price at different types of institutions, state financial aid based on need or other factors, student borrowing, and percentage of family income needed to pay for college at different income levels.

Making Schools Work Conference
Annual conference, formerly known as the High Schools That Work Staff Development Conference, for K-12 teachers, counselors, principals, technology center directors and state and district education agency personnel.
Maryland attendees at the July 2018 conference: 1
College- and Career-Readiness Standards Networking Conference
Conference that focuses on literacy and mathematics tools and strategies. Teams of educators and school leaders explore disciplinary literacy strategies and formative assessment lessons that engage students in math.
Maryland attendees at the July 2018 conference: 1