Search: Programs & Services, 2016
Results 1 - 10 of 182
Results
The list of SREB SARA Steering Committee Members as of October 17, 2019, can be found below.
Version 19.2 of the NC-SARA Manual is now available. This version of the manual incorporates and replaces the past edition's FAQ's, policies and standards. The manual can be found in its entirety on the NC-SARA website under Documents/Links.
What should I do if my university is not listed under a participating state?

If your university is a public state school that is not listed, please let us know. An oversight could have occurred for many reasons, or there could be a special circumstance.



Cherryl Arnold joined the Doctoral Scholars Program as special assistant to the program in 2016. She assists with enhancing and expanding services for program scholars and graduates; provides direct scholar services; and helps develop DSP writing projects for state and institutional leadership.
Congratulations! The DSP Staff is proud of you and your accomplishment. Even though you are no longer a scholar, the DSP still provides services to you to help you in your transition from scholar to faculty.
One of the nation's oldest, most comprehensive sources of comparative data on public higher education
The SREB-State Data Exchange is a cooperative effort of SREB and the statewide higher education governing and coordinating boards in the South. Founded in 1969-1970, the Data Exchange annually collects, compiles and publishes the most up-to-date statistics on postsecondary education in the 16-state SREB region, including information by institutional category.
More and more jobs require some education past high school, yet we are not preparing enough students for college, careers or both. Career pathways from middle and high school through college and into the workplace can accelerate access to the middle class.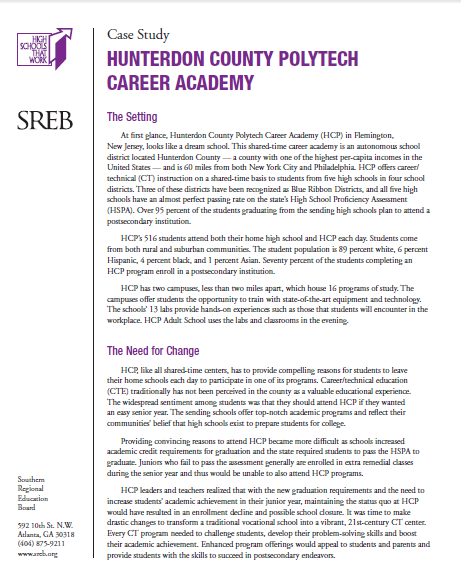 Hunterdon County Polytech Career Academy is a shared-time career academy in New Jersey. The center made drastic changes to transform a traditional vocational school into a vibrant 21st-century CTE center.