Session Types and Conference Objectives
Session Types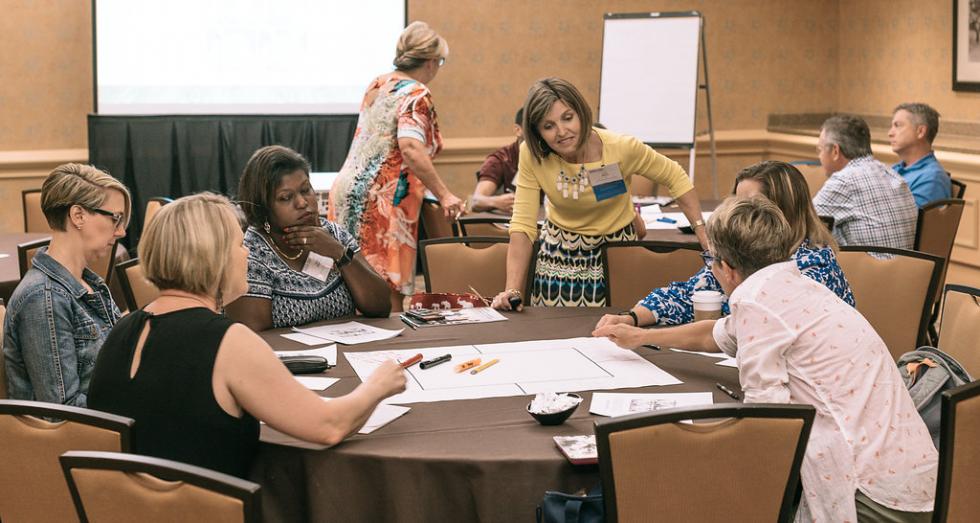 Concurrent. In these 60-minute sessions, SREB coaches, national experts, teachers and leaders share innovative practices and strategies for achieving student success. Sessions are designed for novice to veteran teachers, instructional coaches, and school and district leaders.
Deep-Dive. These in-depth, 120-minute sessions prepare teachers to deeply implement powerful literacy and mathematics practices that align with college- and career-readiness standards. Deep-dive sessions for principals and other leaders feature topics such as structuring professional learning communities and supporting teachers to implement powerful practices with fidelity.
Session Locations
All Networking Conference sessions will be held in the Baltimore Convention Center.
Target Audiences
Beginner. These sessions are designed to introduce attendees to the fundamental components and principles of powerful literacy and mathematics practices. Attendees learn how to design literacy-based and mathematics assignments, lessons and units and use formative assessment strategies to engage students in rigorous grade-level assignments.
Experienced. These sessions are designed for teachers and leaders who are ready to refine and deepen implementation of powerful literacy and mathematics practices in their classrooms, schools and districts. Attendees learn how to apply jurying rubrics, conduct peer observations, develop meaningful questions, collaborate and provide support to teachers and trainers.
Conference Theme and Objectives
Powerful Practices That Ignite Student Interest and Engagement
1. Engage students through collaborative discourse.
Sessions will showcase strategies to engage students in academic discourse through intentional planning of shared learning targets, strategic design of mathematics and literacy-based units and lessons, and purposeful facilitation of student-to-student feedback.
2. Use meaningful assignments to ensure equity for each student.
Sessions will highlight strategies for designing enhanced learning experiences that challenge and inspire students to achieve in every class, take an interest in their studies, and make the effort needed to complete relevant, cognitively demanding mathematics and literacy-based assignments.
3. Increase learning with assessment.
Sessions will explore strategies for designing and implementing assessments that reveal students' reasoning and understanding; using assessment data to adjust instruction to meet students' needs; and providing time and structures that support student self-assessment. Presentations will also showcase methods for providing effective feedback to students and creating data-driven instructional improvement plans.
4. Enhance educator efficacy.
Sessions will highlight strategies for increasing collaboration, using mathematics and literacy-based observation protocols, providing formative feedback and celebrating the successes of teachers, coaches and administrators.