Optional Special Events
Special events at the 2020 Making Schools Work Conference are great opportunities to network and relax with other attendees. Families and friends are invited, too!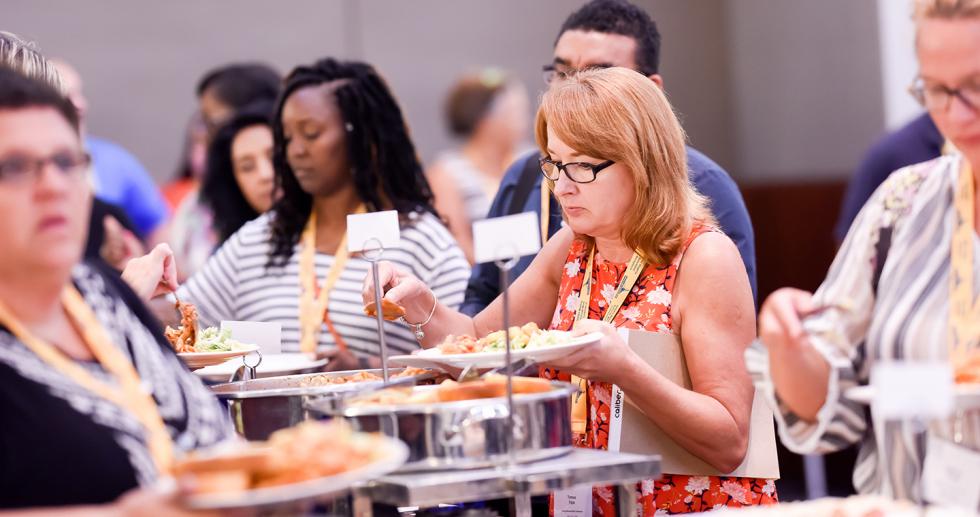 Gather with colleagues from your state to share this year's successes and plan your conference experience during a special State Networking Lunch on Tuesday, July 7 at noon. Tickets for this delicious hot lunch cost $25 per person, payable at registration. If you've already registered for the conference and would like to add this event, please visit sreb.org/register to update your registration. State Networking Lunch tickets may also be purchased on site at Conference Headquarters outside Halls H and I in the Convention Center.
As a reminder, hot lunches on Wednesday and Thursday are included in Making Schools Work Conference registration fees.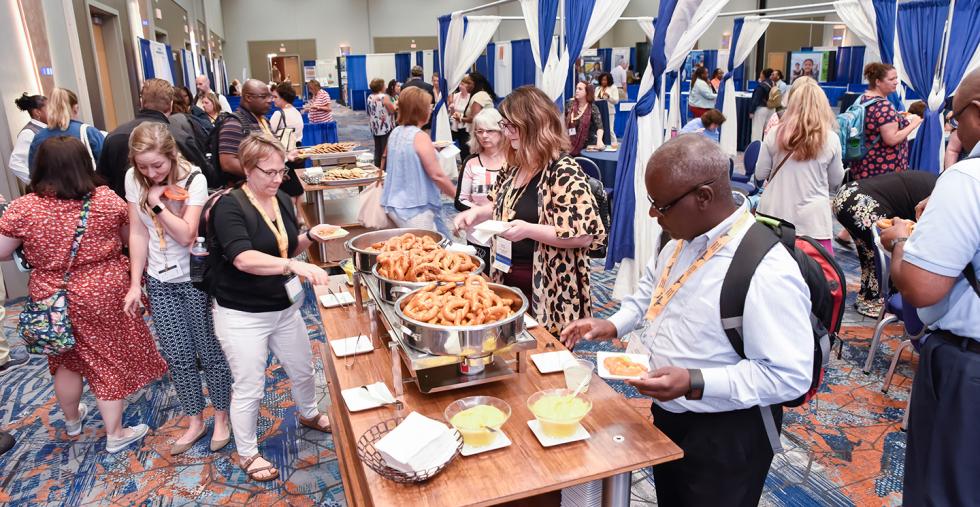 Join us in the Conference Exhibit Hall on Tuesday, July 7 from 4 to 5 p.m., after the Opening General Session and Keynote presentation, for a reception and poster session honoring recipients of this year's Gene Bottoms Pacesetter School Awards and State and District Leadership Awards. Pacesetters will share posters featuring the practices for which their schools or centers earned their awards.
Grab a snack, visit with our exhibitors and network with fellow attendees! Don't forget to pick up a ticket and enter to win an array of cool prizes, including gift certificates, edtech and free conference registrations and hotel nights for the 2021 Making Schools Work Conference in Nashville, TN.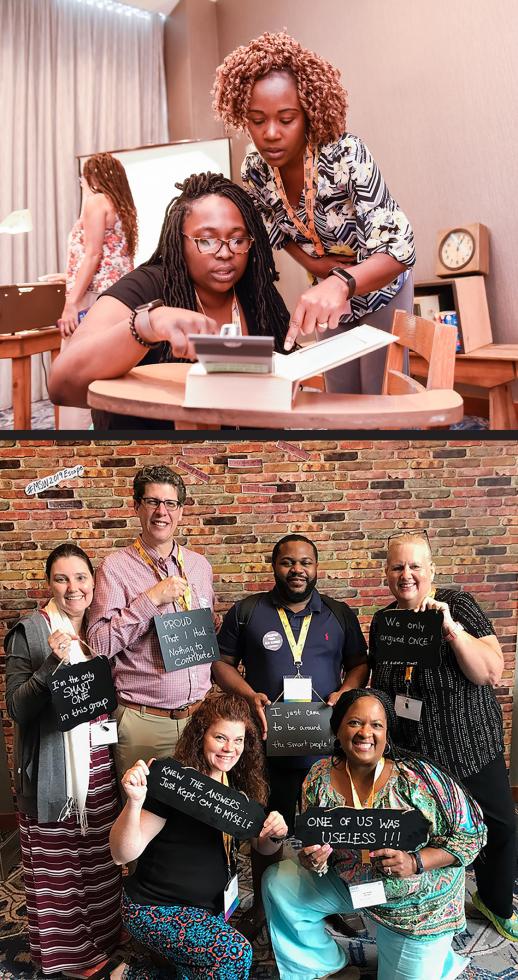 Bring your team to SREB's second annual escape room experience, "Escape from Old School — Career Edition." Your team of four to six people will assemble and have one hour to complete your mission and "escape" the room. A successful escape will require you to find hidden clues and solve challenging puzzles related to next-generation jobs in high-demand CTE career clusters. Everywhere you look is a potential clue or riddle to be solved. But hurry, the clock starts ticking the moment you enter! To win requires teamwork, speed, creativity and patience.
Our Escape Room will run in two locations — Rooms 118-119, outside Hall I, and in tents in the left rear of the Exhibit Hall — on Tuesday, July 7, Wednesday, July 8, and Thursday, July 9. Two additional timeslots will be available on Friday morning, July 10, in Rooms 118-119 only.
Sign-ups will be taken on a first-come, first-served basis starting at 6 a.m. each day of the conference using our web-based form. We encourage school teams to sign up in groups of four to six people per timeslot. Please arrive at your Escape Room location at least five minutes before your appointed time. The Escape Room event will begin promptly at the start of each session. In the event of a no-show, walk-up participants will be admitted.
| Tues., July 7 | Weds., July 8 | Thur., July 9 | Fri., July 10 |
| --- | --- | --- | --- |
| 10 – 11 a.m. | 8 – 9 a.m. | 8 – 9 a.m. | 8 – 9 a.m. |
| 11:15 a.m. – 12:15 p.m. | 9:15 – 10:15 a.m. | 9:15 – 10:15 a.m. | 9:15 – 10:15 a.m. |
| 12:45 – 1:45 p.m. | 10:30 – 11:30 a.m. | 10:30 – 11:30 a.m. | |
| | 12:30 – 1:30 p.m. | 12:30 – 1:30 p.m. | |
| | 1:45 – 2:45 p.m. | 1:45 – 2:45 p.m. | |
| | 3 – 4 p.m. | | |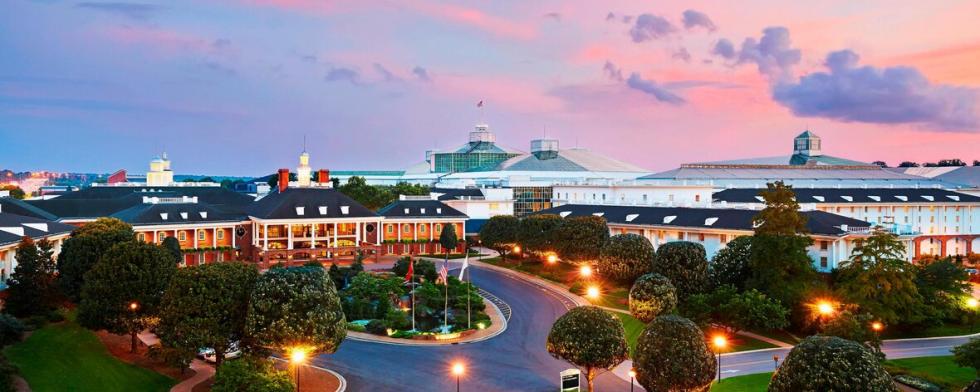 Stop by SREB's booth, #401, in the Conference Exhibit Hall and pick up a Treasure Hunt card and a free goodie bag (while supplies last; one per person). Complete the Hunt by filling out your contact information and collecting stamps at nine selected exhibit booths or free conference events. Attendees who return their fully completed card to the SREB booth by 10 a.m. on Thursday, July 9, will be entered to win great prizes, including gift certificates, the latest edtech, free conference registrations and hotel nights at the 2021 Making Schools Work Conference in Nashville, and more. Bookmark this page for the latest updates on Treasure Hunt prizes.
Winners do not have to be present to win – SREB will contact winners after the event to arrange for delivery of their prize.

Laissez les bon temps roulez with friends and colleagues at our Thursday Reception, Celebration and Float Den Tour from 4:30 to 6:30 p.m. at Mardi Gras World, located at 1380 Port of New Orleans Pl, next to the New Orleans Ernest N. Morial Convention Center.
Our Thursday reception and celebration kicks off with a one-hour Float Den tour. Get a behind-the-scenes look at some of the fantastical parade floats that have been built for Mardi Gras and major parades all over the world by Blaine Kern Studios since 1947. Then celebrate your conference experience with music, food and fellowship in Mardi Gras World's beautiful Grand Oaks Mansion, with its extravagant gardens and pathways.
The fee for this optional event is $30, which includes heavy hors d'oeuvres, beer, wine and soft drinks. Visit sreb.org/register to register.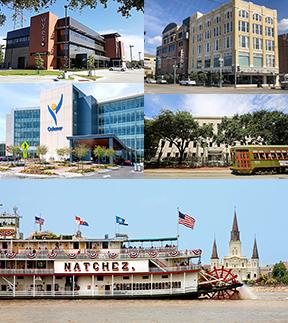 Back by popular demand! Take a behind-the-scenes tour at some of New Orleans' most prominent businesses on Friday, July 10, from 8 to noon. Choose your tour in our eShow registration system. Attendees are limited to one tour choice per person. Spouses, children or guests can register for an additional fee per person. All tours include shuttle transportation from the New Orleans Ernest N. Morial Convention Center to the tour site.
Visit our Industry Tours page for details, prices and age requirements.
Registration for all industry tours will close on June 26, 2020.
Tour choices include: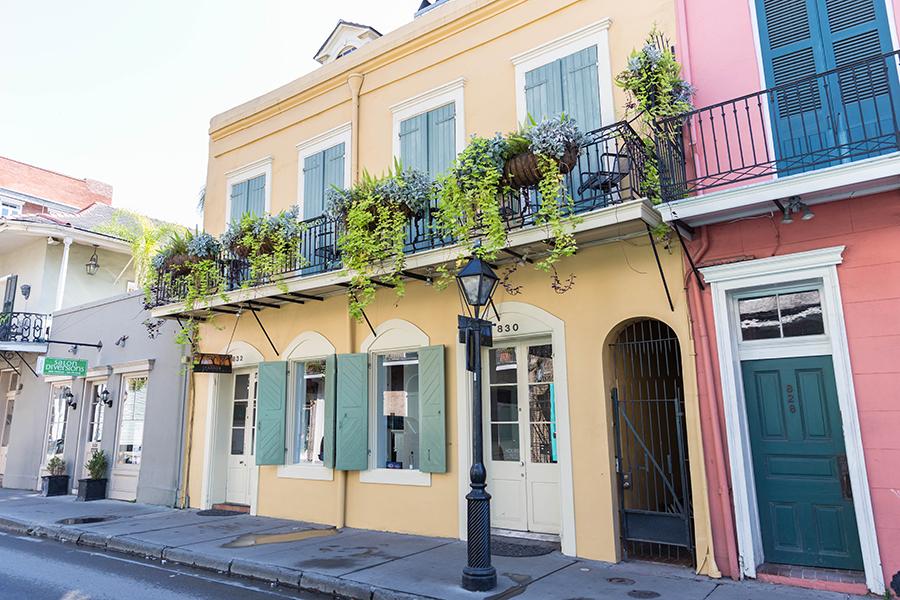 Enjoy New Orleans with guided tours of this beautiful city. Do you want to explore the architectural highlights and colorful history of the Garden District or French Quarter? Or perhaps you'd prefer to indulge in the culinary delights of the region's cuisine or give yourself a scare with a Voodoo tour, Cemetery tour or Haunted New Orleans tour.
Our partners at New Orleans & Company offer discounted coupons provided by various tour operators and special event providers in the city. Make sure to visit their Tours page for the latest line-up of unique tour experiences.
Although SREB is not sponsoring after-hours tours of the city, we will provide links on this page to any tour operators with whom we are able to arrange a special conference discount.
Other Tours Available to Attendees
The Wandering Krewe provides customized New Orleans tours that are tailored to your party's interests. We cover the general history of New Orleans through walking and driving tours, take you on journeys to plantations and swamps, and specialize in Jewish history tours and in Hebrew speaking tours. SREB's 2020 Making Schools Work Conference attendees may receive a 10% discount on any reservation by contacting The Wandering Krewe through their website or phone and booking a tour directly. Mention the conference to receive the discount.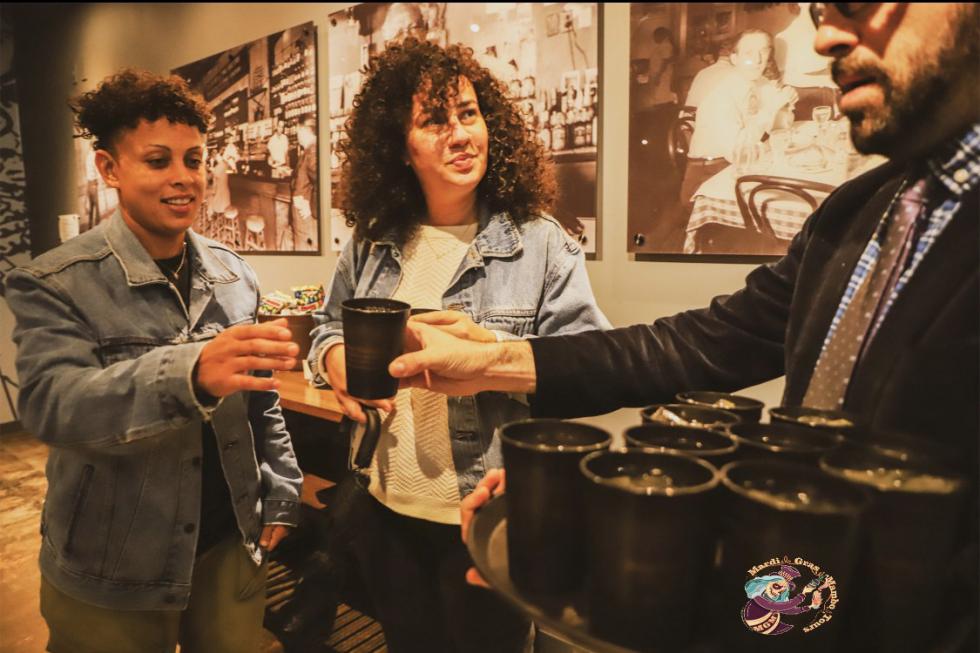 With the skyline of New Orleans and colorful floats as your backdrop, discover New Orleans' art and cocktail scene as you travel through the charming historic districts of the world-famous Treme and the Riverfront. First stop, Mardi Gras World, where a professional artist will assist you in making your very own masquerade mask. Hurricanes, mimosas, sodas, water and king cake will be available. Next stop, Seven Three Distilling Co. Sample top shelf and custom cocktails in our private room. Learn about Treme's rich history while sampling classic New Orleans cocktails. All food and alcoholic beverages are included during three- or five-hour tours.
Groups of 4 or more are discounted. Groups of 15 or more will be provided dinner at Seven Three Distilling Co. or brunch at Mardi Gras World at the time of the tour. To receive this discount simply call or email with the number of attendees and mention the 2020 Making Schools Work Conference. Visit www.mardigrasmambotours.com to learn more about tour options and get started.
Capture New Orleans from a different perspective. Kayak our beautiful bayous and historic waterways. We'll keep with the pace of the city—nice and easy, taking in the southern scenery, hospitality and weather.
Kayak-iti-Yat is offering 2020 Making Schools Work Conference attendees $10 off guided kayak tours in Mid-City! Visit kayakitiyat.com and use promo code 87Z4MHBK to book your tour. The promo code will be valid on all tours from Friday, July 3, 2020 through Monday, July 13, 2020.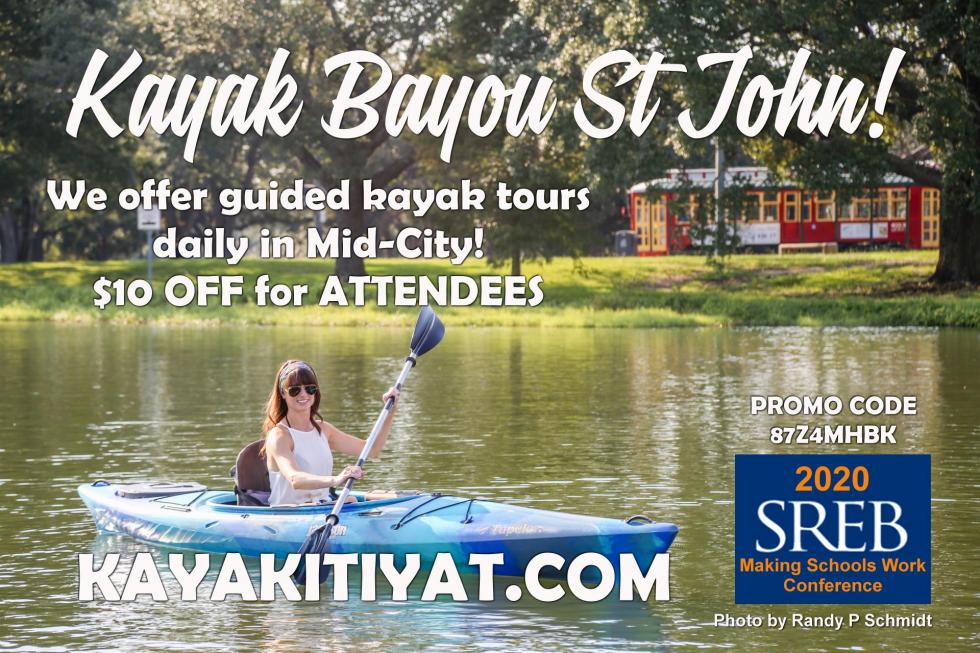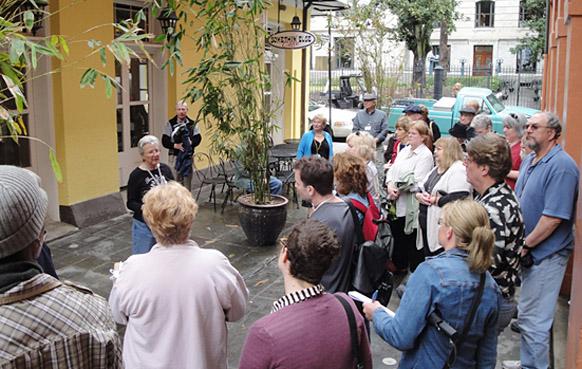 Friends of the Cabildo, a non-profit volunteer group organized in 1956 to provide support for the Louisiana State Museum, is offering attendees $17 off their advertised $22 price for their 2-hour French Quarter Walking Tours.
French Quarter walking tours are conducted by city licensed guides and emphasize the history, architecture, and folklore of this fascinating city. Tour and store proceeds benefit Friends of the Cabildo.
In addition to other cultural institutions throughout the state, there are five museums in the New Orleans French Quarter that are operated by the Louisiana State Museum. The Cabildo traces the history of Louisiana, while the 1850 House shows life as it was in mid-nineteenth century New Orleans.
Tours are conducted seven days a week at 10:30 a.m. and 1:30 p.m., and begin at the 1850 House Museum Store (523 St. Ann Street) on Jackson Square. Learn more and book your tickets on friendsofthecabildo.org.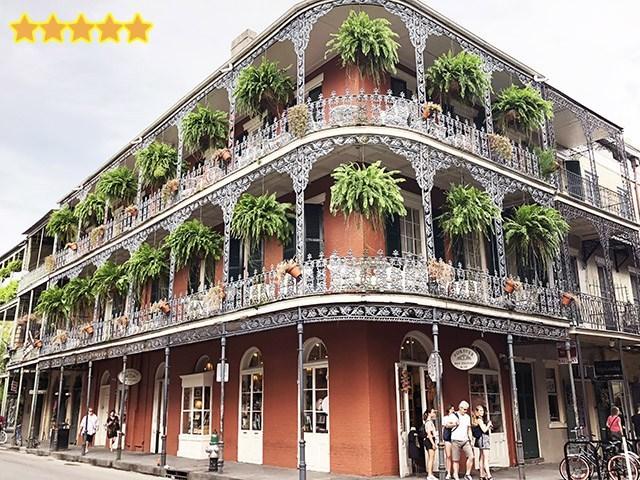 Explore the history of this amazing city through the lens of its beautiful buildings. You do not need to be an architect or have any knowledge at all about houses to enjoy these tours. New Orleans Architecture Tours are about how history and architecture intersect to tell the stories of the people who lived here. Expect to learn some new vocabulary and new ways to describe your favorite buildings in New Orleans!
Walking tours include the Garden District, French Quarter, a "Cemetery Combo" of French and Spanish Colonial Architecture and the city's oldest cemetery, the Marigny Historic Register neighborhood, and Treme, an early 1800s multicultural community that is now an important center of the city's African-American and Creole culture.
Conference attendees will receive $5 off each ticket with the promo code SREB2020. Visit nolatours.com to book a tour, or speak to a booking agent.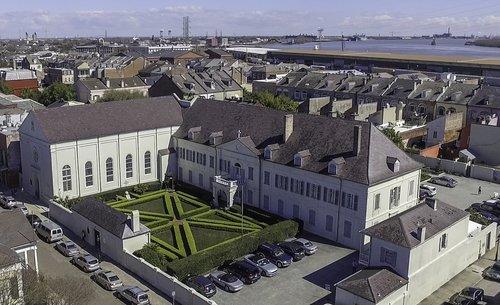 Be a part of the history and cultural heritage of the Catholic Church and the city of New Orleans. Come visit the Old Ursuline Convent Museum, the oldest building in the Mississippi Valley and once home to the Ursuline Nuns as a convent, orphanage and school for girls.
The Old Ursuline Convent was erected in 1745 and occupied until 1824 by Ursuline nuns as a convent, orphanage and school for girls. This historic building is now home to a brilliant museum with both permanent and changing exhibits.
The museum is open for self-guided tours Monday through Friday, 10 a.m. – 4 p.m., with the last admission at 3:15 p.m. Saturday hours are 9 a.m. – 3 p.m., with the last admission at 2:15 p.m.
Save $2 on museum admission by presenting your conference badge at the museum's front desk. Visit www.oldursulineconventmuseum.com to learn more.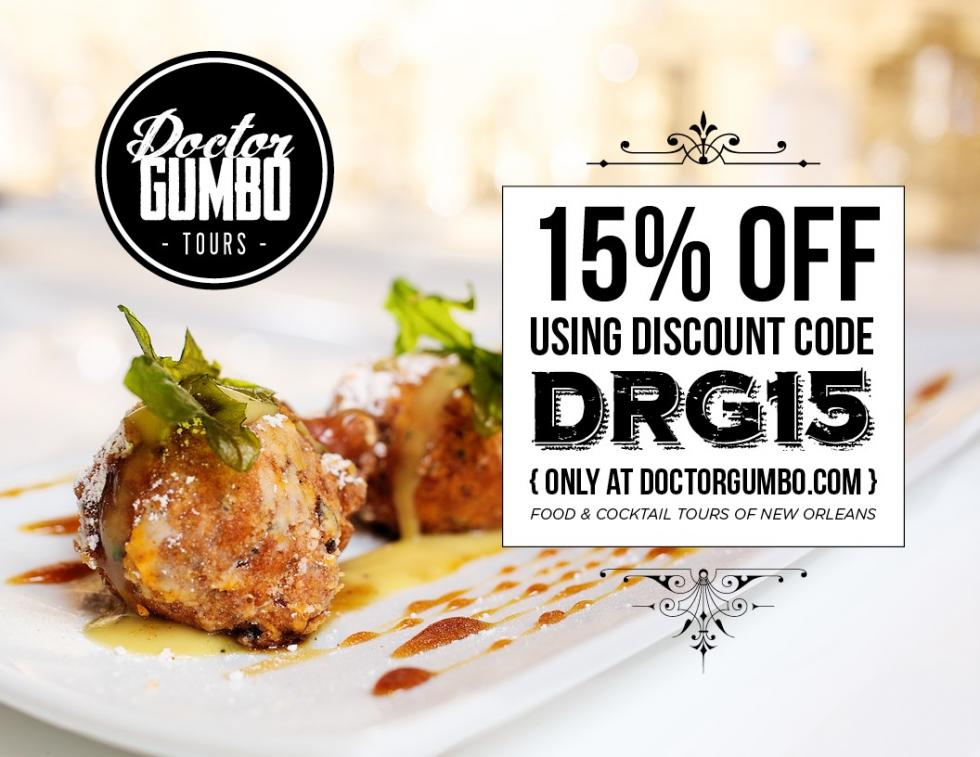 Ever been on a boring tour? Dylan O'Donnell, aka Doctor Gumbo, has too. Which is why Doctor Gumbo Tours are designed to be informative, engaging and most importantly: fun! A New Orleans native and former tour operator in Rome, Italy, his mission is to deliver the cure for the common tour.
Chefs are the new rock stars, and Doctor Gumbo's Food History Tour is a delicious journey through New Orleans and Louisiana's rich culinary history. Doctor Gumbo's Cocktail History Tour goes beyond Hurricanes, Hand Grenades and Bourbon Street. Or, choose a combo of these two tours and visit six locations – classic Creole restaurants, craft cocktail lounges, funky gastropubs, proto-Tiki bars, artisanal candy stores and more.
Doctor Gumbo's invites conference attendees to take 15% off any tour with the code DRG15 at doctorgumbo.com.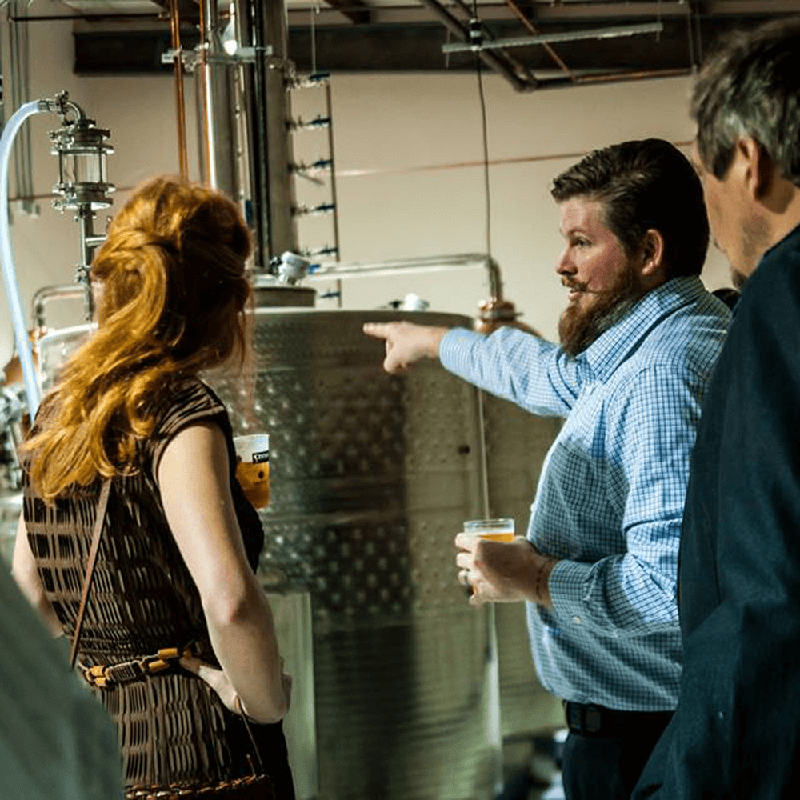 Seven Three Distilling Company takes its name and inspiration from the seventy-three unique neighborhoods of New Orleans. It's a passion reflected in each of our spirits, from Gentilly Gin and St. Roch Vodka to Black Pearl Rum and Irish Channel Whiskey. We craft our spirits locally at our Claiborne Avenue distillery, where guests can drop in for tours, tastings, and signature cocktails.
Guests from the Southern Regional Education Board conference can enter code SREB73 for a complimentary tour and tasting when booked through seventhreedistilling.com.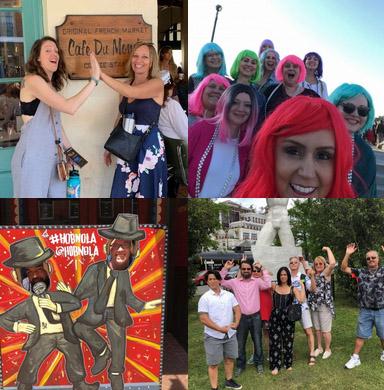 A Let's Roam scavenger hunt isn't just a cool walking tour, it's a guaranteed fun time! With over 400 hunts worldwide, it's never hard to find a hunt nearby. In New Orleans, how about one of these Let's Roam scavenger hunts?
New Orleans Bar Crawl: Float through some of the French Quarter's finest with the New Orleans Bar Crawl. Complete an exciting assortment of challenges with friends from sassy selfies to outrageous dancing while competing for the New Orleans Bar Crawl champion title. There's no telling where it'll take you but you're sure to have countless laughs along the way.
New Orleans Central Business District: Louisiana's mecca of culture is found in a once-quiet residential neighborhood. On this fun-filled New Orleans scavenger hunt, we make a loop around the Central Business District in search of iconic buildings, great green spaces and cultural institutions.
New Orleans Ghost Tour: Don't let the vibrant sights and French accent fool you; Louisiana's most iconic city is one of the spookiest cities in America! On this ghoulish New Orleans ghost tour, explore the French Quarter's most iconic landmarks and complete interactive challenges along the way.
New Orleans French Quarter Tour: Louisiana's largest city is where you'll find non-stop music and one big Bourbon. On this fun-filled New Orleans scavenger hunt, make a loop around the French Quarter in search of storied buildings, iconic streets and great river views.
Let's Roam is offering conference attendees a 20% discount on tour fees. Watch this page for a link and code to use on their website.