Our Professional Learning Model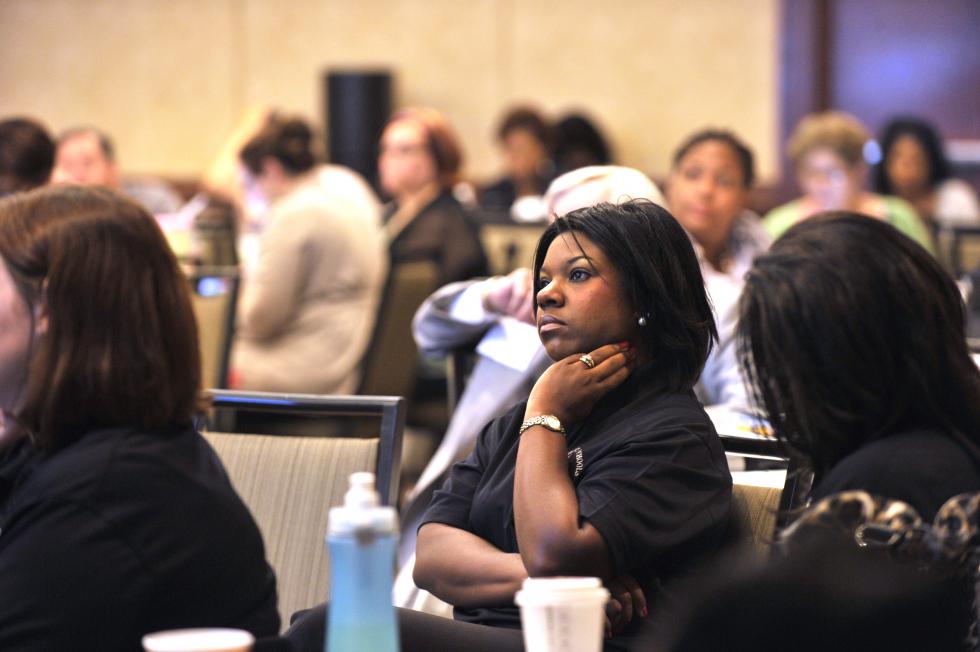 SREB helps states, districts and schools implement powerful literacy practices and powerful mathematics practices that transform teaching and learning.
SREB has worked with hundreds of middle and high schools around the country, providing training, coaching and in-school support to thousands of educators. These lead teachers then introduce SREB's powerful literacy and math practices to even more teachers in their home schools and districts, building capacity for in-school professional development through professional learning communities.
Powerful literacy and math practices give teachers a way to build lessons that engage students to read, think about and write about challenging texts in all disciplines. In math, students learn the why as well as the how by developing their math reasoning and problem-solving skills. Students struggle productively and learn more; in essence, teaching is shifted so that students take ownership of their learning and perform at higher levels. 
SREB's literacy and math professional development focuses on tools and strategies that classroom teachers can use to create effective assignments. Our approach begins with intensive training for selected teacher-leaders who can inspire and train others, followed by coaching and support as the entire school adopts the teaching methods.
SREB process for building capacity for continuous professional development into the school day.
Principals select outstanding teachers as lead facilitators for their disciplines — language arts, science, social studies, career-tech and math. These are teachers others tend to follow, who have shown over the years that they can help ordinary students achieve at higher levels. They are open to new approaches and willing to make the effort to share what works with others in their schools. 
SREB trainers provide these lead teachers with eight days of intensive, off-site training over several months. 
As the teachers work through their first assignments with the powerful literacy or math practices, SREB coaches provide in-school, hands-on support. Teachers get feedback on instructional strategies and advice on, for example, literacy modules or the appropriate place in the math curriculum for formative assessment lessons. 
Once lead teacher-facilitators have mastered the tools, the principal establishes professional learning communities for each discipline. The goal: Continuously seek and share information and strategies to enhance teaching effectiveness so students achieve more. 
The lead teacher-facilitator introduces other teachers in the department to the framework by recruiting buddy teachers from those most interested in bringing powerful literacy and math practices into their classrooms. 
The lead teacher works closely with the newer teachers as they learn. 
SREB provides ongoing webinar support for principals and teacher teams. 
SREB works with principals to develop their abilities to know what good teaching modules and student work look like, look for them in classroom observations and provide feedback. SREB also engages principals to find time for team planning and to support teachers as they develop and share models and score student assignments. With support from the principal, lead and buddy teachers assist all teachers in adopting powerful literacy and math practices to help students learn more deeply and master college- and career-readiness standards.