Giving Back
SREB-State Doctoral Scholars Program graduates paying it forward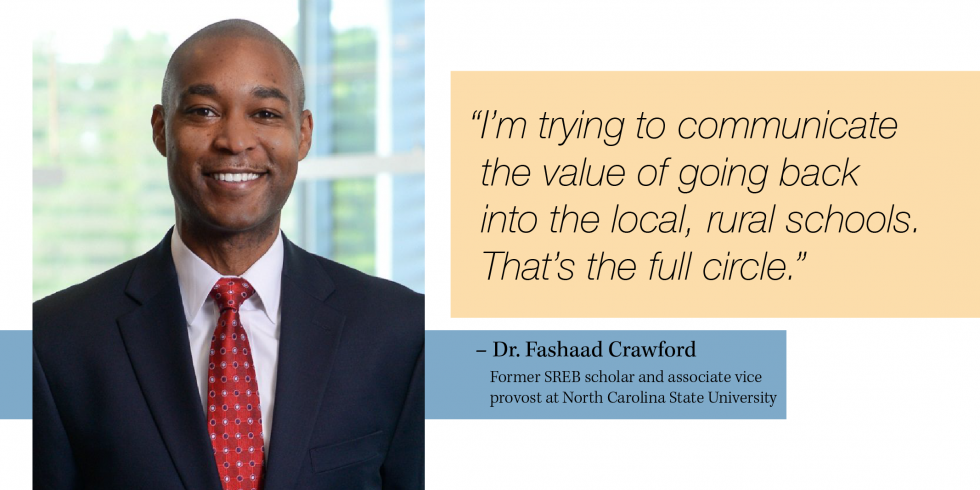 Former SREB scholar Dr. Fashaad Crawford is the associate vice provost for assessment and accreditation at North Carolina State University in Raleigh. Crawford aids in the planning process for new academic programming and oversees the university's regional accreditation and assessment of student learning processes. Throughout his career, he has worked to promote greater access and retention for faculty and students from underrepresented origins.
Prior to his time at N.C. State, Crawford worked with deans to enhance understanding of leaks in the faculty development pipeline and secure funding to bolster support for minority faculty and graduate student recruitment and retention. In addition to connecting faculty with research opportunities, it is vital to have activities such as support groups for new faculty and graduate students as they determine where to live and how to connect with their new community, said Dr. Crawford, who earned his Ph.D. in organizational development and educational leadership at the University of Louisville.
After serving on the faculty at Louisville for several years, he reconnected with someone he'd met at the Institute on Teaching and Mentoring and landed his first administrative post at Kent State University. While at Kent State, he helped create a new division of Diversity, Equity and Inclusion and oversaw its planning, assessment, and research management efforts. Crawford went on to serve as assistant provost at Kent State.
For Crawford, giving back also means going home. He is inspired by his mother, a high school teacher who passed away prior to his graduate studies but "always talked about the value of education," he said. "We would talk about going to college and the path after college."
Several years ago, Crawford's family started a scholar-ship program in his mother's honor. The Cheraw, South Carolina, native and graduate of South Carolina State University recently drove several hours to his hometown for the local high school's annual awards ceremony.
"In my current work, I'm really trying to communicate the value of going back into the local, rural schools," Dr. Crawford said. "That's the full circle."