Guidance for Presenters
Proposal Submission FAQ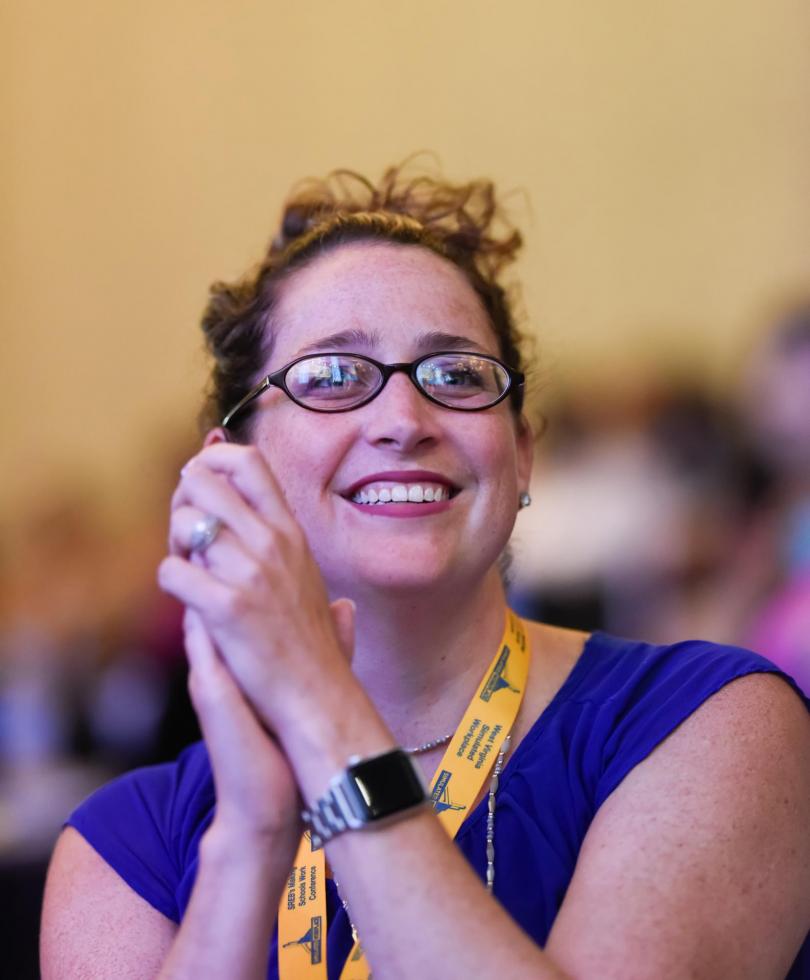 SREB's 2022 Making Schools Work proposal submission system is now open! We encourage you to select the session type that's right for you — promising practice, deep dive or table talk — and spotlight tools and strategies that have engaged and motivated your students to higher achievement.
Need advice on how to submit a successful proposal? Download the guide.
Trouble submitting? Email summerconference@sreb.org.
The proposal submission system is now closed.
What information do I need to provide about my session?
Submitting a session proposal is easy. You'll need:
a title of 15 words or less that accurately describes what attendees will experience in your session
an abstract of 150 words or less that thoroughly describes the content of your session, how it aligns with a conference objective and the tools and strategies attendees will take away
to connect your session with a conference objective. Conference objectives are based on the five focus areas of the Making Schools Work school improvement process.
additional information on your session's:

type and length – Session types include promising practice (60-minute), deep dive (120-minute) or sharing session/table talk (two back-to-back 25-minute sessions)
target audience – Who would benefit from attending your session?
grade level(s) – Does your session relate to students in the elementary grades, middle grades, high school or technology centers?
content area(s) – What disciplinary areas or issues does your session address?
re-do: Are you willing to repeat your session?
All Submitters and Presenters must also provide complete contact information for each person associated with the session (Submitter, Primary Presenter and any Co-Presenters), including the email addresses at which we can reach you during the school year and in the summer months.
We encourage you to also share a bio and social media information for our conference app.
What is the deadline to submit a session proposal to the 2022 Making Schools Work Conference?
The deadline to submit a proposal for the 2022 Making Schools Work Conference is October 22, 2021. Note that this is a much earlier deadline than in previous years. The sooner the system closes, the sooner we can publish our conference programs and you can begin planning your schedule!
Where do I submit my session proposal? May I start a proposal and finish it later?
All proposals must be submitted through our eShow proposal submission system.
You must complete your proposal submission in one sitting. Once you submit your proposal, you may come back at a later time to edit or update it.
What is the difference between a Submitter, a Primary Presenter and a Co-Presenter? May I have multiple presenters?
Our online system will ask you to identify whether you are submitting a proposal on behalf of someone else (Submitter) or submitting a proposal yourself as a Primary Presenter. (Primary presenters are automatically considered submitters.)
Submitters must identify at least one person as the Primary Presenter of the session. Enter this information on the Review page, after providing the session's title, abstract and details.
Your session may have multiple presenters. On our Review page, please add or delete your session's Primary Presenter (if you are only a Submitter) and as many Co-Presenters as you would like by clicking the "Add Co-Presenter" button to the right of your session title. Our system will prompt you to look up each new presenter and enter their information.
Complete contact information must be provided for each person associated with the session.
I can't find my name or the name of one of my co-presenters in the system. What do I do?
Follow the steps on our Search page, as follows:
If your organization is listed but not your name, click "New Contact" and enter yourself.
If you do not find your name or your organization in the search results, click "New Registration."
If you'd like to try your search again, click "New Search."
If you are a Submitter or Primary Presenter and cannot find your Co-Presenter(s) in the system, you will need to add them by clicking "New Contact" and entering their information.
Who will receive emails about my submission?
All persons associated with a proposal – Submitter, Primary Presenter and any Co-Presenters – will receive correspondence about the sessions with which they are associated.
May I submit more than one proposal?
Yes. However, if the number of quality proposals exceeds the number of sessions available, our conference organizers may choose to accept one proposal per person.
I need to edit or update my proposal submission. What do I do?
Check your email for the automated message you were sent after submitting your original proposal. It contains the username and password you must use to log in to our Proposal Service Center.
If you've forgotten or lost your password, visit our Proposal Service Center page, click "Forgot Password?" and follow the system's instructions to reset your password.
Until October 22, when the system closes, you may edit or update all elements of your proposal's content or presenters. After October 22, please email us at summerconference@sreb.org.
When will I find out if my session has been accepted?
Presenters will receive notice of acceptance and the date, time and location of their sessions on or before January 10, 2022.
When will the conference app and program be available?
Programs will be published online and via mobile app. For the most up-to-date version of the conference program, use our electronic program and mobile app, which will be available in February 2022.
What is required of conference presenters?
All presenters must:
Align sessions with a conference objective.
Provide your school and summer contact information.
Provide your job title, position, school, district and state.
Agree to present at your scheduled time.
Bring your own laptop and any special AV connectors to your session. Projectors will be available in all meeting rooms.
Arrange and pay for your travel and lodging.
Register and pay your conference registration fee.
What can I do to ensure that my proposal is accepted?
We appreciate the care you invest in preparing proposals. When choosing sessions, we consider:
Session diversity: SREB strives to ensure that conference sessions address diverse topics, audiences, grade levels and formats. We encourage you to apply your unique perspective to a conference objective and to emphasize tangible takeaways for session attendees.
Session availability: We've reduced the number of sessions at the Making Schools Work Conference to ensure that attendees aren't overwhelmed by choices and presenters can enjoy larger, engaged audiences.
Session value: SREB's Making Schools Work Conference is renowned for helping educators and school teams acquire research-based, classroom-tested tools and strategies they can use to improve student engagement and achievement and transform their school communities. Conference organizers look for sessions that feature hands- on problem-solving, powerful practices, inspiring stories of transformational change and examples of strong leadership.
Still have questions? Let us know!
We're happy to help. Email us at summerconference@sreb.org