Local Discounts for Attendees
Watch this page for updates on local businesses that would like to offer you a special discount or lagniappe during your time in New Orleans.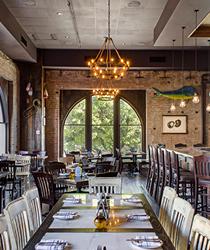 Landry's Seafood House is back bigger and better in The Big Easy! Located in the historic JAX Brewery in the heart of the French Quarter, Landry's returns to the vibrant neighborhood and has a history of over 20 years in the area. Enjoy beautifully renovated interiors, featuring floor-to-ceiling windows with sweeping views of the Mississippi River and Jackson Square. Our creative menu, unique to this location, showcases a variety of local seafood, signature steaks, and Creole cuisine to please any palate. A delightful mix of contemporary and classic craft cocktails, an extensive wine list, and a variety of local beers will keep you coming back for Happy Hour.
Conference attendees may receive a complimentary appetizer or dessert with the purchase of an entrée. Show your conference badge to receive this discount.