Making Schools Work Conference Speakers
SREB is delighted to announce that Freeman A. Hrabowski, III, President of UMBC (the University of Maryland – Baltimore County) will be the opening keynote speaker at the 2019 Making Schools Work Conference.
Opening General Session – Keynote Speaker
3 p.m., Wednesday, July 10, 2019
Freeman A. Hrabowski, III – President, UMBC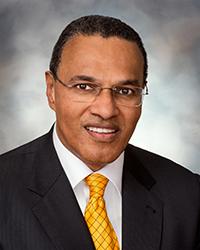 A highly regarded STEM educator and civil rights champion, Hrabowski has helped UMBC build its reputation as a world-class public research university and one of the nation's top producers of African-American graduates in STEM fields.
Hrabowski's research focuses on STEM education with an emphasis on advancing the participation and performance of underrepresented minorities.
Hrabowski graduated from Hampton Institute and holds an M.A. in mathematics and a Ph.D. in higher education administration and statistics from the University of Illinois at Urbana-Champaign.
Featured Speakers
TBA
Closing General Session – Keynote Speaker
10:15 a.m., Saturday, July 13, 2019 – Celebratory Brunch
TBA