Shortages and Support
SREB-State Doctoral Scholars Program graduates paying it forward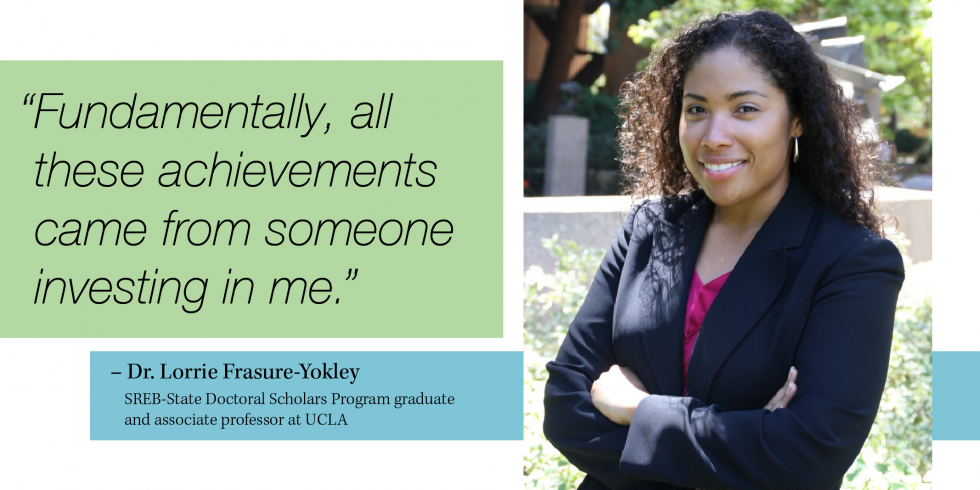 For Dr. Lorrie Frasure-Yokley, a graduate from the University of Maryland, College Park, the SREB program "paid for my tuition and fees, allowing me the freedom to join several research projects" rather than to work as a teaching assistant. She is the first woman of color to attain a tenure-track position and to earn tenure in the Department of Political Science at the University of California, Los Angeles.
Now an associate professor at UCLA, Frasure-Yokley is the co-principal investigator of the Collaborative Multiracial Post-election Survey, the first multi-racial, multi-ethnic, multi-lingual post-election survey of U.S. adults following a presidential election. She said the program "prepared me for some of the unspoken nuances of being the first or one of the few" minority graduate students or faculty members at her institutions. As a first-generation college student from Chicago's South Side, she didn't meet many people growing up who had gone to college. Then a recruiter from the University of Illinois at Urbana-Champaign visited her high school and convinced her to apply, despite a modest ACT score.
At UCLA, she teaches a one-unit skills development course for first-generation undergraduate students. In 2018, she was featured on the PBS NewsHour's "Rethinking College" segment and was awarded a UCLA Distinguished Teaching Award with Distinction in Teaching at the Graduate Level. She works to link graduate students with research opportunities, grant writing experiences and more.
"I had excellent mentorship," Frasure-Yokley said. "Fundamentally, all these achievements came from someone investing in me."