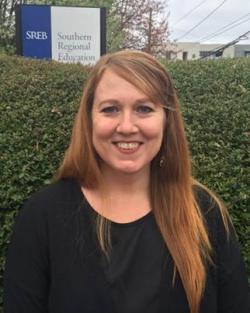 Lauri Johnson
Director, School Leader Development
Lauri Johnson is director of school leader development at the Southern Regional Education Board, a position she has held since 2014. She was principal of Decatur High School in Decatur, Georgia, from 2006 to 2014 and has been a leader in public education for more than 17 years.
At SREB, Lauri works with district and school leaders to help create the conditions necessary to implement literacy and math tools and strategies with fidelity in classrooms and schoolwide. Using proven classroom observations tools, such as embedded Literacy Design Collaborative and Mathematics Design Collaborative "look-fors," Lauri helps school leaders put professional learning communities into practice and ensure all teachers have the resources necessary to adopt college- and career-readiness tools.
Prior to joining SREB, Lauri served in the City Schools of Decatur for 15 years. At Decatur High School, she increased the graduation rate nearly 17 percent, from 77 percent to 93.9 percent, by focusing on the instructional shifts necessary for student success.
Lauri earned her master's degree at the State University of New York at Albany and has completed advanced graduate coursework at the University of Georgia and Georgia State University.