Explore Baltimore
This July, join us at SREB's summer conferences and find out why Baltimore has been named "the coolest city on the East coast," "one of the top 20 travel destinations for 2019," "a mini family vacation that won't break the bank," "one of America's most artistic towns," and "one of the most exciting food cities" – and earned a spot on "the Great American Barbecue Bucket List."
We've partnered with the Baltimore Convention Center and Baltimore Visitor Center to introduce you to all Charm City has to offer. Learn more at Visit Baltimore, or check out these guides:
Waterfront Partnership Safety Guides
(Inner Harbor Promenade & Harbor East/Fells Point)
The WPB Safety Team provides a visible presence that serves as an extra set of eyes and ears to assure visitors' safety at the waterfront. From foot, bike, and Segway patrols, to after-hours business checks and safety escorts, the Safety Team provides a watchful eye around the district.
Service Hours:
9:30 a.m. – 10:00 p.m. (Sunday-Thursday)
9:30 a.m. – 11:00 p.m. (Friday-Saturday)
Safety Escorts: 443-278-4701
9:30 a.m. – 9:30 p.m. (Sunday – Thursday)
9:30 a.m. – 10:30 p.m. (Friday – Saturday)
Downtown Partnership Baltimore Guides (Convention Center, Inner Harbor)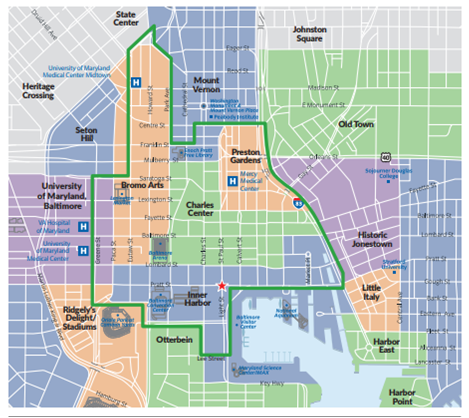 Twenty to 30 Downtown Baltimore Guides (DBG's) patrol a 106-block radius, 6 a.m. – 9:30 p.m., seven days a week. DBGs serve as goodwill ambassadors, information sources, and positive welcoming advocates. Their many responsibilities include:
Creating a hospitable presence on the streets.
Patrolling designated areas on foot as "eyes and ears" of the community.
Assisting with emergency situations.
Monitoring criminal incidents but not physically engaging. If they witness criminal or unsafe activity, DBGs contact the Police and follow up with victims.
Assisting homeless individuals and others in need and attempting to connect such persons to services or housing.
Security Escorts - Providing security escorts from offices or residences to parking garages, bus stops, or other destinations. Call 410-802-9631 to request service from 10:30 a.m. – 9 p.m.
Convention Concierge Desk
Our Convention Concierge Desk is stationed at a table near our registration area in Camden Lobby BCC and will be able to help attendees with anything they need! Hours and Dates: Monday 7/8 through Friday 7/12: 10 a.m. – 5 p.m.
Baltimore's Show Your Badge Program
Baltimore is bursting with restaurants and attractions all around town. And as an SREB conference attendee, you are eligible for exclusive discounts. Just show your conference badge at participating establishments to receive a special promotion or discount. Download the Show Your Badge guide (PDF).
For more information, to make reservations or to plan your itinerary, stop by the Convention Concierge at the Baltimore Convention Center, call 1-877-Baltimore, or visit the Baltimore Visitor Center at the Inner Harbor at 401 Light Street.
More Special Offers From Baltimore Businesses
Watch this space! We're compiling special offers from Baltimore tourist attractions, entertainment venues, museums and restaurants who would love to welcome you to the city.
The American Visionary Art Museum will extend a $2 off museum admission discount to anyone showing their conference badge at their front desk. AVAM's current exhibition shares how to engage children about the dangers of hate speech.
Game Baltimore invites attendees to enjoy its old-school arcade games, pool tables, happy hours, Salsa Fridays and Orioles open bar specials. Located 1.4 miles from the Convention Center, Game Bar offers a free 14-passenger shuttle to pick up groups of guests.
Germano's PIATTINI in Little Italy offers contemporary Italian cuisine, fresh-made pastas, breads and desserts, a live music cabaret and a Sunday jazz jam session in its bar. Conference attendees may take advantage of Germano's complimentary shuttle and a glass of prosecco upon arrival.
Convention Concierge
The very knowledgeable Visit Baltimore staff is available to assist attendees with restaurant recommendations, attractions information, leisure activities and all things Baltimore. The concierge line — 1-877-Baltimore — is available Monday through Friday between 9 a.m. and 5 p.m.
Charm City Circulator
The Charm City Circulator services residents, downtown employees, students, tourists and anyone else who wishes to ride. The shuttle is intended to reduce congestion and greenhouse gas pollution by offering a convenient, reliable and eco-friendly form of public transportation.
The CCC consists of four separate routes:
Green Route: City Hall to Fells Point to Johns Hopkins
Purple Route: 33rd Street to Federal Hill
Orange Route: Hollins Market to Harbor East
Banner Route: Inner Harbor to Fort McHenry
This free shuttle arrives every 10-15 minutes at the designated stops on each route.
The Baltimore Convention Center is located on the Orange Route (Hollins Market – Harbor East). Visit the CCC website to view or download route maps.