Former Arkansas State Senator Joyce Elliott Recognized for Five Decades of Work in Education
ATLANTA – Joyce Elliott, who served two decades as an Arkansas state senator and representative, was honored with a special leadership award at the annual Southern Regional Education Board annual meeting earlier this month.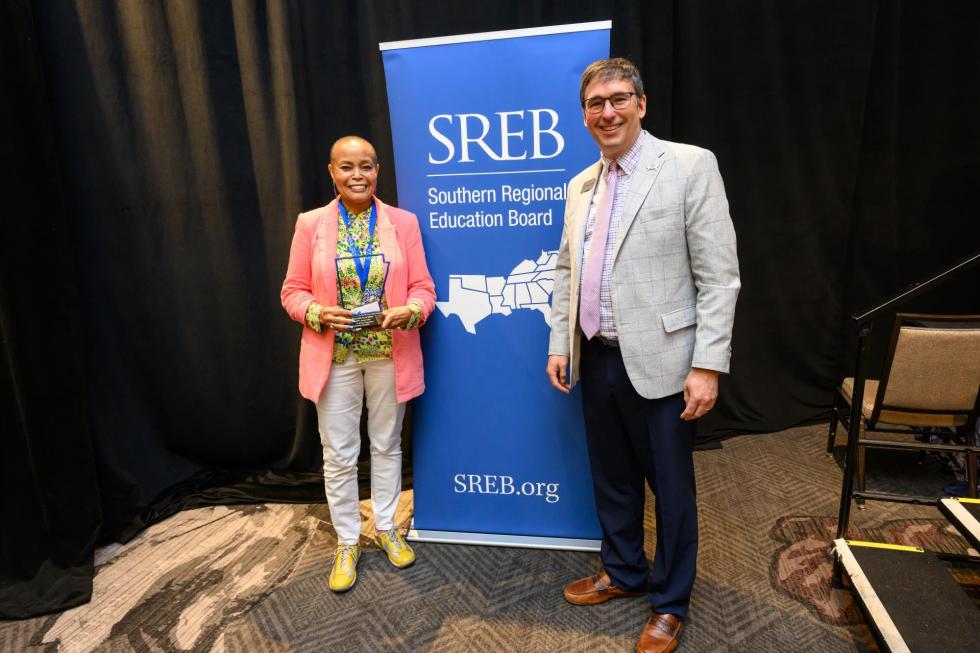 Elliott accepted the award after a surprise presentation by SREB President Stephen Pruitt. In her remarks, she implored members to not only work hard but also encourage other lawmakers to commit to improving education throughout the South.
"We work so hard, as folks who are part of the education committee, to do everything we know to do to make sure our kids in the South have an opportunity to be prepared for the world," Elliott told the gathering. "But, to do so, we must address underlying quality of life conditions outside of school that affect school success."
Pruitt said the award was in recognition of Elliott's years of service on the SREB Executive Committee, including her service as vice chair during the transition of presidents in the late 2010s.
"Joyce has been an unwavering advocate for education and SREB during her time serving in the Arkansas legislature," Pruitt said. "She has been a great friend to SREB and me since I joined in 2018."
Elliott served in the Arkansas House of Representatives from 2001 to 2006 and in the Arkansas Senate from 2009 until December 2022.
In her last term in the Senate, Elliott served on the Education Committee, where she was vice-chair. She also served on the Budget, Retireme­­nt, and Insurance and Commerce committees. In both the House and the Senate, she was named by the Arkansas Democrat-Gazette as one of the Ten Best Legislators of the General Assembly.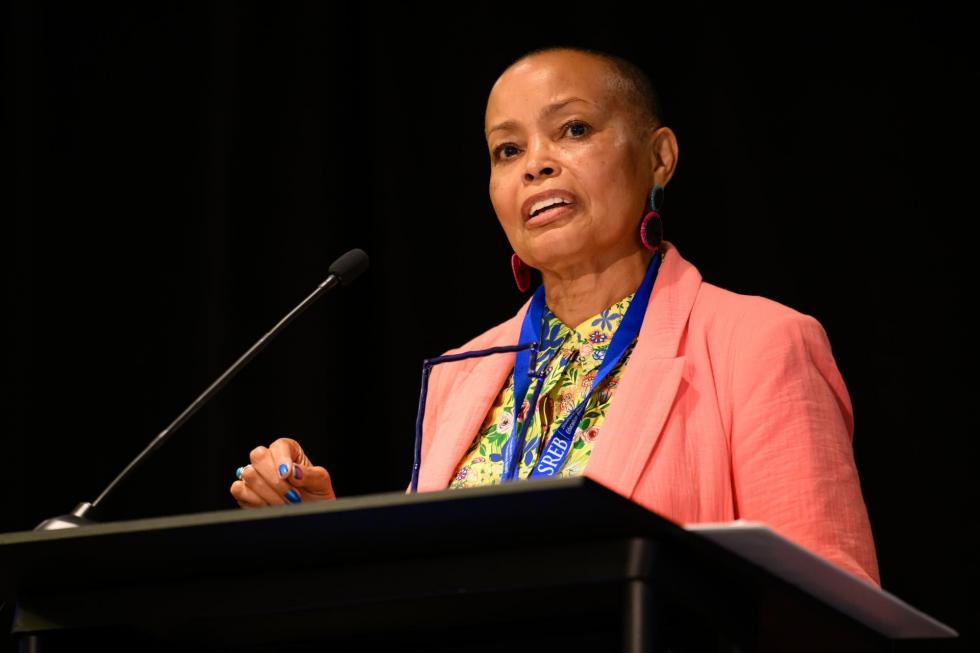 In her first term as a state senator, Talk Business and Politics magazine named her one of the state's top ten legislators, the only freshman to be so named. At the 2009 National Conference of State Legislatures, she was elected to the NCSL Executive Committee.
In 2012, Elliott was elected chair of the NCSL Education Committee. She was appointed by both Gov. Mike Beebe and Gov. Asa Hutchinson. Elliott is also the former chair of the Southern Region of Education Board of Directors, where she served on the Executive Committee.
Elliott is executive director of Get Loud Arkansas, a nonprofit organization working to register and mobilize more eligible voters in Arkansas. She also is co-chair of the board for the National Center on Education and the Economy, an organization dedicated to the study, design and building of efficient systems that prepare students to contribute to our democratic society and compete in the global economy.
Born and raised in the tiny community of Willisville, Arkansas, Elliott graduated from high school in a class of nine students. After earning her bachelor's and master's degrees, she worked for three decades as a high school English teacher and as the director of government relations for the Southwestern Regional Office of the College Board.
In her remarks, Elliott said she decided to remain in Arkansas despite opportunities throughout her career to move to larger cities and outside of the South. But, she said, she thought she could make a bigger difference by committing her talents to her home state.
"When I graduated from high school it was very fashionable to leave the South," she said. "I don't know, to this day, how, at age 17, I was able to say, no, this is where I am going to put my foot down and this is where I'm going to make a difference."
"And," Elliott added, "for all these years, SREB has been a part of that."
Contact: Janita Poe, News Manager, at Janita.Poe@sreb.org or 404-879-5516
The Southern Regional Education Board works with states to improve education at every level, from early childhood through doctoral education and the workforce. An interstate compact and a nonprofit, nonpartisan organization based in Atlanta, SREB was created in 1948 by Southern governors and legislatures to advance education and improve the social and economic life of the region. The 16 SREB states are Alabama, Arkansas, Delaware, Florida, Georgia, Kentucky, Louisiana, Maryland, Mississippi, North Carolina, Oklahoma, South Carolina, Tennessee, Texas, Virginia and West Virginia.