Former North Carolina Senator Howard Lee honored for service to public education
ATLANTA — Howard N. Lee, whose distinguished career has included service as a North Carolina state senator, chairman of the state Board of Education and senior education advisor to two governors, is the recipient of the Southern Regional Education Board's inaugural Jack Hill Champion of Education Award.
Lee received the award on June 26 at the SREB Annual Meeting.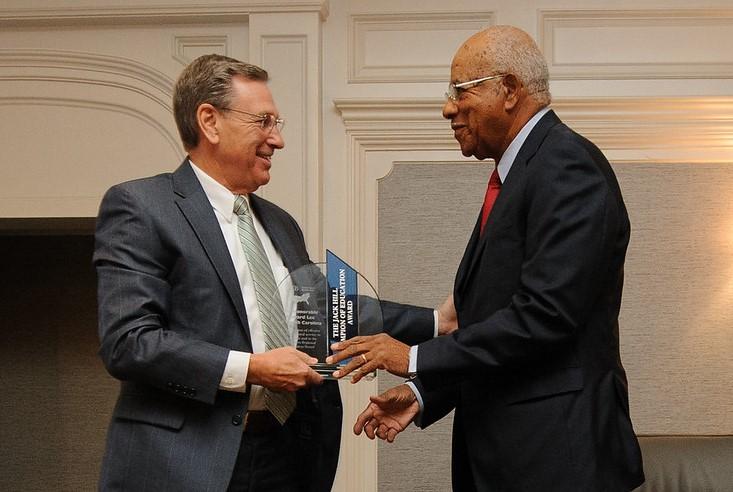 The award honors state leaders who make important long-term contributions to education and to SREB's work on behalf of the 16-state region. It also recognizes leaders who share a commitment to civility, cooperation and public service.
"Senator Lee has worked for most of his life to improve education and the lives of all North Carolinians. He has shared his leadership, generosity, warmth and wisdom with all of us at SREB, and many leaders across the South strive to follow his example," SREB President Stephen L. Pruitt said.
Born in Georgia, Lee grew up on a farm in Lithonia, graduated from Fort Valley State University in Georgia and served in the U.S. Army in Korea. After a stint as a juvenile probation officer in Savannah, he enrolled in the University of North Carolina at Chapel Hill and earned a master's degree in social work.
In 1969, he was elected the mayor of Chapel Hill — becoming the first Black mayor of a predominantly white city in the South — and served three terms, through 1975.
He served in Governor Jim Hunt's cabinet from 1977 to 1981 as the secretary of the agency then known as the North Carolina Department of Natural Resources and Community Development.
He was an administrator at Duke University and taught at North Carolina Central University in Durham, then joined the faculty at the UNC-Chapel Hill School of Social Work from 1982 to 1991.
In 1990, he was elected to the North Carolina Senate, where he served for 13 years and chaired committees on education, transportation, and appropriations. He successfully pushed for new early childhood programs, greater funding for education and teacher salaries, and higher standards for teachers and student achievement.
He served as the chairman of the North Carolina State Board of Education from 2003 to 2009. He was then appointed the first executive director of the North Carolina Education Cabinet by Governor Beverly Eaves Perdue, serving from 2009 to 2011.
In his retirement, he founded the Howard N. Lee Institute for Equity and Opportunity in Education to focus on erasing the achievement gap and improving academic performance for minority males.
Lee was appointed to the SREB Board in 1999. He served on the SREB Legislative Advisory Council, the SREB Executive Committee, and as Board Treasurer from 2001 to 2003. He also served on SREB's Commission on Education Goals and the SREB Middle School Commission.
For the award presentation, Lee was joined by his wife, Lillian; son and daughter-in-law, Noel and Janet Lee; and a granddaughter, Jillian Lee. His daughter Karin could not attend.
The award is named for the late Georgia state Senator Jack Hill, who died in 2020. The SREB Executive Committee created the award to honor Hill's 29 years as a legislator and his devotion to improving education in Georgia.
A resident of Reidsville, Georgia, Senator Hill served on the SREB Board for 26 years, including terms on the SREB executive committee, as the SREB Board Treasurer and as chair of the SREB Legislative Advisory Council — always in a spirit of goodwill, friendship and public service.
The award recognizes recipients' significant years of work to improve education, including efforts to provide opportunity to students from underserved areas. It honors recipients who understand the role of long-term state fiscal commitment to education, serve as voices for civility and working across the aisle and participate in SREB's continuing work to strengthen education in the region.
The first committee to nominate and select recipients of the Jack Hill Champion of Education Award was chaired by Senator Bob Plymale of West Virginia and included Commissioner Greg Dozier of the Technical College System of Georgia, Senator Mamie Locke of Virginia, Representative Terri Collins of Alabama, Senator Joyce Elliott of Arkansas and Representative Mark White of Tennessee.
For more information, contact SREB Communications.