Report Urges Action to Narrow 2030 Skills Gap
States can retool adult education to prepare vulnerable workers
A new report from the Southern Regional Education Board urges leaders to look a decade ahead and prepare their states for changes that threaten to leave millions of people unemployed and millions of middle-skills jobs with no one to fill them.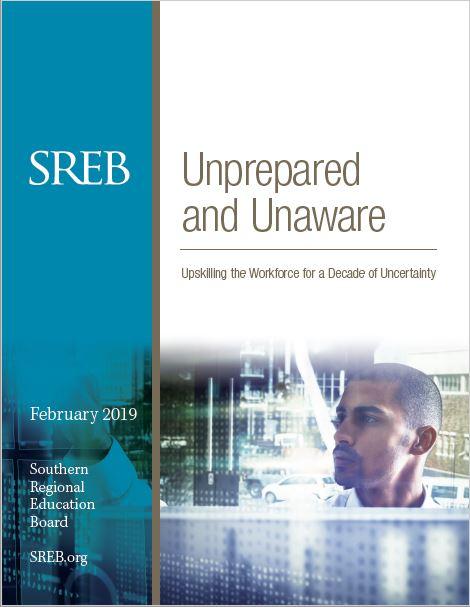 Unprepared and Unaware: Upskilling the Workforce for a Decade of Uncertainty examines how technology and automation are changing the job market — and offers some starting points for states to begin the difficult work of narrowing the skills gap for adults.
As companies automate retail and manufacturing, jobs for adults with low levels of education are disappearing. The same technological advancements are creating new, middle-skills positions, but the new jobs demand education and skills that displaced low-skilled workers do not have.
"The question for state leaders isn't whether there will be enough jobs in 10 years," said SREB President Stephen L. Pruitt. "It's whether there will be enough workers with the right skills to fill them."
Low-skilled adults are likely to be underemployed or out of work altogether, unable to support the next generation, if states do not act now to help them learn new skills.
Unprepared and Unaware, the first in a series of SREB reports on these workforce transformations, focuses on education for adults who did not complete high school. The report describes current adult ed programs, with options to improve them to help vulnerable workers and fill important workforce needs. The report details:
integrated education and training programs in SREB states
state planning for the Workforce Innovation and Opportunity Act
enrollment by state in adult education programs — which dropped 28 percentage points in the 16-state SREB region between 2010 and 2016, in part due to decreased funding
Improving adult education
Where can states start to prepare more adults for the jobs of today and tomorrow?
"First and foremost, state leaders need to see what the workplace will look like in a decade, come together to find solutions, and act in time to make a difference," said Pruitt. "And states should be aligning their planning for the Every Student Succeeds Act, Perkins V and the Workforce Innovation and Opportunity Act toward a single, clear vision."
Other suggestions in the report include:
Adopt College and Career Readiness Standards for Adult Education and help teachers become effective with them.
Use best practices that have proven successful in other states.
Encourage integrated education and training programs, which combine basic skills instruction with workforce training.
Align education offerings with the state's specific workforce needs — but focus on skills that will last into tomorrow's jobs, not simply tasks for today's.
The Southern Regional Education Board is an interstate compact created in 1948 by Southern governors and legislators. A nonprofit, nonpartisan organization based in Atlanta, SREB works cooperatively with state leaders and educators to improve education from pre-K through Ph.D. SREB states are Alabama, Arkansas, Delaware, Florida, Georgia, Kentucky, Louisiana, Maryland, Mississippi, North Carolina, Oklahoma, South Carolina, Tennessee, Texas, Virginia and West Virginia.