State Rep. Alan Baker Honored for 27 Years of Work in Education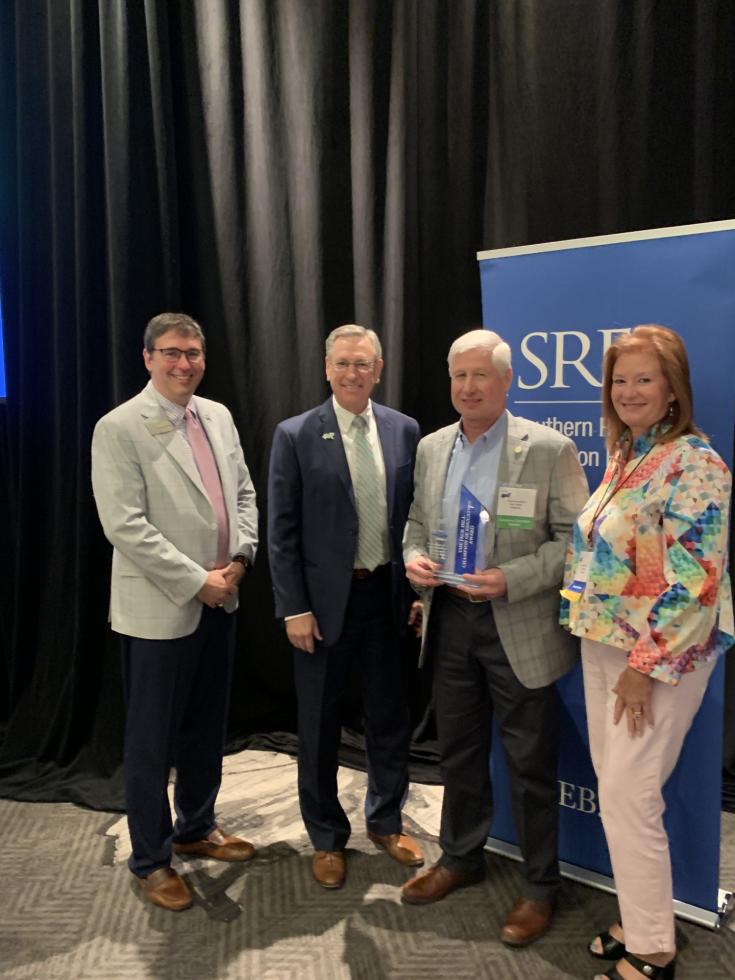 ATLANTA – Alabama Rep. Alan Baker, an education leader who spent 27 years as a public school history teacher and coach in his state, is the recipient of the Southern Regional Education Board's 2023 Jack Hill Champion of Education Award.
Baker received the award on June 11 at the SREB Annual Meeting in Atlanta.
Established in honor of the late Sen. Jack Hill of Georgia, who died in 2020, the award recognizes state leaders who have made important long-term contributions to education and SREB's work in the 16-state region. It also honors leaders who, like Hill, have shown a commitment to civility and cooperation in public service.
"I'm speechless, literally," said Baker, who was presented the award by West Virginia Sen. Bob Plymale and Alabama Rep. Terri Collins. "It's just been a privilege to be a part of this great organization."
Born in Brewton, Alabama, Baker graduated from T.R. Miller High School in Brewton, received an associate degree from East Central Community College in Decatur, Mississippi, and a bachelor's degree from Auburn University in 1978 with a major in history and a minor in political science.
Baker devoted 27 years to public education, first as a teacher and coach in Phenix City, and later in his hometown of Brewton, where he taught history and coached football and track at T.R. Miller. During his tenure as coach, Baker's teams won 10 state championships, five for football and five for track. For his accomplishments, he was inducted into the Alabama High School Athletic Association Sports Hall of Fame in 2008. He retired from education in 2005.
In 2006, Baker was elected to the Alabama House of Representatives. He represents House District 66, which includes portions of Baldwin and Escambia counties, and he serves as vice chair of the House Education Policy committee and is a member of House Ways and Means Education.
Baker was appointed a legislative member of the Southern Regional Education Board and began serving on the SREB Legislative Advisory Council in 2011, where he later served as vicechair in 2016-17 and chair in 2017-18. He also has served on the Board's executive committee since 2012. Baker also served as a member of the SREB Teacher Preparation Commission and the Commission on College Affordability in the South.
The Jack Hill Champion of Education Award recognizes recipients' significant years of work to improve education, including efforts to provide opportunity to students from underserved areas. It honors individuals who understand the role of long-term state fiscal commitment to education and working across the aisle as they participate in SREB's continuing work to strengthen education in the region.
Hill, from Reidsville, Georgia, served on the SREB Board for 26 years, including terms on the SREB executive committee, as the SREB Board Treasurer and as chair of the SREB Legislative Advisory Council.
Previous recipients are former state Sen. Howard Lee of North Carolina (recipient of the inaugural award) and state Rep. Francis Thompson of Louisiana (recipient of the 2022 award).
This year's award committee was chaired by Sen. Bob Plymale of West Virginia. Committee members included Commissioner Greg Dozier of the Technical College System of Georgia; Sen. Mamie Locke of Virginia; Rep. Terri Collins of Alabama; Sen. Freddie Powell Sims of Georgia; and Rep. Mark White of Tennessee.
Contact: Janita Poe, News Manager, at Janita.Poe@sreb.org or 404-879-5516
The Southern Regional Education Board works with states to improve education at every level, from early childhood through doctoral education and the workforce. An interstate compact and a nonprofit, nonpartisan organization based in Atlanta, SREB was created in 1948 by Southern governors and legislatures to advance education and improve the social and economic life of the region. The 16 SREB states are Alabama, Arkansas, Delaware, Florida, Georgia, Kentucky, Louisiana, Maryland, Mississippi, North Carolina, Oklahoma, South Carolina, Tennessee, Texas, Virginia and West Virginia.