Advanced Career
What modern career and technical education looks like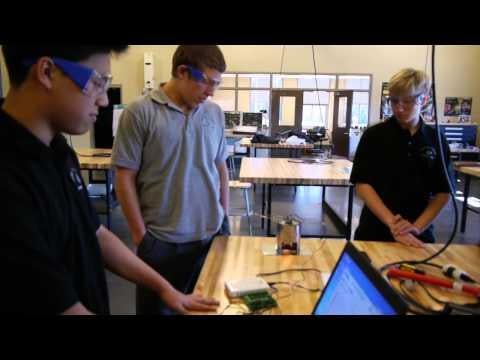 Imagine high school classes that show students how learning connects to life and work outside the school walls. Hands-on team projects allow teens to test drive careers in high-demand fields while they learn rigorous academic math, science, reading and writing, and technical skills.
Real-world learning to prepare students for further study and a rewarding career is what SREB Advanced Career is all about. Students who might lose interest in a traditional course sit up and take notice when teachers help them master skills and knowledge they recognize as practical and meaningful to their future lives.
"It flips the switch for students who aren't sparked by traditional teaching."
Advanced Career is the culmination of years of work by states and the nation's largest school improvement network at SREB. The result is turnkey pathways with everything a school needs to be sure they work, from curriculum to assessments to extensive training and support for teachers.
Each course in these pathways is hands-on, rich with projects and intellectually demanding. And all require application of college- and career-readiness standards in reading, writing, math, science and other areas so the students are ready for postsecondary study.
Students master complex academic and technical concepts and graduate ready for the workplace, technical colleges and universities.