Doctoral Scholars Program's Dr. Walt Jacobs Retires
In June 2016, Dr. Walt Jacobs retired from the Southern Regional Education Board after 20 years of working with SREB's High Schools That Work and Doctoral Scholars Program. Walt's commitment to educational attainment and teacher effectiveness has served countless students across ages and education levels.
From Military to Education Service
In 1955, Walt joined the United States Air Force Reserve and retired in 1985 at the rank of lieutenant colonel. From the mid-1960s until the early 1970s, he was an associate state supervisor for the North Carolina Department of Public Instruction, division of Exceptional Child Education, and served as the regional director for academic services for the College Board (formerly known as the College Entrance Examination Board).
Providing H.E.L.P. to Teachers
Between 1970 and 1995, Walt assumed regional management responsibilities for practically all of the College Board's testing programs, including the SAT. In 1995, he retired from the board to open Higher Education and Leadership Preparation (H.E.L.P.), Inc., an organization designed to provide teachers with in-service professional development. H.E.L.P's workshops emphasized the strategies and techniques teachers and supervisors may use to improve instructional programs through critical-thinking skills.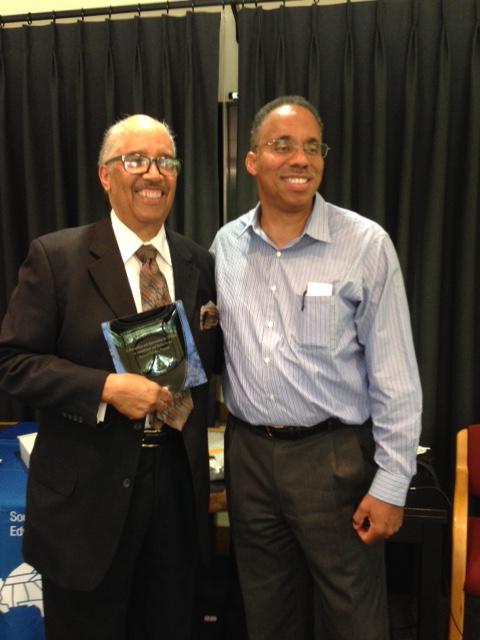 Impact on the SREB Doctoral Scholars Program
In 1996, Walt joined the Doctoral Scholars Program as a senior consultant. He handled attendee logistics, including session topics, for the Institute on Teaching and Mentoring, the largest gathering of minority doctoral scholars in the nation. His wisdom in selecting and constructing sessions that provide guidance in teaching, mentorship and doctoral program survival have been essential to the success of the Institute. In 1997, he also worked as a consultant for the summer conferences and teacher administration conferences with the High Schools That Work program.
Never too Late to Accomplish a Dream
Walt's impact spread further after he obtained an Ed.D. in educational leadership from Clark Atlanta University in 2005. As a "doctor," he became a greater source of inspiration whom scholars could relate to more. And his example highlights the idea that it is never too late to accomplish your dreams.
A Legacy of Unwavering Dedication
Walt is the recipient of many awards for his lifelong contribution to education: the Tommy Nelson C. Jr. Award for Outstanding Leadership to Minority Youth awarded by the College Board's Southern Regional Council and the recognition for Distinguished Consulting Service by Elizabeth City State University, just to name a couple. His published works, Black and White Students' Perceptions of Their College Campuses and Seven Tips for Improving Instructional Skills: Reminder for Teachers address the need for diversity on college campuses and ongoing teacher preparation.
The staff of the Doctoral Scholars Program is proud of the legacy Walt leaves as he transitions into a much-deserved retirement. He will always be a permanent part of the Doctoral Scholars Program family. We are pleased to have gotten to know his family, wife (Loretta Jones Jacobs) and sons (Walter R. Jacobs and Keith L. Jacobs). We are more than proud of the work he has accomplished, and we are excited about his plans to continue the work of H.E.L.P. Even though he is leaving SREB, we know his commitment and dedication to education equity and teacher effectiveness will continue — and for that, we are immensely and forever grateful.