The Crosswalk Validation Project: Final Report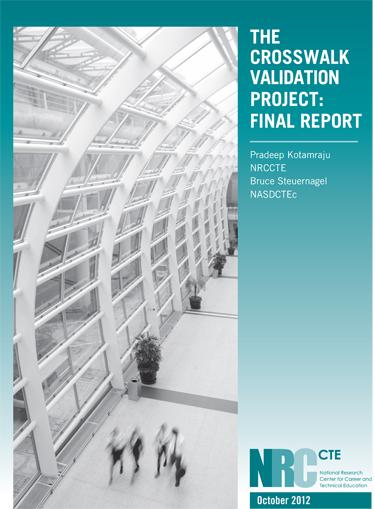 Many of those working in the field of CTE have continuously grappled with the need for a uniformly global set of information–a national-level database or, at minimum, a common, standardized set of definitions and measures–to meet CTE's multiple needs, including accountability and evaluation, career guidance, and program improvement.
The NRCCTE's Perkins Crosswalk Validation Project was a multi-state, multi-institutional collaborative effort led by the NRCCTE and the NASDCTEc (now AdvanceCTE) that sought (1) greater consistency and clarity in Perkins secondary and postsecondary data collection and reporting, (2) a common data crosswalk that links occupations to educational programs, career clusters, and career pathways, and (3) a foundation for more standardized accountability requirements in later iterations of the Perkins legislation.
In this final report, the project's co-authors describe the process by which they developed a set of revised Perkins crosswalk tables that connect Classification of Instructional Program (CIP) codes, Standard Occupational Classification (SOC) codes, Career Clusters, and Career Pathways. These revised crosswalks have created a foundation for more standardized accountability requirements, a key focus for how future Perkins legislation needs to be built.
Kotamraju, P., & Steuernagel, B. (2012, October). The crosswalk validation project: Final report. Louisville, KY: National Research Center for Career and Technical Education, University of Louisville.
The original Perkins IV crosswalk tables are available from AdvanceCTE.
Revised Perkins Crosswalk Tables:
Table 1 (Table 1 Excel) (Table 1 PDF) (revised 1/4/13)
Table 3 (Table 3 Excel) (Table 3 PDF) (revised 2/4/13)
Table 5 (Table 5 Excel) (Table 5 PDF)
Table 7 (Table 7 Excel) (Table 7 PDF)