The External Evaluation of the NRCCTE's Technical Assistance: Green-Focused Programs of Study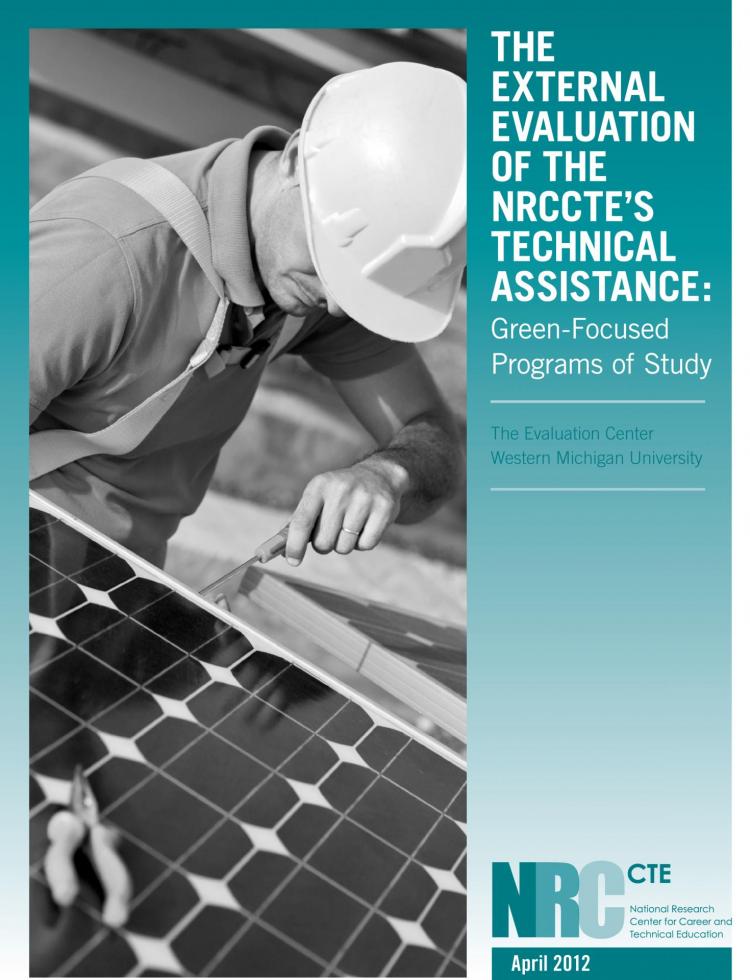 The National Research Center for Career and Technical Education's Technical Assistance is intended to link the NRCCTE's technical assistance work with practice by responding to state accountability and program needs related to the improvement of career and technical education for secondary and postsecondary students.
Implemented by the Academy for Educational Development (now FHI 360), in collaboration with MPR Associates, Inc., the NRCCTE's technical assistance centered on green-focused programs of study in Georgia, Illinois, New Jersey, Ohio, and Oregon. Specifically, these states received help in developing replicable "POS models that prepare secondary and postsecondary students for high-skill, high-wage, high-demand employment in positions associated with green-focused jobs in any of the 16 Career Clusters, including those aligned with the President's priorities for green technology in energy, housing, and construction" (NRCCTE, 2010, p. 1).
Technical assistance activities included facilitated in-state meetings and a national Technical Assistance Academy, followed by further assistance via email, telephone and conference calls, and additional in-state TAA meetings. After the TAA, states were to develop action plans for POS model development and implementation, participate in the Career Clusters Institute, and deliver final reports, which were then published on the NRCCTE's website. During 2010-2011, the project continued by helping the participating states with "finalizing their green-focused POS models, designing implementation plans, and assisting local education agencies and postsecondary institutions in implementing the models in both urban and rural settings, as appropriate" (NRCCTE, 2010, p. 2) and also focused on developing a case study of lessons learned.
As part of its technical assistance, NRCCTE and the U.S. Department of Education's Office of Vocational and Adult Education commissioned an external evaluation of the NRCCTE's technical assistance services, with a specific emphasis on assistance provided to develop green-focused POS.
The Evaluation Center, Western Michigan University. (2012, April). The external evaluation of the NRCCTE's technical assistance: Green-focused programs of study. Louisville, KY: National Research Center for Career and Technical Education, University of Louisville.