CTE Centers: Answering the Call for Care Amid COVID-19
Fred Rogers said, "When I was a boy and I would see scary things in the news, my mother would say to me, 'Look for the helpers. You will always find people who are helping.'" In this unprecedented time of crisis, many are rising to be helpers. All across the United States, healthcare workers are leaving their families and risking their lives to take care of all who are suffering with the coronavirus. Schools and career and technology centers are also coming together to donate much-needed resources and use their equipment to make face masks for those on the front line.
CTE teachers and students across the nation have always promoted community service as a part of their curriculum. They take great pride in using their technology, equipment and supplies to exhibit their skills. In late March, we reached out to centers in SREB's Technology Centers That Work network to see how they were answering the call to help. These stories are from center leaders whose teachers sprang into action to support their communities' medical professionals.
Donating their programs' masks, gowns and gloves ─ and using their 3D printers to make N95 masks ─ for nurses, doctors and emergency responders.
Charles Kinsey, director of Poplar Bluff Technical Career Center in Poplar Bluff, Missouri, said his Health Occupations program has donated over 100 N95 masks, hundreds of vinyl exam gloves and several boxes of exam gowns and isolation gowns to area health care workers. Like many across the U.S., the local hospital was running dangerously low on personal protective equipment and was ecstatic to receive these items.

Christina Peterson, of Jefferson-Lewis-Hamilton-Herkimer-Oneida BOCES (Boards of Cooperative Educational Services) in Watertown, New York, shared how students in her New Visions and Medical Careers/Assisting programs are turning the health crisis into a real-life project in which they are researching community resources and needs and collaborating to ration and donate medical supplies from their own and another teacher's classroom to those who desperately need personal protective equipment. In the project, Some for All or All for Some: Rationing Supplies in the Face of a Pandemic, students are researching, interviewing and making tough decisions to make the most of the equipment they have. Director of Career, Technical, Adult & Continuing Education Tracy Gyoerkoe shared that students are making shields with their 3D printer for health care workers.

Lindsey Fraser, counselor at Kirksville High School and Kirksville Area Technical Center in Kirksville, Missouri, reports that their Project Lead The Way engineering teacher and students are working with the local hospital to help in the COVID-19 crisis. This article describes how students are creating masks for health care workers using their school's 3-D printer.

Marla Berlin, of the CiTi BOCES in Mexico, New York, shares that Nursing, Cosmetology and Auto Body programs and the school nurse have donated all of their masks, gowns and gloves to the county health department.

Denise Fernandez-Pallozzi, director of Career and Technical Education for Questar III BOCES in Castleton, New York, says they have collected all of the medical supplies from two Certified Nurse Assistant programs — including masks, gowns and gloves, in addition to another 450 boxes of gloves from the district's main warehouse distribution center — to donate to medical personnel.

Jay A. DeTraglia, director of Hamilton-Fulton-Montgomery BOCES Career & Technical Education in Johnstown, New York, shares that Engineering Technology teacher Zac Carrico had begun creating a prototype for a face shield to be printed using 3-D technology.

Kevin Hutton, director of Massanutten Technical Center in Harrisonburg, Virginia, reports that his center has donated all of its masks and gloves to local health care facilities.

Martin Hanley, director of Pike-Lincoln Technical Center in Eolia, Missouri, opened up the center's Project Lead The Way WiFi network to the community so people can access the Internet from the center's parking lot. Students are working on getting masks and other items donated to their local medical community and writing letters to cheer up quarantined nursing home residents. Students are also setting up the school's 3-D printer to print face shield components.

Brett Keasler, principal and director of Cherokee County Career and Technology Center in Centre, Alabama, notes that Jessica Green, the center's Health Science instructor, donated all of the program's medical supplies to their local hospital.

SREB's Kathleen McNally is in constant touch with career and technical centers in West Virginia. She reports that the West Virginia School of Osteopathic Medicine, the Greenbrier County Board of Education and the Greenbrier County Health Department are contributing to the 3-D printer production of N95 masks. The masks are being made with 3-D printing technology from Greenbrier East High School, Greenbrier West High School and Eastern Greenbrier Middle School. Masks will then be moved to the Clingman Center for Community Engagement in Lewisburg, where the West Virginia School of Osteopathic Medicine Center for Rural and Community Health staff members will attach elastic and finish assembling the masks (see photos below).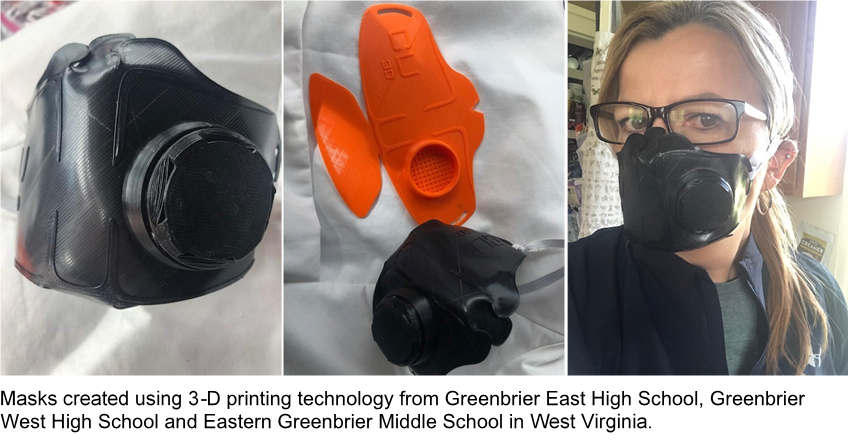 Scott Griggs, assistant director at Central Vermont Career Center in Barre, Vermont, is excited to share how the center is meeting the challenge of helping health care workers. The center's Medical Professions and Emergency Medical Services programs have provided protective face masks, glasses and gowns to local emergency services departments. They have also donated safety glasses and goggles from the center's heavy trades programs to EMS departments and a local home health agency. The center's Medical Professions instructor has conducted health screenings for children and volunteers using district-sponsored childcare for essential workers. Griggs and director Penny Chamberlin are incredibly proud of how their teachers and staff have quickly adapted to offering remote continuous learning, which will be how all classes will be delivered for the rest of the school year in Vermont.

Lee Green, director at Floyd D. Johnson Technology Center in York, South Carolina, says the center is continuing to provide meals for students during this troubling time. Volunteers from all schools have come together to prepare meals for all 5,500 students in York School District . School buses then deliver these meals to students' homes. Many businesses, churches and civic organizations have donated food, time and manpower to make this a true community effort.

James Couch, executive director of Anderson Institute of Technology in Anderson, South Carolina, reports his staff are involved in a community service project with AnMed Hospital System. The school has donated 30 boxes of hospital gowns, 10 boxes of gloves and six boxes of sterile pads to ease the shortage of health care supplies and support the system's efforts to combat the coronavirus.

Jeremy Knox, of Troy Pike Center for Technology in Troy, Alabama, has asked to receive prototypes of masks and shields that he and others can use with their 3-D printers so they can contribute to the growing need for supplies.
We are pleased to say that this is not an exhaustive list. All over the country, career and technology centers are looking for ways to help and support each other and their communities. When you get scared, just as Mr. Rogers did, look for the helpers. You will find them in our career and technology centers.