How States Can Elevate the Teaching Profession
Restoring respect and value
Good schools depend on excellent teachers, in every classroom. SREB is helping states examine and redesign state policies to elevate the profession and end teacher shortages.
I want my daughter to have the best teachers every school year. What parent doesn't? Yet in too many schools, the only teachers available are uncertified or brand new, with no experience.
For three years, my role at SREB has been to find solutions to the root causes of teacher shortages, working with state leaders and educators in four states. I've been inspired by the commitment and innovation different states are showing to make sure every child will have a great teacher year over year.
The Case for Change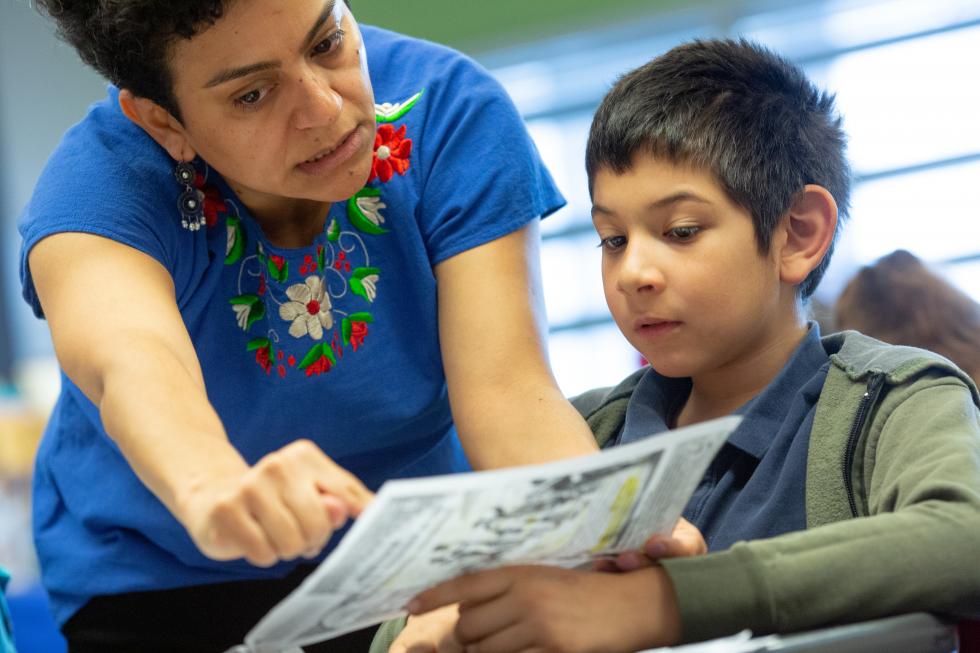 States have faced critical, disruptive teacher shortages for 10 years or more and they're getting worse.
Plus, the pandemic has upended everything in education.  At this stage, we aren't sure if pandemic disruption and stress will increase turnover in the teacher workforce next year, but data is starting to show this is the case in certain regions and districts. Already as many as 45% of teachers in the South leave before their fifth year.
Despite this, too many students spend year after year without qualified teachers, the vacancies filled by emergency or substitute teachers with little or no training. This delays student learning progress, and many students in these circumstances are from low-income families.
Critical vacancies are no longer just in special education, math and science; they are in almost all grades and subjects in some of our states. And teacher preparation completion dropped more than 50% in some states (although recent data shows a slight increase in many states for the first time in a decade).
Teachers and college students are telling us they don't want to stay in or enter a profession afforded little respect and appreciation. Are we listening?
Teachers are the backbone of our society and the ticket to individual and community prosperity.
Are Teachers Valued?
When we interview educators and advocates and ask whether the teaching profession is valued, the response is invariably "no." Teachers feel underappreciated and constantly asked to do more for less. 
Pay for teachers is lower now, in constant dollars, than it was in the 1980s. Benefit packages do not always make up the difference. And there is little to no career trajectory for teachers unless they leave the classroom to become administrators or district staff.  
The number one reason teachers say they leave the classroom is that they don't feel supported by their leaders or by parents, feel underprepared for the job, and are highly stressed, according to survey data. Gen Z high school and college students, who prioritize altruism, say they don't want to be teachers because many teachers don't make a living wage.
We must be proactive and innovative, and we must challenge the status quo. It's not easy, but it can be done — and several states are making progress.
Critical vacancies are no longer just in special education, math and science; they are in almost all grades and subjects in some of our states.
Changing Policies to Reflect our Values
Over the last three years, SREB has convened roundtables of educators and leaders in several states to research, brainstorm, debate and propose innovative strategies to end teacher shortages and elevate the profession so that schools never have long-term vacancies again.
Their consensus? Redesign the rules of teacher licensure, improve how teachers are prepared, supported, and compensated — and let positive student impact and learning lead the way.
These roundtables started with teacher licensure, the policy that governs who can teach in a state. Licensure, or certification, sets the basic terms for student safety and what a teacher must know before securing a position. In most states, this is currently dictated by what teaching degree or other teacher training candidates have completed and whether they passed a national or state content test. Using these measures conveys that states value completing a degree and passing a test above student learning and the capability to teach.
Each roundtable concluded that their systems should be redesigned to value growth in student learning and great teaching. But they didn't stop there. They also agreed that policies should make it clear that states value competency and skill, individual growth in teaching practice, leadership from the classroom, and teachers' autonomy over their careers. These changes would raise the esteem of the profession, improve school culture, build career paths and invite more diverse candidates into teaching. This would require more pathways into the profession, better preparation and practice, more support for early-career teachers, and an overhaul of compensation policy.
Months of research and nearly 200 hours of debate have culminated in proposed state teaching policy frameworks that prioritize:
A rigorous set of licensure requirements for all teachers, no matter their preparation pathway into the profession (such as an education degree or an alternative prep program).
A wide-open and welcoming gateway for those who wish to teach and meet minimum criteria better correlated with effectiveness.
 A supportive policy structure that encourages and rewards growth in teachers' skills, competencies and responsibilities and provides career advancement opportunities to allow great teachers to lead from the classroom and mentor others. 
A clear, intuitive road map into and through the profession, as well as clear exit points for those who are not successful. 
Teacher salaries that increase based on 1) advancement and mastery of skills and instructional competencies and 2) teacher leadership roles.
By the time my daughter starts kindergarten in North Carolina, public school teachers in our state could be valued, rewarded and supported like professionals ⁠— like the leaders they are. Teachers are the backbone of our society and the ticket to individual and community prosperity. North Carolina, with other southern states not far behind, may lead the nation in making teaching a desirable, competitive career.
Education Human Capital Roundtables
North Carolina's state framework to uplift the teaching profession
Mississippi's proposal to elevate the teaching profession and address the teacher shortage
Alabama's pilot framework to establish new preparation and career pathways for teachers
Coming soon: A detailed framework for systemic change in an SREB brief, How to Solve the Teacher Shortage Problem: Create Systems that Elevate the Profession.