College Attainment Continues to Climb, Slowly
Trends are promising. Affordability is a challenge.
Despite recent declines in undergraduate college enrollment, trends in high school graduation and K-12 enrollment look promising for continued gains in education attainment rates, according to the latest Fact Book on Higher Education from the Southern Regional Education Board.
In the SREB region:
Thirty-seven percent of working-age adults held an associate degree or higher in 2015, up from 35 percent in 2009 but lower than the U.S. level of 41 percent.
College enrollment declined 4 percent between 2010 and 2015, less than the national decline of 7 percent.
K-12 enrollment is growing, and only the SREB region expects an increase in the number of high school graduates by 2031.
The high school graduation rate was up to 86 percent in 2015, from 82 percent in 2012.
Progression rates in college rose 5 percentage points over the last 10 years to 77 percent for full-time bachelor's degree-seeking students.
Keeping college affordable presents a challenge for students and for state goals to increase education attainment levels. Increases in tuition and fees outpaced income growth in 2015-16. Tuition and fees at public four-year colleges in the SREB region required 13 percent of annual family income for those in the middle income range and 46 percent of income for low-income families.

"College degree rates have not increased as quickly as policymakers hoped they would when they set goals earlier this decade, but we see signs of progress," said Susan Campbell Lounsbury, SREB director of education data services. "If states can loosen the stranglehold of high college costs, they will help more of their residents earn the credentials that lead to good jobs and stronger economic development."
SREB Fact Book on Higher Education
The Fact Book provides comparable data and analysis on a comprehensive set of measures. The goal is to help state and higher education leaders track and guide progress toward their goals for postsecondary attainment.

Find essays, spreadsheets, charts and graphs for 50 states, the four U.S. Census regions and the United States as a whole.
Tables updated continually online include:
Tuition and fees
State financial aid funds
Enrollment and degrees by type of college and degree
Faculty and administrator salaries
Educational attainment
State and federal funding for higher education
College revenues and expenditures
Featured Facts for each SREB state
Individual booklets focus on postsecondary statistics for each SREB state and highlight how they compare to U.S. and SREB averages.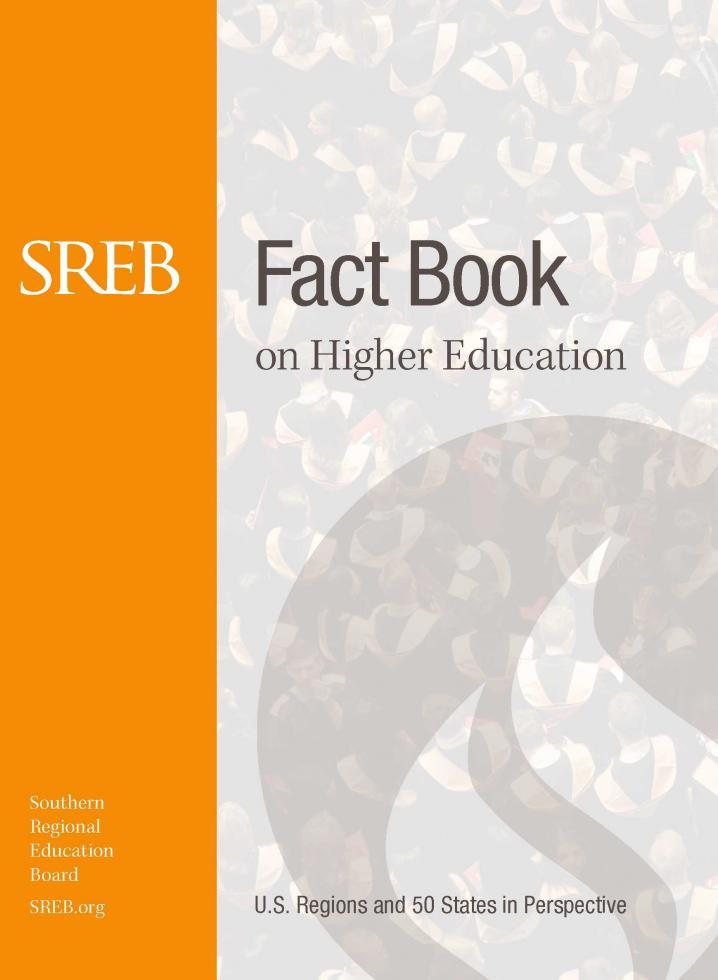 The SREB-State Data Exchange, a cooperative effort of SREB and statewide higher education governing and coordinating boards, publishes up-to-date statistics on postsecondary education, including information by institutional category. Contact: Susan Campbell Lounsbury, SREB Director of Education Data Services, (404) 879-5546

The Southern Regional Education Board, a nonprofit, nonpartisan organization, works with states to improve public education at every level. Member states are Alabama, Arkansas, Delaware, Florida, Georgia, Kentucky, Louisiana, Maryland, Mississippi, North Carolina, Oklahoma, South Carolina, Tennessee, Texas, Virginia and West Virginia. Contact: Beth Day, SREB Communications Director, (404) 879-5544