Institute on Teaching and Mentoring Is an Effective Faculty Diversity Strategy
NSF-Funded Evaluation Report
The Institute on Teaching and Mentoring is an important complement to university training in doctoral programs, according to a National Science Foundation-funded study of its participants. The report affirms the annual event's effectiveness in increasing the diversity of faculty on U.S. campuses.
Only about 6% of U.S. faculty are African American, and only 5% are Hispanic or Latino. Since 1994, the Institute on Teaching and Mentoring — the largest gathering of Ph.D. scholars of color — has helped thousands of minority doctoral scholars complete their doctorates and succeed as faculty members.
"Earning a doctoral degree is a demanding undertaking, and scholars of color often find themselves the first or only people like themselves in their field or department," said Ansley A. Abraham, director of the SREB-State Doctoral Scholars Program, which hosts the Institute. "This one weekend out of a years-long Ph.D. experience has a profound effect."
Key Findings
Extremely important to success: Institute participants overwhelmingly (85%) reported that the Institute was extremely important to their academic and professional success.
They cited, for example, professional networking, a sense of community, and career planning.
Sessions on completing the dissertation were rated as most valuable, contributing substantially to the academic success of participants.
Research and leadership: Institute participants are significantly more likely than their peers nationally to work in faculty positions at four-year colleges and universities.
Black alumni of the Institute are significantly more likely to be conducting research that expands the base of knowledge in their field, the primary focus of Ph.D. training.
Institute alumni are slightly more likely than Ph.D. graduates overall to hold administrative roles in higher education, including positions in development and leadership.
"The skills these scholars bring back to their campuses — how to communicate about their research, for example, or mentor undergrads — are helping them change the face of teaching and research at American universities," said SREB President Stephen L Pruitt.
About the Study
The evaluation surveyed nearly 2,000 scholars who attended the Institute between 2011 and 2016 and compared the results against national benchmark data from the Survey of Doctorate Recipients. Researcher David Feldon conducted the study with a grant from the National Science Foundation.
In the next phase, researchers are examining Institute participants' productivity in academic fields, using new data from the Council on Graduate Schools.
SREB will use the evaluation results to improve the Institute and to collaborate with other programs to learn and share what works to diversify the faculty at U.S. colleges and universities.
Media Contact: Beth Day, (404) 879-5544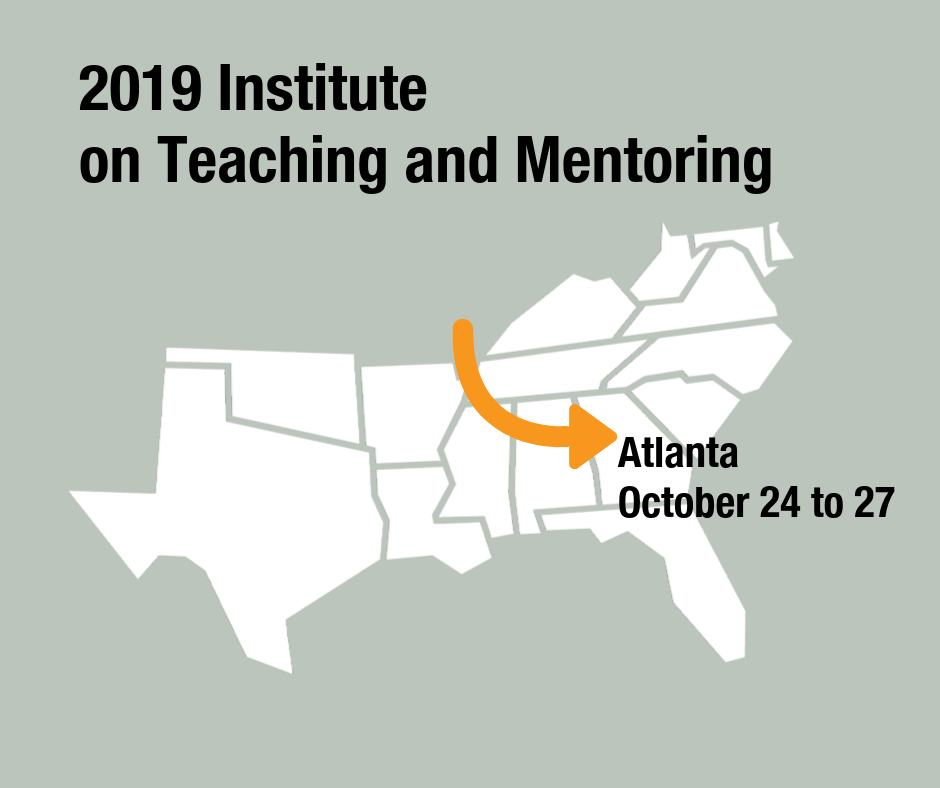 The annual Institute on Teaching and Mentoring gives the issue of faculty diversity a national focus and provides minority scholars strategies to survive the rigors of graduate school, earn the doctoral degree and succeed as members of the professoriate. The 2019 Institute will be in Atlanta October 24 to 27.
The SREB-State Doctoral Scholars Program serves the goal of increasing the number of minority students who earn doctorates and choose to become faculty at colleges and universities. It hosts the Institute on Teaching and Mentoring and has supported more than 1,660 scholars since its founding in 1993.
The Southern Regional Education Board works with states to improve public education at every level, from pre-K through Ph.D. SREB is an interstate compact of 16 states and a nonpartisan, nonprofit organization.