SREB to Host Several Thousand Educators at 37th Annual School Improvement Conference in Orlando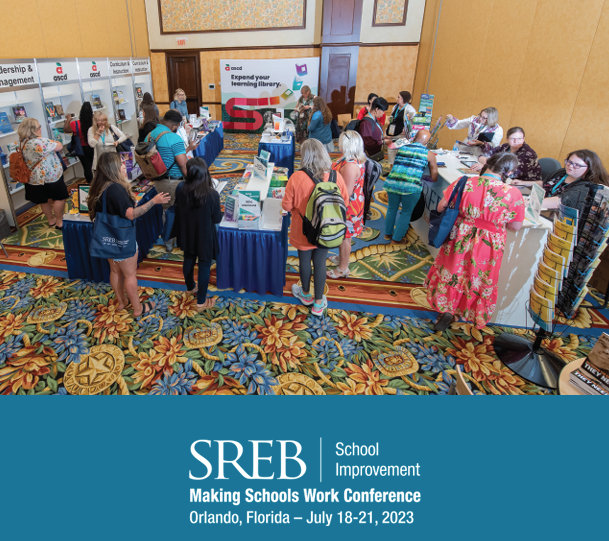 Four-day gathering gives K-12 teachers the tools, support and best practices they need to help students excel in the classroom
Some 3,000 educators from across the nation will convene in Orlando later this month for the 37th annual Making Schools Work Conference hosted by the Southern Regional Education Board.
The gathering, July 18-21 at the Gaylord Palms Resort & Convention Center, will feature hundreds of professional development sessions for K-12 teachers, counselors, principals and other educators. Featured speakers include Kevin J. Fleming, founder and CEO of Catapult; Adam Welcome, co-founder of Kids Deserve It; and Marck Abraham, founder and CEO of MEA Consultants.
Dale Winkler, SREB's vice president for school improvement, said the sessions are facilitated by educators who have planned, implemented and studied the impact of strategies that improve instruction, curriculum and student support. Many participants, he said, see the conference as a chance to recharge, collaborate and learn from fellow educators about practices that work.
"The testimonies from teachers and administrators include excitement about returning to school and trying out the strategies they have learned," Winkler said. "They feel inspired by their fellow educators."
The complete 2023 conference program includes search, filter and tag options that help users find and schedule specific topics and speakers quickly. The conference also provides a summary page of general sessions, presentations and workshops. In addition to the professional development events, the conference offers attendees discounted tickets to area attractions as well as engaging exhibits such as the PBL Playground of projects to facilitate learning, the Esports gaming arena and a team-oriented Escape Room Experience.
SREB President Stephen Pruitt said educators from around the country are recognized every year at the gathering with awards for leading the charge to increase student achievement. Pruitt said conference participants keep returning because they appreciate the many dimensions of support, learning and professional development provided to them.
"I absolutely love this conference," Pruitt said in an SREB video clip about the conference. "It's better than any pep rally I've ever been to because I know that we're doing something positive for our teachers and, ultimately, our kids."
Media Opportunities
The conference offers a range of opportunities for print, photo and social media ( #SREBsummer). Some news reports might include:
Talking with educators about their jobs, summer learning and plans for the coming school year.
Reporting on innovative and research-tested classroom strategies from literacy-based assignments to powerful strategies for teaching math.
Covering addresses by featured speakers and national leaders in education access and improvement.
Both Pruitt and Winkler are available for interviews. Pruitt is an outstanding resource for conversations about SREB's commitment to improving education throughout the South and increasing excellence for each student. Winkler is ideal for interviews about how SREB empowers educators to create meaningful, personalized learning experiences that encourage students to succeed.
Contact: Janita Poe, News Manager, at Janita.Poe@sreb.org or 404-879-5516
The Southern Regional Education Board works with states, districts and schools to improve education at every level, from early childhood through doctoral education and the workforce. An interstate compact and a nonprofit, nonpartisan organization based in Atlanta, SREB was created in 1948 by Southern governors and legislatures to advance education and improve the social and economic life of the region.