Online Teaching & Learning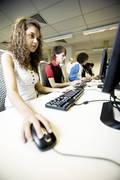 The Educational Technology Cooperative works closely with state educational technology leaders to determine future initiatives and projects. Specific initiatives and topics of interest are addressed by the Educational Technology Cooperative as time permits or as the topics become increasingly important for SREB states.
The ETC works with its member states to create, expand and improve online learning opportunities in K-12 and higher education. Many SREB states have online K-12 schools operated by the state. Others either provide resources for students and parents to find high quality online learning opportunities or no longer provide a state-level online school. These online schools offer courses that students may not otherwise have in their schools, and can help students make up credits and continue toward graduation.