Leading the Way
SREB-State Doctoral Scholars Program graduates paying it forward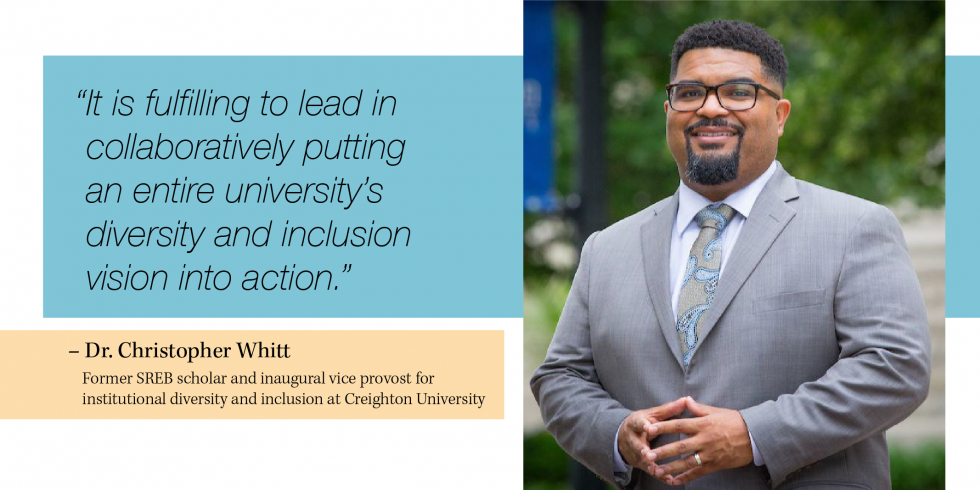 In the same way, another former SREB scholar's new leadership role is giving him an opportunity to guide an institution's recruiting of more diverse faculty members–and serving a broader community. "It is fulfilling to lead in collaboratively putting an entire university's diversity and inclusion vision into action," said Dr. Christopher Whitt, the inaugural vice provost for institutional diversity and inclusion at Creighton University in Omaha, Nebraska.
The Baltimore native earned his Ph.D. in political science at the University of Maryland, College Park, and then was a faculty member at Augustana College in Illinois for 11 years, ultimately serving as chair of political science. Leading faculty diversity recruitment helped Dr. Whitt to shift institutional culture by inviting scholars of color for interviews and presentations. At Creighton, he began with a listening tour of the university and community, recognizing the import-ance of relationships and trust in successfully leading diversity efforts.
A priority is to bring in potential faculty colleagues to interact with our university communities. "If they're eligible to be finalists and they're people of color or from a marginalized group, they've probably had challenging and informative life experiences beyond their academic training that could end up greatly benefitting our institution, our community and our students," Dr. Whitt said.