Teaching and Learning During a Health Crisis
News, stories and videos about teachers, counselors and school leaders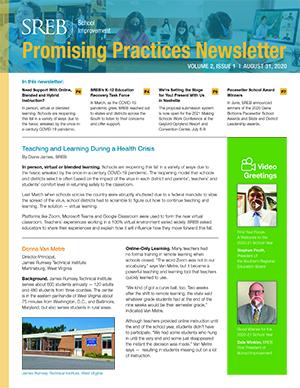 Teachers share their personal stories of the rewards and challenges of teaching in an online learning environment in this kick-off issue of the Promising Practices Newsletter. Read how SREB is helping schools and districts with online, blended and hybrid instruction. Also featured: Explore the work of SREB's K-12 Education Recovery Task Force, Advanced Career, the Making Schools Work Conference and more.
In This Issue:
Video Greetings from SREB
Watch inspirational back-to-school video messages from SREB's Stephen Pruitt, president, and Dale Winkler, vice president of School Improvement.
Teaching and Learning During a Health Crisis
SREB asked educators to share their experiences and explain how the shift to virtual learning will influence how they move forward this fall. Three educators shared their stories with us:
Donna Van Metre, Director/Principal, James Rumsey Technical Institute (Martinsburg, West Virginia)
Laquana Cardwell, Fifth-grade teacher, Church Street Elementary School (Riverdale, Georgia)
Heather Pitzer, English teacher, Delaware Area Career Center, Delaware, Ohio
Need Support With Online, Blended and Hybrid Instruction?
To help teachers adapt their content for any format, SREB created a new national workshop, Engaging Students in a Blended Instructional World. Find out how you can participate in related workshops and watch a video featuring SREB's Ivy Alford.
SREB's K-12 Education Recovery Task Force
Learn how SREB's K-12 Education Recovery Task Force united to create actions, tools and templates that districts and schools can use to develop reopening plans and meet the needs of school staff, students and families in this challenging school year.
Advanced Career Goes Online!
Touch base with SREB's Advanced Career team, who quickly shifted our Summer Teacher Training Institutes to a virtual platform this year. Plus watch our new video introduction to Advanced Career!
Present With Us in Nashville
Explore guidance for presenters, download our submission guide and get ready to submit a successful proposal to our Making Schools Work Conference in Nashville, July 6-9, 2021.
2020 Award Winners
Meet the winners of our 2020 Gene Bottoms Pacesetter School Awards and State and District Leadership Awards!