Uniting Theater and Medicine in Education
News, stories and videos about teachers, counselors and school leaders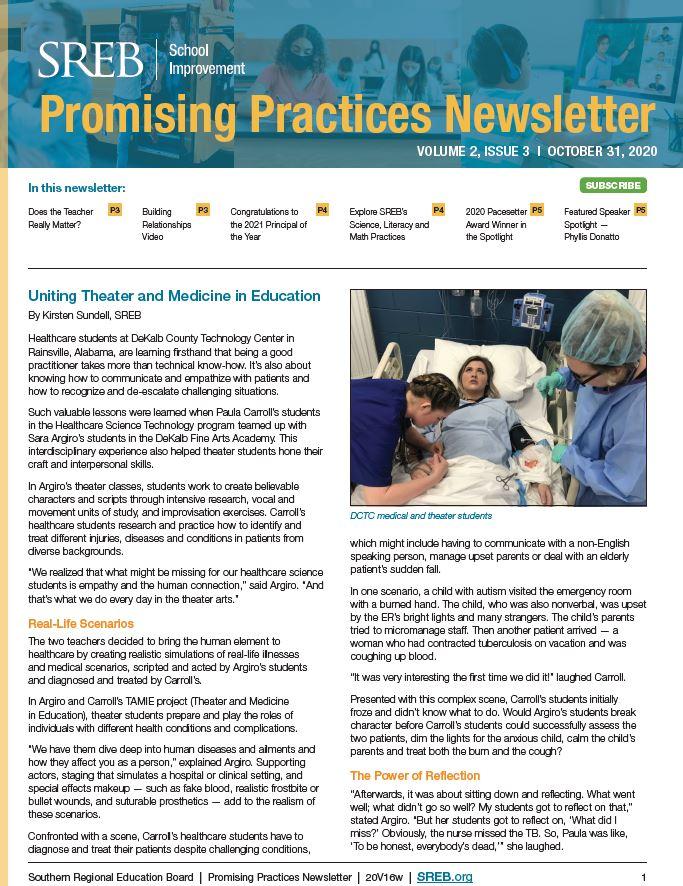 In this issue of our Promising Practices Newsletter, read how theater students and healthcare students at DeKalb County Technology Center in Rainsville, Alabama, honed their craft by uniting in a project that involved staging and solving real-world emergency medical scenarios.
Also featured, find out why teachers matter and explore strategies for building positive relationships with students.
Inside this edition:
Uniting Theater and Medicine in Education
Does the Teacher Really Matter?
Building Relationships: A video with Fred Yeakey, founder and CEO of The Barbershop Male Mentoring Initiative and vice president of Providence Cristo Rey High School, Indianapolis
Congratulations to the NASSP 2021 Principal of the Year
Inspiring a Love of Science and Exploration: SREB's Powerful Science Instructional Practices
Explore Our Powerful Literacy and Math Practices Videos!
2020 Pacesetter Award Winner in the Spotlight: Springboro High School, Springboro, Ohio
Featured Speaker Spotlight: Phyllis Donatto – You Are the Difference-Makers!