How Do Teachers Spend Their Summers?
LDC helps teachers collaborate, learn from one another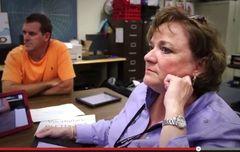 How do teachers spend their summers? Learning, of course, so that they're even better teachers when fall comes back around.
This back-to-school blog post and video feature the Literacy and Math Design Collaborative frameworks and how they help teachers learn from one another. In the blog post, Melinda Gates reflects on meeting teachers at SREB's summer networking conference this summer in Nashville, where teachers learned and shared knowledge about LDC and MDC.
"They want the ability to keep getting better. They want to know that they are helping their students succeed every single day. The things that get in the way of that—one-size-fits-all professional development, their impossibly busy schedules, their isolation from each other inside their classrooms—drive them crazy. But the things that facilitate continuous improvement get them excited in ways that blow my mind."
The video spotlights teachers including Susan Haines is now in her fourth year teaching with LDC and training others in Fort Smith, Arkansas. Her school, Chaffin Junior High, was a pilot site in SREB's work to help Arkansas adopt LDC strategies.
The blog post also shares "Favorite Lesson Plans," including one from Donn Kirkwood ("The Niche Book" Time to Publish), a Robeson County, North Carolina, middle school science teacher who used LDC for three years – and recently joined the SREB staff as a literacy consultant to help other teachers adopt the strategies.