How Does My State's New Accountability System Support School Improvement?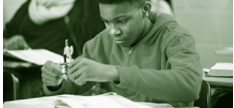 To answer this question for stakeholders across the region, SREB's benchmarking team reviewed Every Student Succeeds Act plans submitted by SREB states in 2017. ESSA, signed into law in 2015, replaced the No Child Left Behind Act of 2001 as the latest reauthorization of the federal Elementary and Secondary Education Act. ESSA maintains some of the basic requirements for state accountability systems from NCLB, while also giving states new flexibility in shaping many aspects of their systems. According to the law, states submitted plans to the U.S. Department of Education in 2017 for new accountability systems to hold schools and districts responsible for spending federal dollars to continuously improve public K-12 education.
Working with SREB member states, we developed a profile for each SREB state to summarize four key components in the states' accountability plans.
What long-term goals did the state set for improving schools?
What indicators of school performance does the state use?
How does the state differentiate school performance, identify struggling schools and report on school performance?
How does the state identify and support struggling schools?
Additionally, we highlight how the state's system focuses on college and career readiness.
You can search, select, read, save, print and share whichever parts of the reports meet your needs for information and analysis.
These reports reflect information we gathered as of December 1, 2017. We will update the profiles when all SREB states finalize their accountability systems, which we expect will be in spring 2018. In early 2018, we will also release the full regional report detailing trends in the finalized state accountability systems, recommending actions state leaders can take to make their new accountability systems effective tools for collaboration and continuous improvement.