HOW OPEN EDUCATIONAL RESOURCES CAN HELP MORE STUDENTS TAKE DUAL ENROLLMENT
Expensive textbooks and other classroom materials can keep students from taking dual enrollment courses if those costs aren't covered.
The result: A lack of opportunity for many students to get a head start on college.
States, colleges and universities are making headway on this challenge. Some of the pacesetters shared their insights in a webinar led by SREB and the Midwestern Higher Education Compact in October 2021.
A new report from SREB and MHEC outlines how open educational resources — or OER — can help more students afford and succeed in college-level courses in high school. Use of these free, vetted, openly licensed, high-quality classroom materials is growing across the nation.
Author Jennifer Zinth summarized some of the report's findings on the webinar, detailing OER policies across 50 states. The report offers recommendations for states, colleges and schools in expanding the use of OER, with case studies from Colorado, Florida, Louisiana, Tennessee and Texas.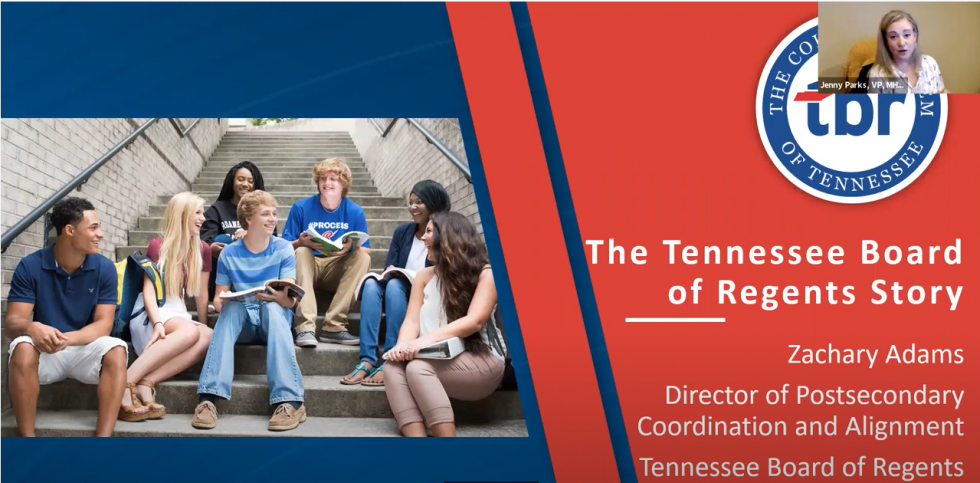 Who pays for dual enrollment textbooks?
Only three states cover the textbook costs for dual enrollment courses. School districts or schools themselves cover the costs in seven states, Zinth found.
Thirteen states require students and their families to pay for the classroom texts themselves.
The responsibility for the costs is decided locally in 16 states. In 20 states and Washington, D.C., policy isn't clear, Zinth said.
States with unclear policies have "the greatest potential for inequities in student access," she said, creating a "particular challenge not just for low-income families but also for under-resourced districts."
Then who pays for OER when states or local systems decide to pursue use of the free, open classroom materials?
The Louisiana Board of Regents has a $2 million federal grant to support development of free classroom materials across the state's university system. Texas is designating some of its federal CARES Act funding for the same purpose, Zinth said.
States also can use federal Perkins Act funds for instructors' professional development, helping them develop and use free, high-quality course materials.
Helping faculty use OER
Faculty stipends are becoming more common to pay for faculty and staff time spent on curating free and open-source materials. High school teachers also are receiving stipends for developing sets of materials for dual enrollment courses, Zinth found.
Faculty may need help adapting to the use of these free materials. Most universities now have curriculum developers of online courses who can help professors curate resources for their classes. State or regional meetings of faculty can help professors stay abreast of available options for course materials, Zinth said.
Colorado trains college staff as OER ambassadors who can train faculty and staff in the use of the free materials. Using grant funds, the Colorado Community College System is developing free course materials for the eight most common CTE courses across the state.
OER use in dual enrollment may be most effective, however, in the most common college-transfer courses in each state — and in courses with the highest "drop" or withdrawal rates, she said.
Advances at state, local levels
OER can expand opportunity for students just about anywhere, said Paul Preimesberger, the dean of enrollment management and student success at Central Lakes College, a two-year state community and technical college serving a mostly rural and small-town area in Minnesota.
Preimesberger has run a four-year project with about 60 high school teachers from 16 school districts. Together with a smattering of college faculty, they've created OER for 18 dual enrollment courses in 10 academic areas.
The project has helped build a strong professional learning community, Preimesberger said, connecting teachers of the same subjects across many different schools.
His tips on working with educators to expand use of the free classroom materials: Hold collaborations during the school day, not later when teachers may be less focused. School districts were reimbursed for the costs of substitutes. Also, small stipends and mileage reimbursements matter. In his area, educators had to travel some distance to participate and spent additional time researching and reviewing the free materials.
Teachers on the project have learned how to use technology-based tools to edit or curate OER and invited principals to a session on the value of the strategy and best practices.
More open-source texts and other classroom materials are needed for career-tech courses, Preimesberger said, but local business teachers have begun to assemble the resources for their classes.
Building statewide success
Tennessee is introducing OER into its statewide dual credit program — 11 specific courses developed by college faculty and taught by high school teachers.
Students who succeed in the dual credit courses qualify for college credit at any two- or four-year public institutions and many private colleges in the state, said Zachary Adams, the director of postsecondary coordination and alignment at the Tennessee Board of Regents.
Last year, only 6% of the 38,000 students who took dual credit successfully completed the academic and CTE courses, Adams said on the webinar.
"Ultimately, we want as many students as possible to be banking college credit," he said.
Lessons learned
To build Tennessee's free course materials, the Board of Regents recruited teachers who'd taught the dual credit courses to find materials that align with course guidelines and the exams.
The state also is providing teachers with workshops on using OER in the courses. Teachers use platforms such as Open Author (through the OER Commons) and Open Stacks to access the materials.
MORE RESOURCES:
The Tennessee Board of Regents continues to build out its repository of these free and open resources for college courses.