SREB States Lead the Way on Computer Science Education
Inside InfoSys Foundation's National Computer Science Education Convening
National convening attendees share best practices for increasing access to quality CS learning experiences
Last month I was privileged to participate in InfoSys Foundation's CrossRoads 2017 convening on computer science and maker education in San Francisco. The convening's attendee list included state and local government representatives, thought leaders, K-12 educators, postsecondary faculty and not-for-profit computing organizations from across the US — including many SREB states.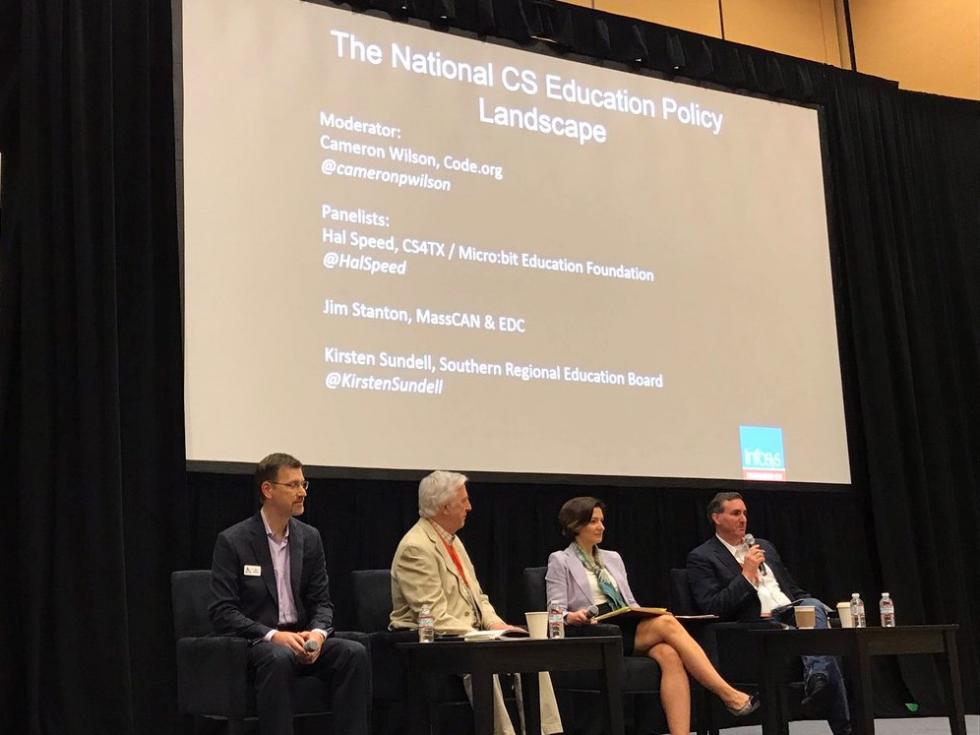 On the first morning of the convening, as a member of a panel on the national policy landscape (watch the video), I shared some of the steps South Carolina is taking to expand access to computer science. Last year, with support from SREB and advocacy groups like Code.org and the ECEP (Expanding Computing Education Pathways) Alliance, the state's department of education and Education Oversight Committee gathered a broad-based group of educators, policymakers, industry leaders and experts to research best practices and policies.
After state legislators crafted a compelling, multifaceted CS education bill, it overwhelmingly passed the House and moved on to the Senate. If it becomes law, all state public high schools will be required to offer computer science and the department of education will begin designing career pathways in high-demand computing fields (and updating parents and educators about them), hire a computer science coordinator, prepare and support CS teachers, and cultivate community and employer partnerships in support of computer science education. South Carolina is now developing K-12 CS standards.
Later that afternoon, Anthony Owen, Arkansas's State Director of CS Education, moderated the first of CrossRoads' two state policy panels (watch the video). Arkansas Governor Asa Hutchinson commissioned our 2016 report on computer science and information technology, making access to computer science education one of his core campaign promises, and under Owen's expert guidance Arkansas continues to be a model for the rest of the country — in how to develop standards, train teachers, and provide quality computer science curricula to students of all backgrounds and ability levels.
During Owen's panel, Scott U'Sellis from the Kentucky Department of Education told how his state will convene K-12 and postsecondary educators and employer partners this July to begin crafting computer science standards. Kentucky, South Carolina and other states in the SREB region are using the K-12 CS framework and the Computer Science Teachers Association interim standards as resources.
I had the pleasure of moderating CrossRoads' second state policy panel (watch the video), during which Mike Mulvihill, the Mississippi Department of Education's career and technical education director, discussed his state's support for teachers who are offering the Exploring Computer Science curriculum. Mississippi is revamping its computing and IT pathways to ensure they prepare students for careers in the state's many tech-intensive industries.
If you need more evidence of how SREB states are leading the way, consider these standouts from a 2017 review of state policies shared during CrossRoads' national policy panel:
Only four states nationwide, all in the SREB region — Arkansas, Texas, Virginia and West Virginia — require all high schools to offer computer science.
Fifteen states — including Arkansas, Florida, South Carolina, Virginia and West Virginia — have or are working on K-12 CS standards. Arkansas was the first to develop them.
Eight states — including Arkansas, Georgia, and Virginia — allocate dedicated funds for K-12 CS education in their state budgets or through legislation.
Out of 27 states and the District of Columbia that offer computer science teacher certifications, 12 are SREB states.
Arkansas, Maryland, Texas and Virginia are among the 12 states that offer university-based pre-service computer science teacher prep programs leading to licensure.
Eight states — including Arkansas, Florida, Georgia, and Oklahoma — have a state-level computer science coordinator supporting education. Virginia is planning to hire one, and Maryland has an office responsible for computer science.
Out of 23 states and the District of Columbia allowing computer science to satisfy high school graduation requirements in math, science or another area, 13 are SREB states.
These are exciting times for those who care about computer science education. To learn more about how your state can offer high-quality CS learning experiences, please read our CS commission report and email me with your thoughts and questions at kirsten.sundell@sreb.org.
RELATED CONTENT:
[InfoSys Foundation filmed all its CrossRoads panels. This blog has been updated to include links.]