Thank Goodness for Mississippi
Star NAEP Showing Follows a Long Commitment
"Thank goodness for Mississippi."
It used to be that this was something you heard from people who were grateful that Mississippi kept their own states from the dubious honor of last place in education rankings. Those folks may not have noticed that, since 2005, Mississippi has been making steady gains.
And now, after Mississippi offered a rare bright spot on the Nation's Report Card earlier this month, we have a new reason to be thankful for Mississippi: We can learn from their success.
Real progress takes time.
When the results were released earlier this month, students in many states did worse in 2019 than they had in 2017 on the National Assessment of Educational Progress — to the disappointment of leaders, educators and parents across the U.S.
But Mississippi continued its upswing in 2019, as the state's fourth graders met the national average in reading and outperformed the nation slightly in math. Eighth graders in the state are also making headway. Mississippi now stands ready to move the focus to the middle grades, and given their commitment, I have no doubt the students of Mississippi will be better for it.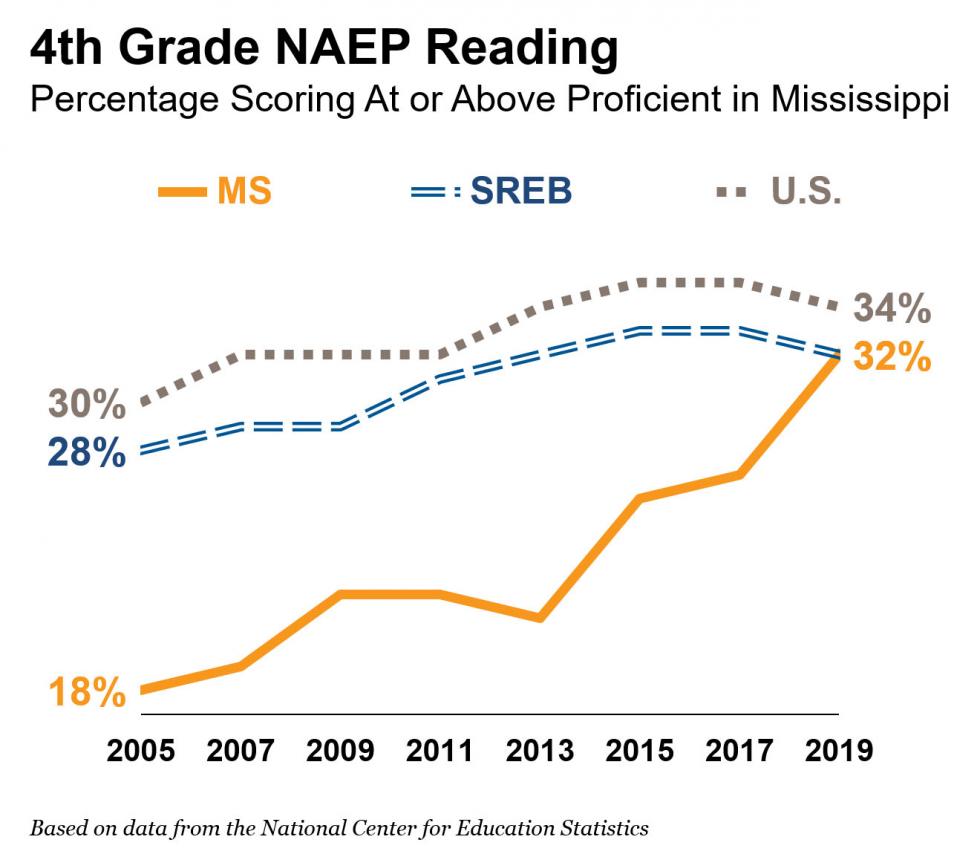 Mississippi's progress in reading, at a time when many other states' scores are stagnant or falling, is a prime example of how a state's long-term commitment to its goals can pay off.
Here are four lessons other states can learn from Mississippi:
First, set high—but realistic—expectations for where you want your state to be in future years. Some have taken to calling this the "Mississippi Miracle"—and while that makes a nice headline, it's not quite right either. Mississippi's results are no miracle but the outcome of planning, commitment, and hard work.
Second, examine current practices. Where are your areas for growth? What will it take to get there? Carey Wright, Mississippi's State Superintendent of Education, attributes the gains to a mix of actions the state has taken recently. Among them: better teacher preparation and professional development for elementary reading; higher academic standards and state assessments aligned with NAEP's expectations for students; and steady consistent work toward the state's strategic goals.
Third, involve other stakeholders. A 2016 Governor's Task Force on Teacher Preparation for Early Literacy Instruction determined next steps for continued progress. And the state took care to evaluate these initiatives to be sure they brought results, which brings us to the final and perhaps most important lesson.
Commit to the plan. Real progress takes time. Evaluate your state's progress toward its goals regularly and make adjustments as needed.
Mississippi made a commitment to improve reading. In 2003, Mississippi began requiring future K-6 teachers to take two early literacy courses in their teacher preparation training. These courses ground all new Mississippi teachers in what it takes to teach young children to read. A decade later, the state's 2013 Literacy-Based Promotion Act focused schools on K-3 literacy professional development for existing teachers and funded literacy coaches in those schools with the most students performing at low levels on the state literacy assessment.
At a moment when so many of us are disappointed at our states' showing on NAEP, it can be tempting to assume that what states are doing is not working and that big changes need to be made to state policy. But huge swings in policy are often more disruptive than helpful. As the example of Mississippi shows, the best course is one that is careful and consistent. Mississippi has set an example with a common vision, commitment at all levels of leadership, and the courage to be patient.
Mississippi is giving its students a real opportunity to pursue the American dream. Ensuring that students from all populations are able to read by fourth grade sets them on course to contribute to the prosperity of their communities and to both state and national economies. Most important of all, students will have the opportunity to live full and meaningful lives.
And "thank goodness for Mississippi" has a whole new meaning.