CLEMSON UNIVERSITY ASSOCIATE DEAN WINS NATIONAL MENTORING AWARD
SREB Mentor of the Year, Institute on Teaching and Mentoring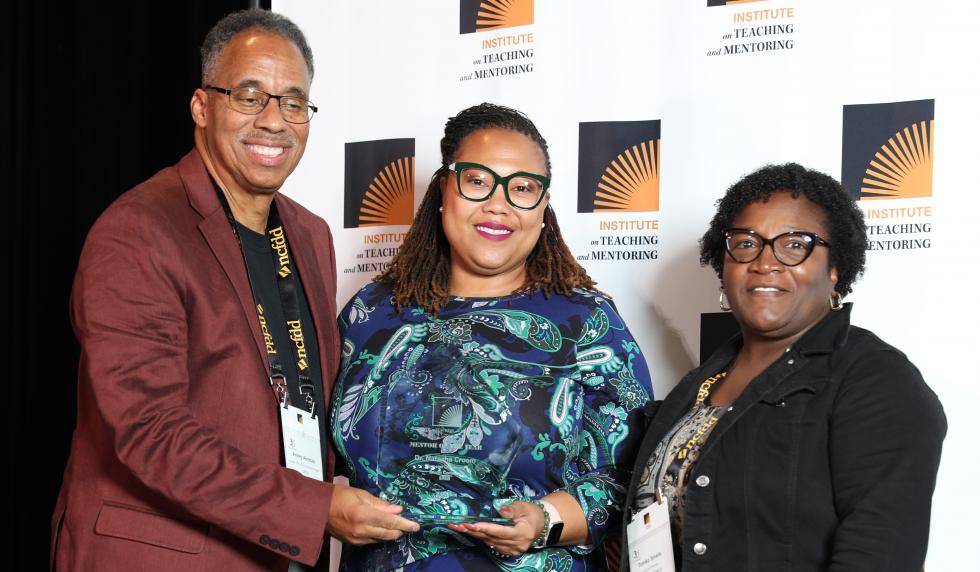 Natasha N. Croom, associate dean for academic and student affairs at Clemson University, received one of two national Faculty Mentor of the Year awards at the 30th annual Institute on Teaching and Mentoring this October in Tampa.
The Institute is the nation's largest annual gathering of underrepresented doctoral students and college faculty members of color.
Croom was nominated by SREB doctoral scholar Tomiko T. Smalls, who said that the tenured Education professor agreed to serve as her advisor despite already mentoring a long list of doctoral students.
"Unequivocally, Croom's efforts are aimed at ensuring that we meet our academic goals and develop as researchers and life-time education scholars – which mirrors the example that she personifies," Smalls said.
To address the nation's continuing shortage of African American, Hispanic and Native American faculty, the SREB-State Doctoral Scholars Program hosts the annual Institute on Teaching and Mentoring, a collaboration of programs across the country that support minority doctoral students.
Contact: Janita Poe, SREB News Manager, at Janita.Poe@sreb.org or 404-879-5516, ext. 216
The Institute on Teaching and Mentoring is the largest gathering of minority doctoral scholars in the country. Now in its 30th year, the Institute gives the issue of faculty diversity a national focus and provides minority scholars with the strategies necessary to survive the rigors of graduate school, earn the doctoral degree and succeed as members of the professorate.