Data, Definitions Limit What We Know About Dual Enrollment
SREB publishes comprehensive review of research
States need better data to measure whether dual enrollment programs are realizing their promise, says a review of existing research published by the Southern Regional Education Board this week.
To determine return on investment and improve dual credit programs, states will need to clarify their goals, be sure policies support them, and collect data that connects students' K-12 and postsecondary experiences.
Dual Enrollment Research: A Comprehensive Review analyzes more than 500 journal articles, dissertations, documents and books from 1959 to 2019. An early step in the broader SREB Dual Enrollment Initiative, the report is intended to help policymakers understand what the research tells us ─ and what it doesn't – to inform improvement of dual enrollment programs.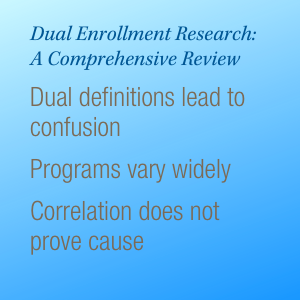 The bottom line: Much of the data is limited or out of date, and the vast majority of studies cannot be generalized to apply to all programs. Dual enrollment programs vary widely even within states, with different eligibility requirements, credit transfer and student support, so the findings of a study on one program cannot be applied to others.
In addition, most studies do not show whether dual enrollment causes positive outcomes for students, rather than being correlated with them.
Equity is a primary focus
Equity – making college-level courses available to more high school students who would not otherwise have access to them – is a primary concern of the Dual Enrollment Advisory Panel that helps guide the work of the SREB initiative.
"There is a generally held opinion that dual enrollment opens access to college credit for more students, but if we're not addressing these gaps in what the research can tell us, we can't actually tell if we are making progress toward equity," said Meagan Crowe, policy analyst and author of the report.
A guide to studies, recommendations, questions
The report summarizes what the dual enrollment research tells us about return on investment, equity and access, and curriculum and instruction, as well as specific topics such as career and technical education courses, partnerships, teachers and advisors.
To know whether dual enrollment programs are meeting policymakers' goals – and to improve dual enrollment – states will need to:
· Develop common definitions for dual enrollment
· Define goals for the programs – and align policies to the goals
· Collect and analyze data points that relate to the goals
And to help states begin this work, the report lists student measures, benchmarks and sources of data policymakers can connect to their goals. If also offers questions for state, school and college leaders to ask about improving dual enrollment programs.
A nonprofit, nonpartisan interstate compact, SREB was created in 1948 by Southern governors and legislators who recognized the link between education and economic vitality. SREB states are Alabama, Arkansas, Delaware, Florida, Georgia, Kentucky, Louisiana, Maryland, Mississippi, North Carolina, Oklahoma, South Carolina, Tennessee, Texas, Virginia and West Virginia. More at SREB.org.