Louisiana state Rep. Francis Thompson honored for 48 years of work in education
ATLANTA — Francis Thompson, a state legislator in Louisiana for nearly half a century and a longtime education advocate, is the recipient of the 2022 Jack Hill Champion of Education Award from the Southern Regional Education Board.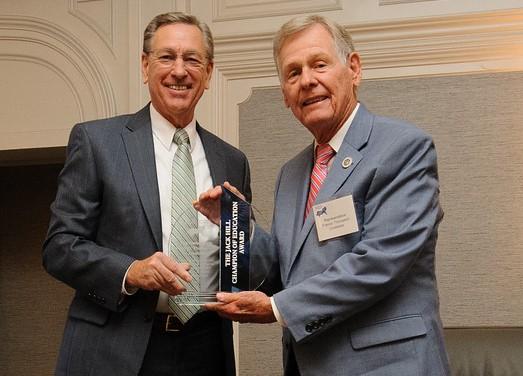 Representative Thompson received the award on June 26 during the SREB Annual Meeting in Atlanta.
"For decades, Francis has been a standard-bearer for his dedication to providing a quality education for students across the South," SREB President Stephen L. Pruitt said. "We're so grateful for Francis's many years of service to Louisiana's students, educators and communities and his many contributions to SREB."
Named for the late Georgia state Senator Jack Hill, the award honors state leaders who make important long-term contributions to education and to SREB's work on behalf of the 16-state region. The award also recognizes leaders sharing Hill's commitment to civility, cooperation and public service.
Set to become Louisiana's longest-serving state legislator in January, Representative Thompson was born in Delhi, Louisiana, where he still lives. He served on the Richland Parish School Board from 1968 to 1975.
He was elected to the state House of Representatives in 1975 and served until 2007. He was then elected to the state senate, representing District 34 from 2008 to 2020.
Voters re-elected him as a state representative in 2019. He has chaired several house committees over the years, including those focused on agriculture and the House Rural Caucus, and authored many bills designed to improve education and rural development in Louisiana.
Thompson earned bachelor's and master's degrees from Louisiana Tech University, then a master's degree and doctorate from Northeast Louisiana University (now the University of Louisiana Monroe). He has worked as a teacher, vice president of a manufacturing company and assistant professor at Northeast Louisiana.
Always supportive of SREB and the idea of regional cooperation, Thompson joined the SREB board in 1980 and served until last summer. He was an active member of the SREB Legislative Advisory Council and served on several SREB commissions, including the Teacher Preparation Commission, the Community College Commission, the 2010 Goals Commission and the Commission on College Affordability.
Thompson, who was joined at the June 26 award presentation by his wife, Marilyn, is the second recipient of the award, joining former North Carolina state Senator Howard Lee.
The Hill award is named for the late Georgia state senator Jack Hill, who died in 2020. The SREB Executive Committee created the award to honor Hill's 29 years as a legislator and his devotion to improving education in Georgia.
Senator Hill, from Reidsville, Georgia, served on the SREB Board for 26 years, including terms on the SREB executive committee, as the SREB board treasurer and as chair of the SREB Legislative Advisory Council — always in a spirit of goodwill, friendship and public service.
The award recognizes a leader's significant years of work to improve education, including efforts to provide opportunity to students from underserved areas. It also honors recipients who understand the role of long-term state fiscal commitment to education, serve as voices for civility and working across the aisle, and participate in SREB's continuing work to strengthen education in the region.
The committee to nominate and select recipients of the first two awards was chaired by Senator Bob Plymale of West Virginia and included Commissioner Greg Dozier of the Technical College System of Georgia, Senator Mamie Locke of Virginia, Representative Terri Collins of Alabama, Senator Joyce Elliott of Arkansas, and Representative Mark White of Tennessee.
For more information, contact SREB Communications.